Tree City brings new life to Millersburg in Arbor Day celebration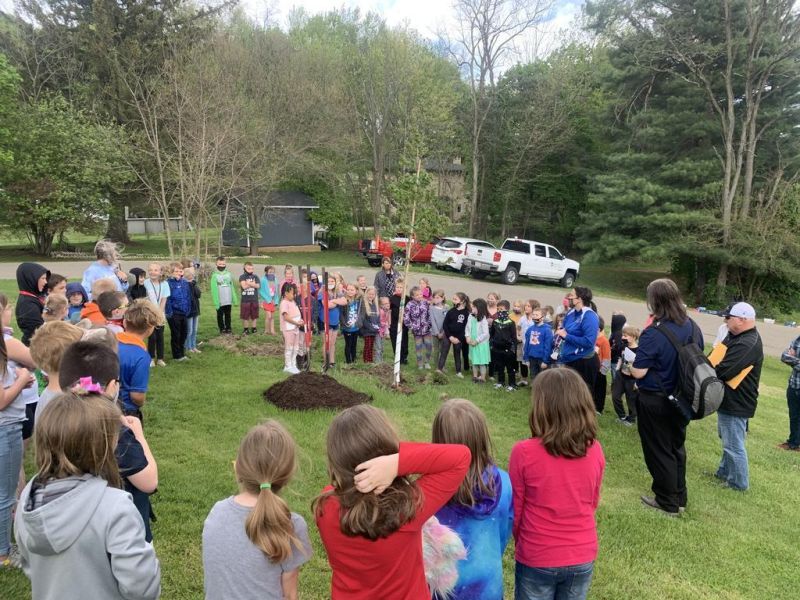 Kim Kellogg, owner of Grasshopper Property Maintenance, has always considered himself somewhat of a kid at heart, so when it came time to talk to a group of Millersburg first-grade students during Tree City USA Millersburg chapter's annual Arbor Day celebration and coloring contest, he felt right at home.
That he has talked to the students about the planting of a tree during this event for the past several years also made it easy, but Kellogg said while these kids might be 6 years old or thereabout, they know more than one might think about Arbor Day, the importance of planting trees and the ecosystem.
"These kids are pretty smart, and from their drawings, they seem to grasp the concept of why we need to continue to plant trees in our community," Kellogg said. "I was really impressed with how much the kids already knew. The kids were engaged, they were enthusiastic and they answered questions. We all had a blast. (Millersburg teacher) Megan Stryker does an amazing job of getting them excited about this event, and we love the opportunity to share with them what Tree City is doing and the importance trees play in our world. This is so much fun."
The award winners of the annual drawing contest were Moira Steiner from Mrs. Miller's class, Bryce Martin from Mrs. Stutzman's class and Landry Goudy from Ms. Crilow's class.
While Arbor Day fell on Thursday, April 30, the event took place on the school grounds on Friday, May 1 when a group from Tree City USA Millersburg chapter brought in a red point maple to plant on the grounds and welcomed the first-graders.
Tree City USA continues to play a role in the planting of new trees and the cutting down of old, useless trees.
Kellogg said while they love the idea of talking to the first-graders and teaching them about the important role they can play in planting trees, they also appreciate the willingness of the Village of Millersburg to work with Tree City, and Nate Troyer, Village of Millersburg administrator, said the feeling is mutual.
"They have been very active in our community and the village for five years now, and they have planted 150 trees in town, along with cutting down trees that were either dangerous, overgrown, in the wrong spot or diseased," Troyer said.
Troyer said this event is a great teaching tool for the students, who got to take home a sapling to plant at their own homes. He said it helps drive home the idea of planting trees to the students, and even the planting of the tree at school gives them some ownership. He said years from now they can return and tell their children and grandchildren they helped plant that tree.
While the students benefit, so too does the village.
Troyer said not only does Tree City's work do a terrific job of cleaning up streets and creating an appeal to those who live, visit and drive through Millersburg, it also plays other key roles.
"They absolutely have been a financial benefit for our city and for our property owners," said Troyer, who speaks from experience. He said his parents still have trees he and his brother planted as youngsters.
For Troyer, seeing these new trees reaching toward the sky and adding appeal to the community is a sign of vibrancy and life. He said seeing a town filled with decrepit, diseased trees and comparing it to a town with young, vibrant trees makes a world of difference.
"It takes on a drastically different look, and they are adding clean air and making cleaner water as a part of the replanting program," Troyer said.
Because of the caring attitude and commitment to beautifying the village the members have put forth over the past few years, the village has continued to receive a beauty treatment from the organization.
"We have a great group here in Tree City USA who are very active and care deeply about providing trees to the village because the value they provide," Kellogg said. "This program is a win-win for everyone involved."
More than 3,400 cities, towns and villages have gotten involved with Tree City USA in its efforts to plant trees and promote ecology to today's youth.
It's easy to see how Tree City USA Millersburg chapter is at the root of teaching kids today about the important role trees play in the world.