Two tasty tours to satisfy any sweet tooth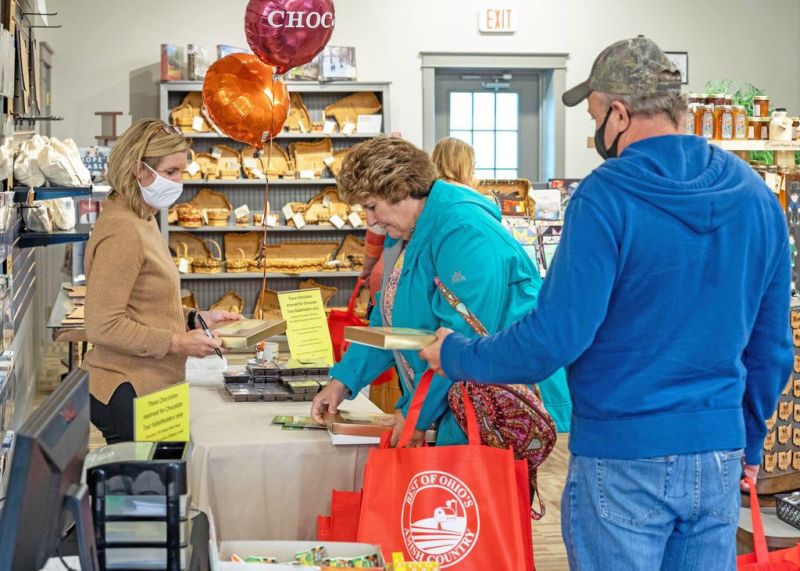 A drive through the scenic countryside, shopping at charming stores, delectable treats. What could be sweeter? Order your tickets and get ready for some fun with the gal pals, your family, the significant other or just yourself on two self-guided tours.
First, the Wayne County Cupcake Tour will take place Friday and Saturday, May 7-8 from 9 a.m. to 5 p.m. Participants may attend either day or split their tour between the two days.
Lehman's in Kidron originated the tour five years ago.
"People really enjoy food tours and, of course, shopping," said Glenda Lehman Ervin, vice president of marketing at Lehman's. "This tour has become a tradition for many."
The tour begins at Lehman's, where the first cupcake and a lanyard, which serves as the ticket at the subsequent five stops, will be provided. At each destination, participants will score a cupcake specially baked and decorated by one of Wayne County's bakeries. The confections will be individually packaged so they may be taken home to enjoy later — if they last that long.
Journey in Time, participating for the second time, will be one of the stops.
"Each business procures their own cupcakes," Journey in Time co-owner Tammy Dalessandro said. "The taste testing is almost as fun as the event."
This year's tour will feature, among other flavors, strawberry shortcake; pancakes and bacon; and a blend of brownie, maraschino cherry, marshmallow and toasted coconut called the Elvis Cocktail.
To sweeten the deal, the retailers will offer exclusive savings, so tourists are encouraged to allow time for shopping.
"Journey in Time will have many sale items and a $25 gift certificate drawing," Dalessandro said.
The icing on the cupcake will be the springtime drive through some of the county's most beautiful terrain. The first stop must be Lehman's. The others, stretching between Kidron and Orrville, include Eastwood Furniture, the Pine Cone Gift Shop, Shisler's Cheese House, and the J.M. Smucker Company Store and Café.
Dalessandro looks forward to welcoming the patrons. "Last year some people said they had no idea Journey in Time existed, so the tour really showcases these rural stores."
The cost per person is $15. Tickets must be purchased online at Eventbrite: www.eventbrite.com/e/cupcake-tour-tickets-141845139631.
Call 800-438-5346 or email info@lehmans.com with questions.
The following weekend, the fourth annual Best of Ohio's Amish Country Chocolate Tour will happen from 9 a.m. to 5 p.m. Either Friday, May 14 or Saturday, May 15 must be selected when purchasing tickets.
All proceeds will go to 58:12 Global, a local nonprofit organization dedicated to creating a safe space for women and children fleeing physically and/or sexually abusive situations by providing rescue, shelter and restoration.
"Any time we can help out a nonprofit organization through the course of planning events, we're thrilled to do so," Gabriel O'Brien of Best of Ohio's Amish Country said.
The tour originates at Walnut Creek Amish Flea Market, where participants will receive a map, a box for collecting the goodies, a tote bag and the first chocolate morsel. At each of the six subsequent stops, patrons will receive a chocolate created by Coblentz Chocolate Company. Participants are advised to bring a cooler to protect their goodies.
According to O'Brien, "Coblentz consults with each retailer to design a chocolate customized to their vision."
Following registration at Walnut Creek Amish Flea Market, additional stops include Lehman's, Heini's Cheese Chalet, Coblentz Chocolate Company, Amish Door Village, Homestead Furniture, and the Amish and Mennonite Heritage Center. All will feature special sales.
The route will take participants through one of Ohio's most scenic regions and into the midst of one of the nation's most unique societies. "If you want an authentic look at the Amish culture, these stops are a good representation," O'Brien said.
The $25 ticket price is good for one chocolate treat per stop, totaling approximately 1 pound. So a group might plan to share the box or each purchase their own ticket at www.eventbrite.com/e/chocolate-tour-2021-tickets-134788330525.
Questions may be messaged to Best of Ohio's Amish Country via Facebook at www.facebook.com/bestofohiosamishcountry/.
For information on 58:12 Global, visit www.5812global.org/ or call 330-204-5788.
Tickets must be presented, in printed or electronic form, at the starting points of each tour. Because both tours are self-guided, aside from the designated starting points, participants can visit the retailers in any order and enjoy the tour at their leisure.
Need to get out of the house? Looking to satisfy that sweet tooth? Piece of cake — make plans now to participate in the Wayne County Cupcake Tour and the Best of Ohio's Amish Country Chocolate Tour.