Quilting community pays homage to 9/11 victims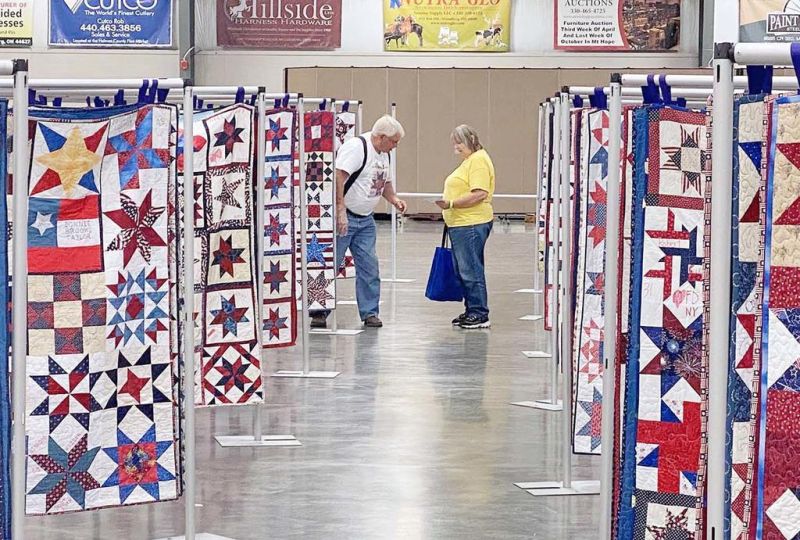 In 2001 terrorists turned airplanes into missiles, attacking the United States and killing 2,977 people in terrorist attacks on the Twin Towers in New York and the Pentagon in Washington, as well as a failed mission that saw a plane go down in Pennsylvania.
While that may seem like an eternity ago to some, for others who lost loved ones, the memories remain raw and vivid.
The worldwide quilting community has found a way to honor those people and keep the history and memories of those people alive.
The 9/11 World Trade Center Quilt Memorial titled "Sew We Never Forget" became part of the recent allure of the annual Ohio's Amish Country Quilt Festival in Mt. Hope Sept. 8-10.
Event coordinator Joanne Hubbard said she continually tries to bring in new ventures, and the 9/11 WTC Memorial Quilt Project caught her attention, not just because of the beauty of the 300 handcrafted quilts, but also because of the meaning behind them.
"Once we found out about this project, we felt pretty strongly that it needed to be a part of our show," Hubbard said. "It's an incredible display that elicits so many emotions to those who come through to look at it. It is powerful and overwhelming to think about the purpose and the compassion of everyone who helped stitch a piece of it."
Hubbard said she began exploring the possibility of bringing the 9/11 WTC Memorial Quilt Project to her show more than one year ago. Last year saw her bring in the "Quilt of Valor" quilt display, so finding opportunities to build the quilt show is important to her.
Dennis Kuemin, whose sister Beverly reignited the quilt display after it had been tucked away for a decade, was giving tours to those who stopped by, telling stories of the project, directing people to specific areas of the display and talking about the importance of the show.
"People who walk through are very moved," Kuemin said. "I've had a gentleman collapse on the floor and cry for a half-hour. People fight back tears, cry openly and are humbled by the incredible meaning behind this display."
Amy Leasure, a police dispatcher in Arizona and an avid quilter, felt inspired to create a quilt project to honor and memorialize those lost in the 9/11 attacks.
Leasure took her dream to the internet, asking anyone and everyone who sews to create 12-inch blocks designed in red, white and blue star patterns. Sometimes dreams are insignificant, but not this time.
"By the time she was done, she had more than 20,000 blocks sent to her from all around the world, from 30 countries," Kuemin said.
The blocks came back to Leasure in a rush. Each was handmade with a star pattern and featured other smaller details, along with the creator's name. The blocks were then adorned with each 9/11 victim's name, their age and where they were from. Even the ink the information was written in had meaning, with red ink for the first responders, black for those who perished in the Twin Towers, blue for those who were killed in the Pentagon attack and purple for the many who passed away on the Twin Towers airplane strikes. The squares were gathered up and distributed into counts of 25 blocks per quilt.
The project was about to take flight when Leasure sadly passed away from cancer, and suddenly, the 9/11 WTC Memorial Quilt Project was put on hiatus. After a time Brian Kohler from the state of Washington heard about the project and took it over.
Kohler not only found people to quilt the pieces together into the 300 quilts, but also he created a system so the quilts could be displayed and people could quickly locate a person in the 100-square-foot display.
"He was so detailed that he categorized everything so when people come in, I can take them to the very square in the quilt they are looking for," Kuemin said.
Kohler took the quilt and displayed it in Washington Sept. 10-12, 2004. He then boxed up each quilt, and they went into storage. There they sat for nearly a decade before Beverly Kuemin asked to see them. Little did she expect them to show up at her home.
"He had one show, then boxed it up and put it in his garage," Kuemin said. "My sister Beverly was a big quilter and wanted to see it because she had heard of it, and a week later they were on her front porch."
It took her a decade, but 10 years after that initial show, Beverly Kuemin rekindled the 9/11 quilt tour. It started to grow in popularity, but then the pandemic hit, draining all the momentum out of her effort.
Sadly, Beverly Kuemin passed away, but Dennis Kuemin picked up the mantle.
"It was too important because it served as a display that not only honored those people who passed away during the 9/11 attacks, but it keeps their memories alive," Kuemin said.
Now the display returns, and the Mt. Hope show was the first show for the project since the pandemic began three years ago.
"We're glad to be back," Kuemin said. "This is too important not to be seen."
The 300-quilt display is set up in a 100-square-foot area in a zigzag fashion that allows viewers to walk through it easily. It takes hours to set up, and it is meticulously placed so Kuemin can identify specific squares with ease. Kuemin said people can go through the display 10 times and not come close to seeing everything.
A substitute teacher, Hubbard said it is important to provide opportunities for today's young people who don't know about the attacks that took place more than two decades ago.
"We must keep our history alive, and the sacrifices so many people made during these attacks is too important to let fade away," Hubbard said. "Quilters from around the world reached out in compassion to make this happen, and we now have a touching tribute to those who lost their lives. May we never forget them, and this display helps keep their memory alive."
Anyone wishing to learn more about the 9/11 WTC Memorial Quilt Project can find it on Facebook.