Unity and equality remain as the foundation of CitC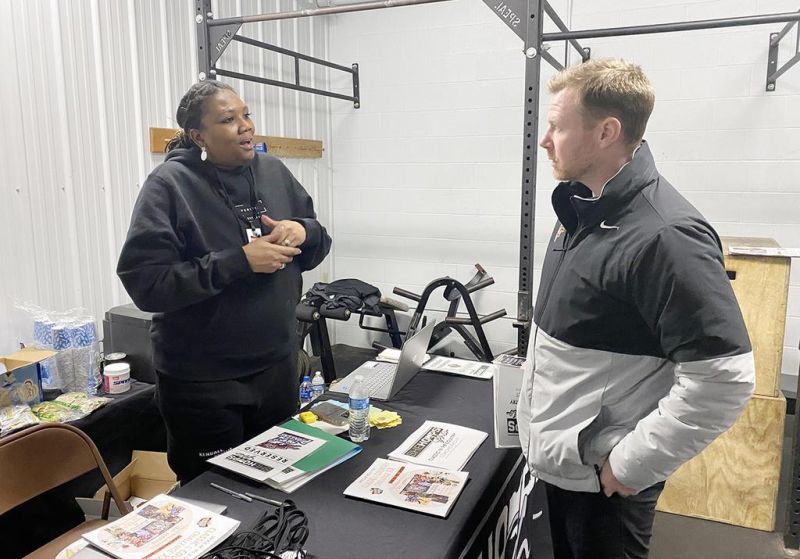 Tom Jenkins had a dream. His dream was to promote the message of Dr. Martin Luther King's dream about creating equality among all people.
Jenkins' outlet was the game of basketball, and when he and others created Classic in the Country in 2003, the message of sameness regardless of color, race or religion was one of the foundational points of the high school girls basketball showcase.
After 20 years it can be easy for people to forget or push aside the main messages that something is built upon. During this year's Classic in the Country XX, which took place Jan. 14-16, the message remained.
Two decades after Dr. King's message became a central part of what is one of the most highly anticipated girls hoops showcases in the nation, the message of hope and King's dream remain alive, which is especially important to today's young people, who each year are further removed from the knowledge of who these men were.
Nasheema Anderson, former Vanderbilt University star and mother of WNBA player and current Big10 Network commentator Naz Hillman, who starred at the Classic for four years, took over the reins as CitC's college scouting hospitality coordinator.
Anderson said the idea of giving back to the Classic was paramount to her wanting to get involved, and as a part of the SheHoops team that organizes the event, she said the message of unity and equality was as important today as it was when the Classic began and when Dr. King and Reese were alive.
"The message is too important as far as we as a people coming together," Anderson said. "The message is about where we've come from, where we are and where we're headed as a society. When we live in hate, we are all miserable. Fortunately, there many people who continue to show the love we so desperately need in this world."
She said the Classic is an invitation to come to an area known for its serenity and hospitality and share in that joy of unity while enjoying the game so many people love. And continuing to present the message of unity King instilled in so many people continues to be worth sharing with the many young people at the Classic, who are further removed from both his and Reese's lives and words.
"It's critical that we keep that message out there so generations to come don't lose sight of what Dr. King and Perry Reese and many others were so passionate about," Anderson said. "What side of history do people want to be on? That's why this venue and many others continuing to tell the story is important, and we are grateful to Tom Jenkins for making that message of unity such a big part of this event. We have so much to celebrate as human beings that connects us and brings out that sameness in all of us."
In addition to the message of unity, this year also marks the 50th anniversary of Title IX, which brought women's athletics onto an even playing field with the men's sports.
"That was also an important part of this story," Anderson said. "I think that could have well opened the door for an event like this."
Andy Fishman, head coach of Lakota West, is the only team other than host Hiland that has graced the floor at CitC in all 20 showcases. Fishman said while basketball is the central focus, it is important to continue to share the message of unity on which the CitC is built.
He said stopping the action, slowing down, and taking time to listen to and recognize the messages from King before each game remains a critical part of the event.
"We are celebrating freedom, truth and the idea that to truly be free we need to treat all people equally," Fishman said. "Dr. King delivered that message. He lived for it, and he died for it, and we should never lose sight of that. Perry Reese, Jr. continued it here. Our kids know and understand what Perry did here in Amish Country."
Fishman went on to say teaching his players about the message of unity and equality and the value of respecting all individuals is something this showcase does that they don't find anywhere else, which is why he said as long as he is blessed to coach at Lakota West and his team is invited, they will cherish coming to Classic in the Country.
Former Hiland coaching great Dave Schlabach, who helped create the Classic, said King's message will continue to be promoted and encouraged.
"That was Tom's passion," Schlabach said of the message of equality. "That was his baby. I thought a lot about him this weekend because that message of unity continues to be a central focus. With everything going on in the world, we think we do a great job here of keeping everything in perspective. We provide great basketball and great food, but ultimately, there are bigger messages we can convey."
It's been 55 years since King's assassination and more than two decades since Reese coached his final game at Hiland, but their message of bringing people together to live in harmony and equality, whether it was on the national front or in a small-town rural community, continues to be a focal point of Classic in the Country.