Volunteers recognized for contributions to area historical sites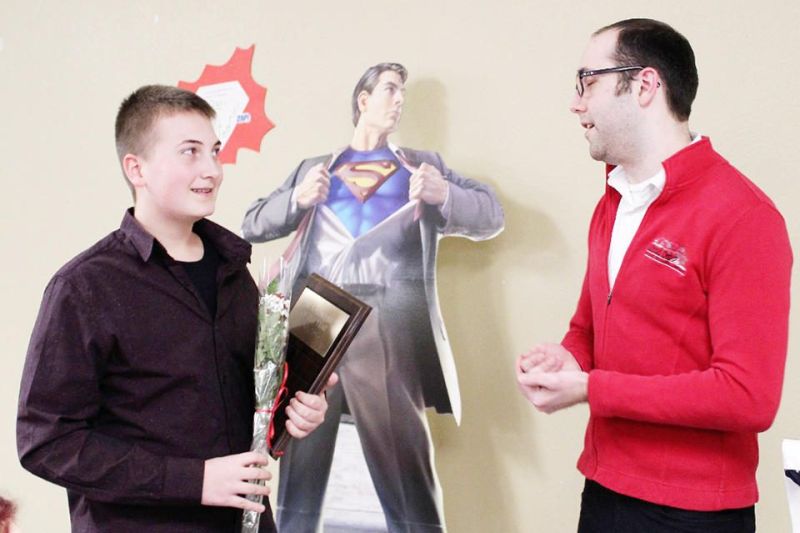 The importance of volunteers cannot be overlooked. Their contributions to any effort in which they invest their passions is sure to grow to help not only themselves but the entire community. Such is the case with the volunteers from Historic Schoenbrunn Village, the Dennison Railroad Depot Museum, and the Museum of Clay Industry and Folk Art in Uhrichsville.
Showing the volunteers just how important their contributions are was the theme of a recent volunteer recognition dinner held on March 11 in Dennison.
"We appreciate what you do. Dedicated volunteers are the backbone of any organization or civilization. Keep up the good work," Uhrichsville Mayor Rick Dorland said before the awards for the Museum of Clay Industry and Folk Art were presented.
Also expressing their appreciation during the evening were County Commissioners Chris Abbuhl and Joe Sciarretti; New Philadelphia Mayor Joel Day; director Wendy Zucal and Board President John Mako, both of the Dennison Depot Museum; and Ethan Zucal, representing State Rep. Brett Hillyer.
Don and Nancy Esway were named Best New Volunteers at Historic Schoenbrunn Village for their eye for detail. "Our winners put forth amazing effort, dedication and willingness to be active at the site," site manager Deidra Lute said.
Junior Volunteer of the Year was Laney Barger. "Her thirst and desire to be part of living history is inspiring," Lute said. "She brings sunshine, caring and intelligence. Her energy is contagious."
The Schoenbrunn Village Volunteer of the Year award went to Jimmy and Tonya Jones. "They always show up and give 100 percent," Lute said. "They man tables at events, they clean offices, they create spreadsheets, and they mow grass and mend fences."
Kathy Spring was named the winner of the Zeisberger Award. "She is a jack of all trades," Lute said, noting her many activities have included picking up sticks, raking leaves, working in the office, planning events, scrubbing and whitewashing, and representing Schoenbrunn at various events.
The Best New Volunteer at the Clay Museum went to Kevin Keffer, one of the site's newest board members. "He has been helping to promote the history of Uhrichsville and the clay industry and assisting with future clay exhibits," said Curtis Moreland, site manager.
Junior Volunteer of the Year awards went to Spencer Stanley and Hunter Armstrong. "They are both kings when it comes to acting. Their presence and help at the Queen's Tea makes all the kids very happy," Moreland said.
Dennis Carpenter was named Volunteer of the Year. "He shows up when there is pizza," Moreland said, explaining that Carpenter helps make the pizzas for fundraising events for the museum. "He has been helping for quite some time, and I believe it is time for him to be recognized."
The Clay Worker of the Year went to Jeff and Aaron White. "These two not only plan but support our events by sponsoring and taking charge of the Clay Paddle Fest. Without their help we would not be able to host an end-of-summer kick-off for families before school begins," Moreland said.
Sarah Coffey was named Best New Volunteer at the Dennison Depot. Since joining the Gala fundraiser committee, Coffey has been involved in every aspect of the event, according to Jacob Masters, a manager at the Dennison Railroad Depot Museum who presented the award.
Maddux Maple has volunteered as an elf for more than five years, but it was his talents as the big, bad wolf on the Fall Storybook Train rides that earned him an award for Junior Volunteer of the Year.
"Maddox has been taking on leadership roles and helping as an assistant, but when we needed 'scare coordinators' for our new event, the Train of Terror, he was one of the main people who stepped up to the challenge," Masters said.
Volunteers Leigh Ann McCray and her son, Grant, were honored as Volunteers of the Year. "They have been a storyteller and elf/assistant duo for a number of years, serving on both the Fall Train Rides and Polar Express," Masters said.
They also helped place a volunteer with special needs into a position where he flourished, making the individual, the passengers and the railroad happy.
The Bud Norman Award went to Randy Seiber. He has been a member of the Dennison Railroad Depot Museum's board for more than 10 years and served in many committees. Seiber also has been a storyteller for the Polar Express and Fall Train Rides and helped with property management and planning events. "Seiber is definitely deserving of this honor," Masters said.
Door prizes were won by Greg Leopold, Dave Kopp, Sue Whitman, Charlotte Sayre, Annabelle Anderson, Dean Fisher and Rita McPeak.