Watts shines a light on giving by donating back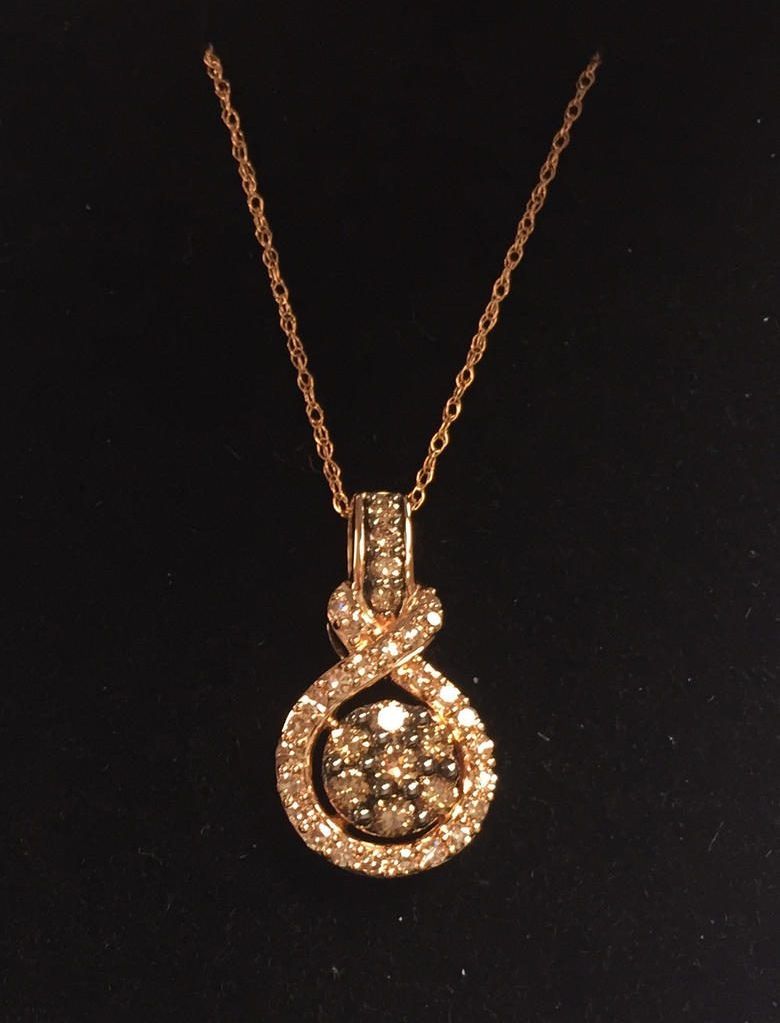 The inaugural Holmes County Chocolate Walk for the Food Pantry at Millersburg Church of God took place Oct. 18-20 as patrons visited Millersburg, Berlin and Walnut Creek businesses in search of everything from wrapped chocolate treats to chocolate fountains and homemade buckeyes.
Patrons also were entered into a drawing for a chocolate diamond necklace from The Jewelry Store in Millersburg, valued at $900, which Ruth Watts won. When she was presented with the diamond necklace on Friday, Oct. 26 at The Jewelry Store in Millersburg, she went above and beyond and donated it back to the cause, bringing the funds raised for the pantry to $1,800.
"I am in total shock. I don't even know what to say right now," food pantry board member Evelyn Wooten said as she received a check for the necklace, a donation that came out of no where for her, and then she turned and hugged Ruth Watts. "Thank you so much."
"I'm excited to be able to give back to the pantry," Ruth Watts said in return.
Ruth Watts said she and her husband Conrad truly enjoyed getting to see many of the local stores they had never been to before in addition to sampling the chocolate treats.
"In most cases we tried to make a small purchase and really take time to look around and explore each shop," Ruth Watts said. "It was fun to see places we never go into because we live here and we're not tourists. What we found was that we have some really fascinating stores with some incredible merchandise. We recommend that all of the locals take the time to go out and explore some of these fantastic local shops."
While nibbling on chocolate is a prerequisite to the tour, the Watts said they eventually drove out to Millersburg, where they dined at Hotel Millersburg after having coffee at New Grounds Café in Walnut Creek.
"We put on some weight," Conrad Watts said with a laugh.
The Watts agreed the event turned into an adventure and said they were amazed at how many handmade items are sold in the county.
Ruth Watts said they don't get out to Millersburg often, but they will go more now after discovering the array of antiques and handmade merchandise offered in Historic Downtown Millersburg.
Wooten said she too had a great experience connecting with local businesses. "There is no reason to go out of this county to shop for anything, and with Christmas coming, I strongly encourage people to shop Holmes County this Christmas season," she said. "You can't buy better quality handmade items than you'll find here, and there is something for everyone."
Wooten said she talked with a number of vendors who said they had a good time with the event.
Sue Szpila, owner of The Jewelry Store in Millersburg, said she enjoyed being able to meet people who came in during the event. "This was a unique way to get people into my store who haven't been here before or have a reason to come in otherwise, so it made for a fun time and it introduced our store to a lot of new people," she said.
Wooten said part of the purpose was to promote area businesses to not just tourists, but also to locals who may have never explored the area.
"We tried to be very intentional in taking our time to look around each store, even if we weren't buying anything, because we wanted businesses to feel good about the investment they made in the event," Ruth Watts said. "And getting to chat with many of the business owners and employees was really a lot of fun because we got to meet a lot of new and wonderful people."
Wooten said it was an enjoyable and creative fundraiser and people seemed genuinely excited about traversing the county in search of chocolate and exploring area stores.
The plan now is to have a second chocolate walk during the second week of April. Wooten said she had several different area businesses request that, and Wooten expects the participating businesses to be even greater than this inaugural event.
In addition to the chocolate walk, the event will coincide with a girls' night out fundraiser on the final day of the three-day event. That will provide more than two-dozen booths that will present Avon, Tupperware, Norwex and others to create a home-party atmosphere.
"It will only add to the exciting things people can do and see," Wooten said.
While the chocolate and shopping event was made to be an adventure through Holmes County, the real purpose was to help raise funds for the food pantry. Wooten said the funds will be put to good use in providing food and other sundry items for area families in need.
Of one couple from outside the area, Wooten said, "We had a couple who were bicycling through the area who weren't even from around here stop in at German Village, and they saw we were doing something, so they came over to chat. I told them about our food pantry and what we are doing, and they bought a ticket, went up and down Berlin, and two hours later they dropped off their passport. They just wanted to support the pantry, which was touching, and things like that make it all worthwhile."
All of the funds raised from the walk will go toward operating expenses for the Food Pantry at Millersburg Church of God. Commercial and Savings Bank provided a donation to help cover expenses for the event.