WCHS Sterling exhibit shows its surprisingly rich history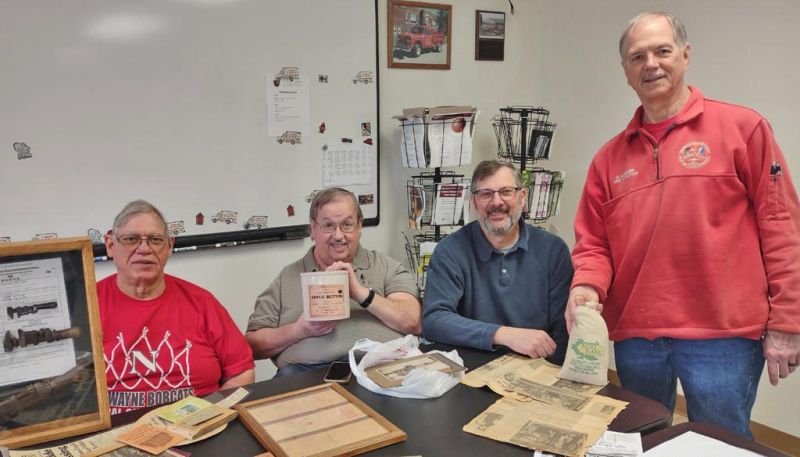 Without so much as a traffic light, almost no people and basically only one road, it's hard to believe Sterling could have much of a history.
Labeled an "unincorporated, census-designated place," which means it has no boundaries or government but does have people, it's neither a city nor a town or even a village. Despite all that, enough has gone on in the tiny rural community to inspire "The Historical Roots of Sterling, Ohio" at the Wayne County Historical Society of Ohio, 546 Bowman St., Wooster.
The pop-up exhibit will go on display beginning Saturday, June 3 and remain until Sunday, Sept. 10. It will be open from 1-4 p.m. every Saturday. Admission is $5. Members of the Wayne County Historical Society will be admitted free along with those under 18.
Visitors will be able to explore almost 300 items related to this local village and its history of trains, tobacco and trade. Information on the former Sterling Glass Company, Russell Wrench Company and Steiner-Maibach Store will all be explored, among other things.
"It's fascinating what all happened there," said Vicki Slater, who works with the Wayne County Historical Society and the Dalton Historical Society. "They had a glassworks factory. They grew tobacco, and they had a cigar factory. This history is amazing. We have three people who helped with this — three collectors that are sharing their collections, photographs and items with us."
Sterling sits just a good sled ride down Rittman Avenue from Bauman Orchards on the west side of Rittman and a couple miles east of Creston.
Situated in the northwestern part of Milton Township and split in half by Kaufman Road, really its only thoroughfare, Sterling has been the center of the universe more often than you'd think a town of less than 400 would be.
While some towns might be more famous for beingtrain wrecks, Sterling is known for having them. In 1965 five railroaders were killed in a head-on collision between Erie Lackawanna and Baltimore & Ohio trains, a wreck that, according to UPI coverage of the event, included eight diesel engines and shot flames 200 feet in the air.
More than 100 years ago, Sterling became the focal point of the presidential campaign world, at least for a little while, when soon-to-be President William Howard Taft, stumping during his run to the Oval Office, was shaken up when his train car derailed after hitting a metal bar on the track. The New York Timesreported the incident, saying Taft was jarred from his seat as the car he occupied bumped over the ties for fully 100 feet and that the train's slow speed prevented a potentially much more serious accident.
Those two incidents will be among things highlighted on Sunday, July 9 at 1 p.m. as part of the Schoolhouse Speaker Series. Rails Along Chippewa Creek — The B&O and Sterling, Ohio will feature guest speakers Bill Cramer, Mike Lytle and Ron Spiga, all members of the Baltimore & Ohio Railroad Historical Society.
The history of the railroad's relationship with Sterling was researched and will be documented in this program. The three men will share stories during a 45-minute program and a Q-and-A held in the society's 1873 schoolhouse.
On Sunday, Aug. 20 at 1 p.m., Wooster's Paul Davis will be featured in The Trolley That Came to Wooster, a program about an electric urban railway that provided Wayne Countians transportation from downtown Wooster to Creston and on to Cleveland and other Ohio towns.
"My presentation will explore that railway's origins as well as the details of the route it followed, the challenges of getting it built and why it was an important part of Wayne County's transportation history," said Davis, who also will speak in the schoolhouse.
Seating at schoolhouse events will be limited.
On Sunday, Sept. 10, the exhibit will be displayed for one bonus day before being replaced by the autumn pop-up. Much of the exhibit includes items from the Jim Bischoff collection, the Jack Kerstetter collection, and contributions from the Don and Ruth Glessner family.
Among other things visitors are likely to learn about this tiny area is its history in the tobacco industry. Once upon a time when cigars were all the rage — before cigarettes took over that world — Sterling was a hub for growing the leafy plants that wound up rolled into stogies.
"The exhibit will explain the history of tobacco there," Slater said. "Tobacco for cigars was grown in Northern Wayne County, in Rittman, Creston, Sterling and some other places. We have a map that shows a tobacco factory there along the tracks. We have some postcards with some pictures of the tobacco fields."
The pop-up display will include photos and news stories of Taft's derailment, as well as information about the booming tobacco industry in the Sterling area at the turn of the century and the history of many well-known and not-so-known businesses in the village.
The society has other current exhibits on display including "From the Collection: Wayne County in the Armed Forces," an exhibit honoring more than 100 local men and women who served in the military. That exhibit will be on display through December.
Back in Dalton, its historical society is still having open houses on the first Sunday of every month from 1-4 p.m. It is free to visit. Slater said among the Dalton Society's current projects is working with local firemen to identify objects that have been donated from that realm and to get fun stories about the different objects.
For questions about the Sterling display, call the society office at 330-264-8856 or email exhibits@waynehistoricalohio.org. Follow Wayne County Historical Society; Wooster, OH on Facebook for updates.