Winners announced at annual fair Dog Show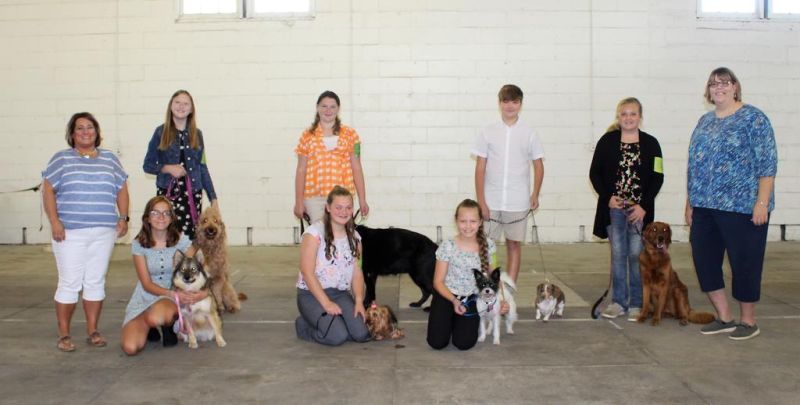 The Tuscarawas County Fair Dog Show was held prior to the fair this year in the commercial building with seven participants and their pets showing their obedience training skills.
The participants competed in two categories: beginner novice and preferred novice. Winning first place in the preferred novice category was Audrey Anderson with her Golden Doodle, Bella, and taking second place was Allison Kendle with her Yorkie, Daisy.
Taking first place in the beginner novice category was Cora Dotts with her rescue dog, Marnie, who is a terrier mix. Second place went to Tyson Shetler and his Miniature Dachshund, Buddy. The remaining places went to Mercedez Cooper and her black German Shepherd, Shadow; Kalina Brown and her Elkhound, Leia; and Madisyn Brandt and her Golden Retriever, Ellie.
Unable to attend the dog show this year was participant Lydia Raber and her dog, Darby, and advisor Jodie Hay.
The participants will get their awards during a ceremony on the Sunday before the fair starts on Sept. 20.
At the show each participant was given a gift bag that included a 4-H dog collar. Judging the competition was Carrie A. Blackwell of New Philadelphia, who operates Carrie's Canine Training. Blackwell was impressed with the work the participants put into training their animals and complimented them after the show.
As usual, with spectators in attendance, some of the dogs' behavior was unpredictable at times, but overall, they performed admirably.
"They're dogs, so they're going to perform however they do. There are a lot of variables inside and outside," advisor Marcie Dryden said. "When we practice here, we practice outside, and there's lots of milling around of people, cars and horses so they get used to the stimulus and each other."
The participants met every Monday except for holidays throughout the summer to practice obedience training with their dogs.
"The first-year kids, we teach them what the command is going to be. Once they and their dog understand what the command is, then we put them through each exercise every workout after they learn," Dryden said. "The advanced kids and the dogs would be separated because they know the commands. We would just practice on different things. We try to make it fun and play games."
The participants do activities with their dogs like heel, stop and sit, and to come when called. One of the hardest exercises is to teach a dog to sit for exam. The dog has to sit, and the judge walks over to touch the dog while it stays still.
The participants also are encouraged to put in a couple 15-minute sessions a day at home if they can.
There are certain breeds that are better at following commands than others, but Dryden and Davy were impressed with all the dogs at the show. Dogs do not have to be purebred; mixed breeds are welcome.
"Honestly, the difficult ones have done wonderful," Dryden said. "It depends completely on how much the kid's dedication is to complete the exercises."
As with other 4-H projects, the participants complete project books and interview judging. "We stay on top, telling our kids what they need to know and what they need to do with their books and interview judging," Dryden said. "I'm so proud of them. They're very presentable; they're very responsible kids. I think kids become more responsible if they have pets."
Participants may choose to compete at the state level with their dogs. At this time they may sign up, and no tryouts are required. The state fair does offer more classes of competition including agility. For the Tuscarawas County Fair, the participants are competing in obedience, which is what the participants choose to do.
Allison Kendall and her Yorkie, Daisy, competed at the state level this year and did very well, coming in second in her obedience class.
The advisors would like to grow the program.
"I would love to see more kids participate in Dog 4-H. Basically, the workouts are free dog lessons, so they come and just have fun with their dogs," Dryden said. "All the kids get along so well. We really encourage that kids sign up for 4-H if they're not in it and if they are in 4-H, to bring their dog and try it out."
The advisors said not to let the weekly commitment scare them away.
"We're very forgiving if you can't come. If you have softball or go on vacation, we understand that there are other things out there. We give you enough instruction that you should have a good year," Dryden said.
Fight the Hunger, Stock the Trailer food drive
Tuscarawas County fairgoers are encouraged to bring a few nonperishable food items with them as the fair will participate in the Fight the Hunger, Stock the Trailer food drive. The drive is sponsored by Farm Credit Mid-America and Rural First. Donations will be collected from the opening to the close of the county fair. There will be a designated trailer to place the donations at the fair.
Prizes will be awarded based on the total pounds of food donated to the top-three fairs to be used to benefit junior fair participants. The top prize is $5,000, second place is $3,500 and third place is $1,500. Participation prizes of $500 also will be awarded. About a dozen fairs are competing in the state of Ohio.
All food collected will be donated to an area food bank.