Wooster school board to honor Armbruster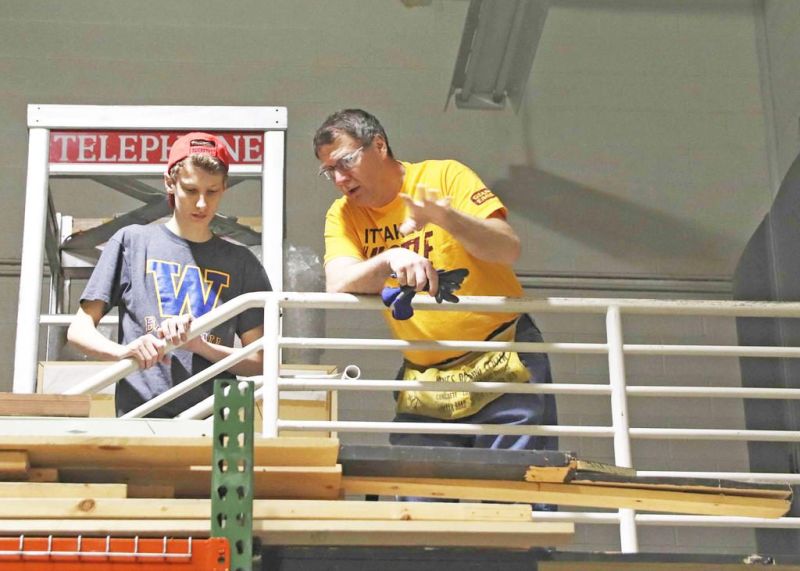 The Wooster Board of Education will officially recognize Chuck Armbruster for his service and work for the Wooster High School Drama Club, exemplifying the contribution community members can make toward the growth of students.
Brett Hiner, WHS drama director, has known Armbruster for over five years and has seen his work up close. "As a cast member of Summer Stage Wooster's production of 'Shrek' several years ago, I worked on set construction and spent quite a bit of time under Chuck's tutelage," Hiner said.
Producing a play takes a collective effort, and many theaters — even professional theaters — rely on the contributions of supporters and community members. Armbruster has been investing his time in the Wooster Drama Club since his daughter Abby went through the program over 15 years ago, mostly heading up set construction and production safety.
"Usually, it begins with my crude drawings of a set," Hiner said. "Chuck then comes back a few days later with complete architectural designs — very professionally done. From there we get the students involved, and he oversees the build."
During the Drama Club's last production of "Footloose," Armbruster's contributions exceeded his usual construction tutelage and included spearheading the planning, construction and completion of the scene shop overhaul.
"He was really taking on two demanding tasks at once and spending countless hours in the Performing Arts Center," Hiner said. "His incredible amount of work on the prop-loft makeover while working on 'Footloose' sets was nothing short of a miracle."
At its May 25 meeting, the board of education will honor Armbruster with a formal recognition for his contributions to the drama department and community at large.
"It will be an honor to publicly recognize and celebrate Mr. Armbruster," Wooster superintendent Dr. Michael Tefs said. "He's been a tremendous asset for the drama department, and his efforts are certainly extraordinary. The school system is fortunate and extremely grateful."
"I'm not sure I can put into words all that Mr. Armbruster has done," Hiner said. "His time, effort and energy surpass expectations. His skill sets and his mentoring of students provide great perspectives for our group, and his devotion to the Drama Club is inspiring."