Zoar Volunteer Fire Department celebrating 170 years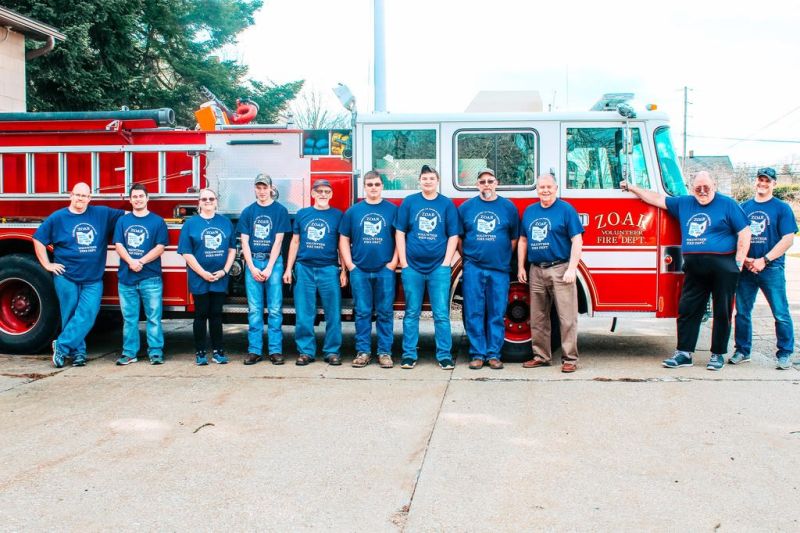 Community service comes in many forms. In Zoar Village, the Zoar Volunteer Fire Department has been serving the community for 170 years by protecting lives and property in the village.
The Community Business Association of Northern Tuscarawas County had planned to honor the department for its uninterrupted service at a pancake breakfast at the firehouse on March 28. However, due to the governor's mandate, the breakfast and award ceremony will be rescheduled.
When the ceremony is held, the CBA will present an award to the department and give away free smoke detectors while supplies last (one package of dual smoke alarms per family), as well as coloring books for children. The CBA had special shirts made for the firefighters to mark this milestone, as well as a banner indicating appreciation for their service.
Blazing the way
The history of the ZVFD is one where firefighters not only blazed a trail in their own community, but also helped the Tuscarawas County seat get its first piece of fire equipment.
According to the department's public information officer, Dave Schlosser, representatives of the Zoar Fire Department, which organized around 1850, traveled to Philadelphia, Pennsylvania to look at a hand pumper.
"Once they saw it, they decided they could build one themselves," Schlosser said.
They came back to Zoar and built an eight-hand pumper, which required four people on each side to operate. "It worked kind of like a teeter-totter," Schlosser said, "and that's how they pumped the water from a cistern to a fire hose. Zoar had one of the first of these kinds of pumps in the area."
The early Zoar firemen didn't keep their knowledge and skills to themselves. According to Schlosser, they built the first piece of equipment the New Philadelphia Fire Department used in the early 1880s.
But back to Zoar. The original Zoar fire engine was housed in the Town Hall garage. Before WWII the only firefighting equipment the department owned by the village was a chemical tank and a bell that had to be rung by hand at the Town Hall.
During the war a civilian defense group purchased an old fire truck that became commonly referred to as the "Old Relic." It bore a small amount of equipment — 200 feet of 3/4-inch hose, 200 feet of 1 1/2-inch hose, one old-fashioned nozzle and a 250-gallon pumper with a 250-gallon water tank — according to fire department records.
Additional highlights from the department's history
1946: The Zoar Volunteer Fire Department organized at a meeting on April 9 and collected $3.66 to get the department started.
1947: On Aug. 1-2 the first Firemen's Festival was held in Zoar. It became an annual event and the department's chief fundraiser, except for in 1952 when the event was canceled due to an outbreak of polio.
1953: The department received a piece of land on which to build a fire station and started building the fire house currently used at 190 E. Fifth St. next to the Zoar United Church of Christ.
1972: The department reorganized and incorporated, becoming what is now a 501(c)(3).
1974-2007: The department constructed additions that gave the fire house additional bays, a training room, an office, storage, a walk-in cooler and other upgrades.
2008 to present: The station became the location for central operations during the flood and breach in the Zoar Levee. The U.S. Army Corps of Engineers set up its staff in the station's office. Volunteer firefighters prepared meals for the corps, construction workers and other flood volunteers.
An ISO Class 3 rating and what that means
ZVFD has been given a Class 3 rating by ISO, the Insurance Service Office, a national company that assesses a community's fire-protection capabilities. Ratings are given from 1-10 with 1 being the best and 10 being the worst. Ratings are given based on emergency-communications systems, staffing, training, water-supply systems and community efforts to reduce the risk of fire, among other criteria.
"You won't find many places in the country with a 100 percent volunteer fire fighting force getting an ISO Class 3 rating," Schlosser said.
Schlosser said there are larger towns with paid fire forces that don't have Class 3 status.
Fire Chief Charlie Meiser agreed. He said the rating was issued in part because of the close proximity of water hydrants to houses and the department's addition of a new Simon Duplex fire engine.
That ISO rating is important, according to Meiser. "Businesses benefit greatly from having a fire department with an ISO 3 rating because it reduces their insurance rates," he said.
Meiser also talked about the importance of a preplan that was put into place in the 1990s under then Fire Chief Junior Geers.
"We went into every residence in the village, measured every room, laid out where things were and determined how many gallons of water it would take to fight a fire should it occur in any of the residences in Zoar," Meiser said. "It really worked too. Because when Books 'N Things caught fire, we used almost exactly the amount of water we had predicted in the preplan."
Grants and tax monies only go so far
Meiser and Schlosser both emphasized the need for the department to hold fundraisers and for people to attend and pitch in.
"We receive $12,000 a year in tax money," Meiser said. "That doesn't even cover the electric bill."
While the department does receive grant help from the government and private foundations such as the Reeves Foundation and the Rosenberry Foundation, more money is always needed. According to Schlosser, the department raises between 75 and 80 percent of its operating budget through spaghetti dinners, pancake breakfasts, its annual car show in July, its chicken barbecue and donations from the public. And all funds raised go directly toward keeping the department not only running, but also improving through training and additional equipment.
Keep in mind this is an all-volunteer force, so no funds are going toward salaries. "These are hardworking volunteers who donate their time and energy and don't even live in the village," Meiser said. "They just want to help."
Those who wish to return the favor and help the ZVFD can follow it on Facebook and attend its fundraising events.
"We're planning some special things yet to be announced for the 170th anniversary," Schlosser said.
One also can help by sending a donation to the ZVFD at P.O. Box 672, Zoar, OH 44697.