Ohio EPA Grant allows mosquito population control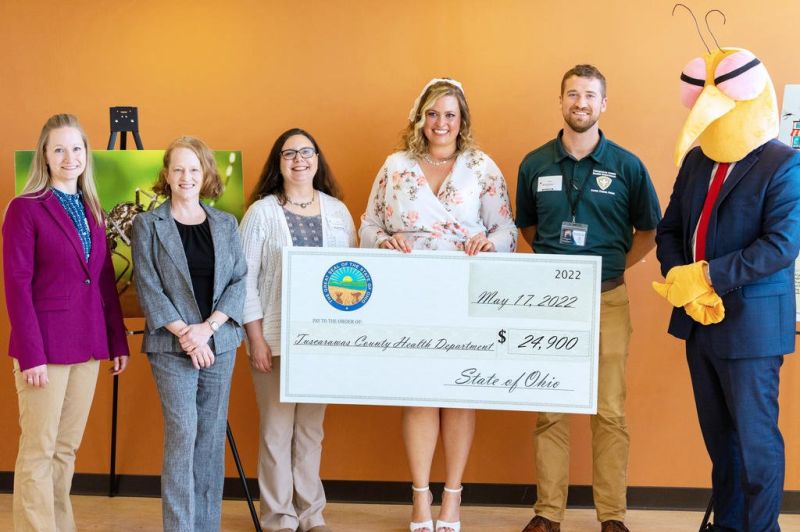 With the recent receipt of a $24,900 mosquito-control grant from the Ohio Environmental Protection Agency, officials in the Bureau of Environmental Health at the Tuscarawas County Health Department have been at work to control the county's mosquito population and help prevent disease.
TCHD staff members are planning to collect mosquito specimens from traps that will be placed at locations across the county. They also will conduct larviciding — killing mosquito larvae and pupae at breeding sites — and spraying in many areas. These mosquito population-control measures will be ongoing throughout the summer.
Due to the West Nile virus outbreak in the U.S. in 1999, TCHD increased its focus on surveillance to detect mosquitoes carrying disease. Surveillance consists of setting strategically located mosquito traps in Tuscarawas County. The mosquitoes are sent to the Ohio Department of Health for testing for West Nile virus. Test results supply TCHD with information on locations of any infected mosquitoes within the county and where to best focus mosquito-reduction efforts.
In recent years TCHD has transitioned away from using organophosphate-based pesticides to more environmentally friendly and less toxic products. Currently, TCHD is using bacteria-based products to help control larval mosquito populations and a less toxic adulticide spray. These products are effective at controlling mosquito populations while having a very limited impact on nontarget species.
TCHD also provides education to the public on mosquito-breeding sites around the home, mosquito testing for encephalitis, treating areas of standing water for mosquito larva and evening spraying in areas where mosquitoes are a cause for concern.
Program goals
The goals of the TCHD Mosquito Control Program are as follows:
—Reduce the number of disease-carrying mosquitoes in a cost-effective and environmentally responsible manner.
—Educate the public on methods of cultural practices that will reduce the number of mosquito-breeding sites and methods to reduce the feeding activities of mosquitoes.
—Have the ability to monitor mosquito populations in Tuscarawas County for mosquito-borne diseases.
The TCHD Mosquito Control Program components are as follows:
Public education
and personal responsibility
Tuscarawas County Public Health provides information to the public on matters such as actions that can be taken to reduce mosquito-breeding grounds around the home and to avoid mosquito bites, mosquito ecology, vector-borne disease information, proper cultural practices for mosquito larva reduction, and mosquito-control methods used by the Mosquito Control Program. To obtain this information, call Tuscarawas County Mosquito Control at 330-343-5550 Monday through Friday from 8 a.m. to 4 p.m.
Mosquito surveillance
and monitoring
Surveillance identifies locations where mosquito populations are building so targeted control measures can be implemented before a problem exists. The object of this program is to collect mosquito specimens for shipment to the Ohio Department of Health for mosquito-related encephalitis testing. Thousands of Culex specimens per year are submitted by TCHD and are tested for West Nile virus. These mosquitoes are collected using gravid traps. TCHD has increased mosquito surveillance over the past five years to include setting traps in all communities participating in the program.
Source reduction
and chemical control
Larviciding is the addition of chemical or other products to a water source to kill mosquito larvae and pupae. The purpose of the program is to reduce the number of mosquito larvae by treating breeding sites from May through September. Currently, TCHD utilizes naturally occurring bacteria to have a minimal impact on the environment, including nontarget species. To report areas of standing water, mosquito-breeding sites, call 330-343-5550.
The goal of adulticiding is to reduce the number of adult disease-carrying and pest mosquitoes by evening spraying of residential areas with ultra low-volume mist spray equipment. Adulticiding is the last line of defense in the control of mosquitoes. Other methods of mosquito control such as source reduction and aggressive larviciding should be considered first. Using the system of integrated pest management, the decision of when and where to spray is based on the mosquito-surveillance program. TCHD sets out traps each night in Tuscarawas County to determine the location of areas of disease and mosquito activity.