Out of Darkness Walk/5k event is looking for sponsors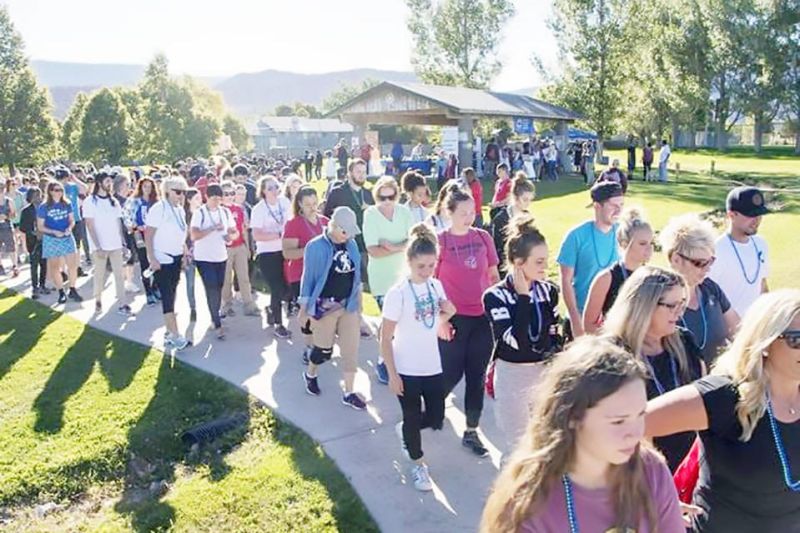 "Suicide touches one in five American families," said Adrianna Anderson, Wayne County chair. "We hope that by walking we will draw attention to this issue and keep other families from experiencing a suicide loss. Our ultimate goal is to save lives and bring home to
those affected by suicide."
Anderson felt compelled to start the walk after hearing about one through a corporate call. "I got a feeling in my heart that I had to do it," she said. "I'm a single mom of two kids. I could think of all the reasons why I couldn't do this, but the feeling kept going."
Anderson said she did research on the event and within two weeks had everything set up. "I have seen blessings every step of the way," she said.
With registration at 11 a.m. and the walk being held at 1 p.m. on Oct. 26 at Wooster Memorial Park, funds raised will go to the American Foundation for Suicide Prevention. Funds go to help research, create educational programs, support survivors of suicide loss and advocate public policy.
The Wayne County Walk is one of 550 held nationwide with last year's total raised across the United States coming in at $21 million.
"These walks are about turning hope into action," AFSP CEO Robert Gebbia said. "The research has shown us how to fight suicide, and if we keep up the fight, the science is only going to get better and our culture will get smarter about mental health. With the efforts
of our courageous volunteers and a real investment from our nation's leaders, we hope to significantly reduce the suicide rate in the United States."
Because this is the first year for the Wayne County event, the organization is looking to get the word out to the community as well as potential sponsors.
"Once I actually got this started and going, I've had so many reach out to me," Anderson said. "So many are impacted by mental-health issues; it impacts so many people."
Anderson said it is vital to break the stigma about mental health. "We need to support that it's OK to have some days that are not so good. It's OK to get help. It's OK to talk about it," she said.
Anderson and the organization feel if there is more mental-health awareness, suicides can be reduced. "Maybe people won't feel so isolated or feel there is no way out," she said.
Anderson has even become an outreach person to help someone who feels they are in crisis.
The community is already helping with the walk, but it could always use more sponsors. "My church gave a $500 sponsorship just the other day," Anderson said. "So many have reached out to me. I just want to get the word out that this is here. We want to help; we are
there for the community."
Anderson is not only reaching out to Wayne County, but also the surrounding counties for their help and support of this cause. "All are welcome," she said.
Anderson said the walk is free, but for those who want to raise donations, if they raise $150, they will get a free T-shirt.
Anderson also teamed with Expert Ts as a fundraiser to sell T-shirts, sweatshirts and hoodies there to help raise money for the cause. "They have been great. They took everything off my hands," Anderson said.
Shirts can be ordered at www.expert-ts.com/out_of_the_darkness/shop/home.
For those who would like to be a sponsor or want more information about the walk or the organization, call Anderson at 330-287-2638 or email wayneootd@gmail.com.
Online registration for the event ends at noon the Friday before the walk, but participants can register in person the day of the event. More information also can be found at
www.afsp.donordrive.com/event/WayneCounty