Turkey Trot theme is 'Run Happy, Run Fast, Be Thankful'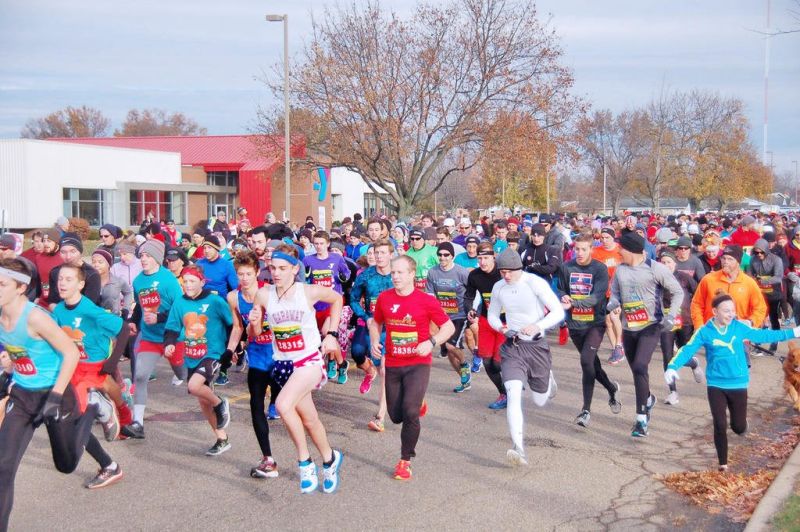 The Y is expecting over 1,000 people to join in this year's festivities for the Turkey Trot.
"Volunteers and staff have been working since January to make this the best event ever at the Y," marketing director Kathleen Johnson said. "Our race director Jason Eick and chairperson Angela Singhaus have made an incredible team. They have found the support of more sponsors and more volunteers than in the past year and have even added a Race Expo to this year's event."
The expo will feature the first-ever Turkey Trot merchandise. Commemorative awards have been painted and signed by local artist Jennifer Contini.
This year's 5k main event sponsors include Wendy's, Kent State Tuscarawas, Trinity Hospital Twin City, Dover Brake, Denney Plastics Machining and Robert's.
Additional race-support sponsors are Adventure Harley-Davidson, Buehler's, Dee's Restaurant, Dr. Michelle Levitt, Dr. Nathan Springer, Ferris Chevrolet Buick Cadillac, First Federal Community Bank, Giant Eagle, Hair by Christine (Christine Snyder, Isagenix), Dana Randazzo, Peterman Plumbing, Sweet & Simple (Rachel Smith), To Your Health Nutrition and Mission Nutrition (Leighanna Ulrich, Truck Sales and Leasing), Mike Bollen and Vanmeters Auto Repair.
Festivities will begin Saturday, Nov. 17 with yoga at 8 a.m. for a salutations flow and 9 a.m. for gentle yoga, and on Wednesday, Nov. 21 there will be classic yoga at 6 p.m.
Runners and the community are encouraged to participate in these free events; space is limited. A freewill offering will be collected by the instructors for support of the YMCA annual campaign to provide financial assistance to local kids and families to become members of the Y.
Registration for the race is online at www.runsignup.com. The race fee before Nov. 21 is $30. Race-day registration is $35. Race fee for youth age 14 is $20.
The 5k run will be held on Thanksgiving, Nov. 22 at 9 a.m. Packet pickup and a Fitness Expo featuring Turkey Trot merchandise will be held on Wednesday, Nov. 21 from 4-7:30 p.m. Race-day packet pickup also will be available on Nov. 22 from 7-8:30 a.m.
Awards will be given to the top-three overall female and male finishers and top-three in each age group. The theme is "Run Happy, Run Fast, Be Thankful."