All 6 Knights at state track reach the ultimate prize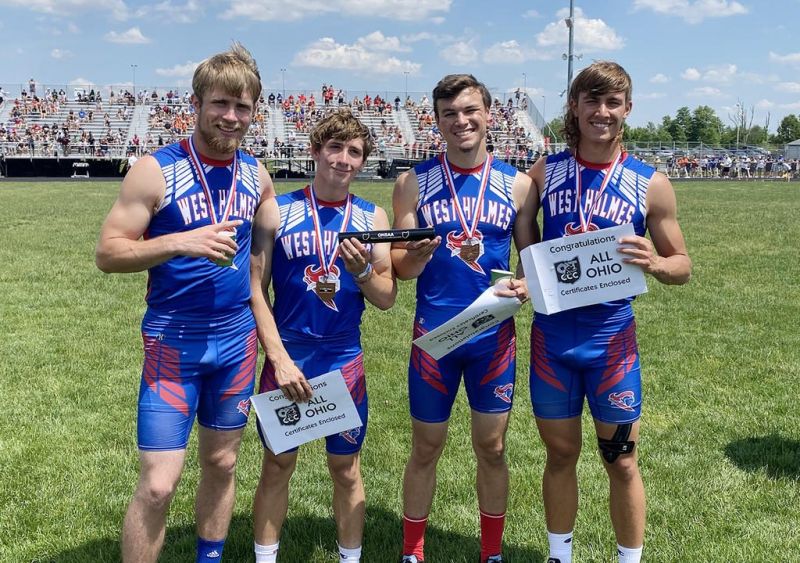 Every high school athlete dreams of one day adding the moniker "All-Ohio" to their name or getting their picture posted among the all-time greats at their high school.
For the six members of the West Holmes Knights boys track and field team that qualified for the Div. II state meet June 4-5, that dream is now a reality.
Thrower Lane Graham and sprinters Brady Taylor, Emmett Myers, Austin Myers, Sawyer Pritt and Gavin Freeman represented the Knights at the state meet held at Pickerington North High School, and all six came away as All-Ohioans, having qualified in the top-eight spots in their respective events.
For senior Brady Taylor, the walk to the podium and the accompanying accolades are nothing new. Taylor earned his third, fourth and fifth All-Ohio honors by placing fourth in the 200-meters while joining teammates in placing fourth in the 4-by-200 relay and sixth in the 4-by-100 relay.
"It's an amazing feeling," Taylor said of the honor of standing on the podium again and again. "I remember sitting in the classroom at the beginning of the season and talking about this opportunity. I don't think then we ever thought about breaking the school record, and you try not to get ahead of yourself and think about this moment before it gets here. Now we are here, and it is done, and it feels so great to share this moment with my teammates."
Taylor actually qualified for state and became an All-Ohioan as a freshman when he ran as part of the relay team that featured his brother Michael. He said having grown into the emotional leader of the team this year was something that inspired him.
"I love being part of something special and the way we pushed each other to be the best we could be. That's a fun part of this. I wouldn't change anything, outside of not being able to compete last year," Taylor said.
Taylor said beating Beaver Local in both relays was special because rival Beaver Local had beaten them at both districts and regionals, so that only added to the aura of the weekend.
For Freeman, who was part of the 4-by-200 and 4-by-100 relay teams, it was a first-time experience. As a senior, he basked in the joy that comes with such an honor.
"What a great experience," Freeman said. "I felt fast, and it felt like we ran a great race. This is my first time and my last time since I'm a senior, so it feels really great to end my career here on the podium with these guys."
Like Taylor, fellow senior Emmett Myers pulled a triple feat, earning seventh in the pole vault, fourth in the 4-by-200 relay and sixth in the 4-by-100 relay.
"Since we didn't have the chance last year (due to cancellation form COVID-19), this was a special opportunity to come here and compete, and to do it in three different events was incredible," Myers said.
Pritt, a junior who was part of the 4-by-100 team, said he appreciated all of the encouragement and leadership from this senior-laden group and is excited about the chance to do the same for younger teammates next season.
"This environment is the best," Pritt said. "It's crazy; I love it. I appreciate these guys so much. They took me under their wing and showed me the ways, and it paid off. It has been an honor."
Pritt said the adrenaline rush of receiving the baton and going all out at a venue as big and important as state is like no other.
Austin Myers, the youngster of the group and a member of the 4-by-200 team, said being part of this was special, and he couldn't wait to enjoy the achievement.
"It's special," Myers said. "These guys are amazing, and what a way to finish the year. We ran great, and I can't wait to work toward this again next year."
For Graham, topping off a career with victories in both the shot and discus events, a true rarity, was the culmination of a lot of hard work. While he enjoyed those successes, he was just as eager to share in the success of his teammates.
"I am honored to be a champion, but to me, it is just as much fun to see my teammates standing up there on the podium," Graham said. "We've all put in a lot of hard work, and it paid off in an amazing way. It's a great way to cap off the season, especially for us seniors who ended our careers on a fantastic note."
For six Knights, they came in competitors and left the arena wearing the medal of honor that makes them All-Ohioans and puts their picture on the Wall of Fame at West Holmes High.