Geiser, Camacho combine to help Golden Bears sink Hawks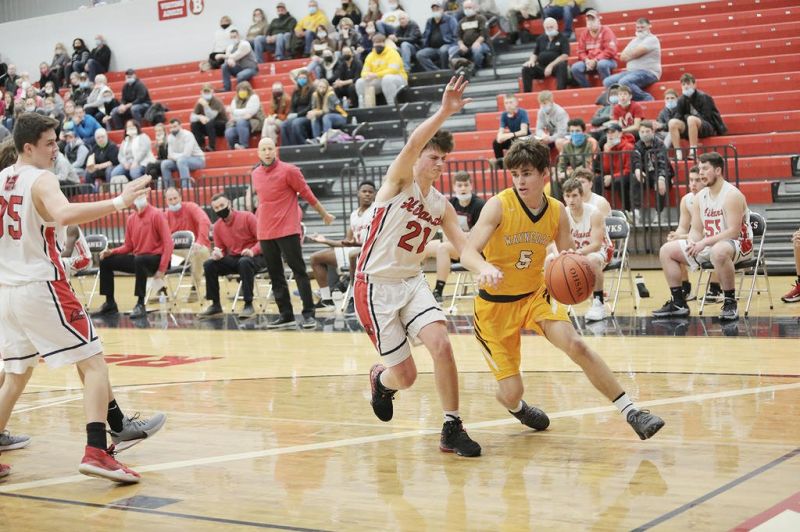 Waynedale second-year head coach Aaron Shaffer loves to add good competition to his schedule outside of the Wayne County Athletic League, so he was looking forward to his team facing perennial power Hiland, especially in the confines of the Perry Reese Center at Hiland High School on Dec. 30.
His Golden Bears came through the trial by fire with a 49-46 victory that came down to the final buzzer.
"I'm really proud of the way our guys responded tonight against Hiland on their home court," Shaffer said. "They have a top-notch program, great coaches and their kids always play hard. It always seems like a different game down here, especially on the rebounding half. I don't know if it's the gym or what, but I wanted out kids to experience that physicality. I thought the guys responded well."
Despite not scoring during the game's first four-plus minutes, Hiland managed to rally to a 12-12 tie through one quarter, and the two teams went on to play a ferocious, evenly played game the rest of the way.
Both teams had one golden opportunity in the latter stages of the game to take control. Hiland, which had built a 25-23 halftime lead, got the first shot midway through the third period.
After Golden Bears 6-foot, 4-inch center Hunter Hewitt tied the game, the Hawks went on a mini-run, hitting three-straight shots to forge ahead 32-25. In a close game where every point is critical, a seven-point lead looks great, and the Hawks were poised to close things out. However, after a Waynedale time-out, the Golden Bears top scorer Zach Geiser sandwiched a pair of 3-pointers around two free throws to get his team back in it.
"We had held Geiser in check up until that point," Hiland coach Mark Schlabach said. "We just lost track of him for a while. He is a great player, one of the area's best. The result was that we lost our momentum and they hit some big threes."
Then came Waynedale's chance, which was fortuitous for the Bears because it came near the end of the game.
Having been held scoreless the whole game, Waynedale's Mateo Camacho stepped into the spotlight and stroked a pair of treys from the corner that thrust Waynedale to a 45-39 lead with just 2:38 to play.
"He dearly loves that shot," Shaffer said of Camacho. "He has confidence in it, and we encourage him to take it."
However, the Golden Bears started to make some self-inflicted wounds, missing two free throws and committing several huge turnovers against Hiland's increased pressure.
With time winding down, a desperate Hiland team made a last-minute surge. Will Schlabach's four free throws around a Grant Miller triple brought the Hawks to within one at 47-46 with 14 seconds left.
"Yeah, we nearly blew it," Shaffer said. "We have to do better in those critical situations. We were lucky to weather the storm."
Following a time-out, Geiser connected on both ends of a one-and-one, but Hiland would get two chances to tie it. With 10 seconds the Hawks got the ball to their best shooter, Schlabach, but his frantic attempt careened off the rim.
After a missed Waynedale free throw, Hiland still had life. With two ticks on the clock, the Hawks fired a full-court pass into a hoard of yellow and white jerseys at the other free throw line. In a planned play, Isaac Slabaugh rose high, tipping the ball perfectly to a waiting Schlabach beyond the arc. Schlabach had a great look, and his potential game-tying trey looked good, but it came up just short, banging off the front of the iron.
"We practice that play a lot," coach Schlabach said. "We just didn't shoot the ball well from the field or the line tonight. You've got to shoot the ball consistently to keep up with them."
Schlabach led the Hawks (5-4) with 14 points while Geiser collected 21 to pace the Golden Bears (5-1).