Good to the last horn: Woo finds a way by WHHS in OT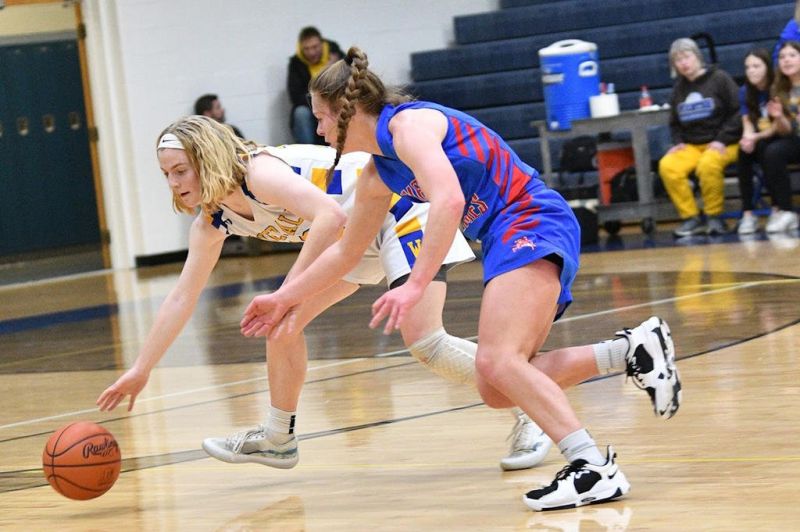 After a scintillating first encounter earlier this season at West Holmes High School, the Wooster Generals were seeking to even the score in hosting the Lady Knights in a game with plenty of meaning in the Ohio Cardinal Conference.
The Lady Knights looked like they were not going to allow that to happen, bursting to a quick 12-0 lead to start the game, but the Generals would claw their way back and earn a 60-57 overtime victory that tied the two teams atop the league with one loss apiece.
West Holmes darted to the early lead with some terrifyingly quick full-court pressure defense that led to easy buckets, including two apiece for Melanie Fair and Ella McMillen. Hallie Wilks finally broke the ice for Wooster at the 3:55 mark in the first period, but a Kinsey Patterson 3-popinter pushed the lead to 15-2. Tori Pettorini answered with one for Wooster and it was 15-5. Moments later Zaylie Shultz knocked down a trey, but Grace Grey and Eily Badertscher canned scores inside, Wooster seemed to have righted the ship, trailing 18-9 after one.
Slowly Wooster crept back into the game throughout the second quarter, and when Nora Levy scored on a drive and Pettorini nailed another triple, the lead was down to one at 24-23. However, Fair made a great play and beat the buzzer for a score to give the Lady Knights a 26-23 lead at intermission.
The Generals kept clawing, but a three-ball from Keegan Uhl pushed the lead back to 33-27. West Holmes maintained a 35-30 lead heading into the final period, but this one was just about to get really interesting.
Badertscher scored twice but West Holmes got four points from Patterson and an Ella McMillen free throw to lead 40-34. Eventually a Levy 3-pointer would get the generals within 43-40, and after getting a key stop, Pettorini locked up the score at 37 with a lengthy trey.
West Holmes then stepped up its defense, including a huge block of what looked like and easy score for Baderstcher inside, and when Ella McMillen drained a triple from the right side at the 2:00 mark, the Lady Knights were back on top 47-43.
After Pettorini and Grace Kostohryz each missed threes, WHHS had a chance to extend its lead, but misfired on three free throws, shots that would come back to haunt them, because Baderstcher dropped a 3-pointer to make it 47-46 with 27 seconds to play.
Wooster opted to foul Claire Reynolds with nine seconds to play, and Reynolds calmly drilled both attempts to push the lead to three. Wooster got the ball past midcourt with four seconds left on the clock, and the ensuing inbound pass found Pettorini in the corner. She launched an off-balance trey with 1.9 seconds left and missed, but was fouled on the attempt, a play that proved critical.
After making the first attempt, she missed the second, forcing her to miss the final shot on purpose. Badertscher grabbed the rebound and fired a shot off the glass, but Kostohryz quickly tossed the ball back up, where it kissed off the glass and went in as the buzzer sounded.
At the end of regulation, the Generals had never led, but found themselves still in the game.
Kostohryz started overtime with a put-back, giving Wooster its first lead of the game, and after a West Holmes turnover Pettorini found success from downtown for a 54-49 Wooster lead.
Fair responded with a crucial and-one to trim the Wooster lead to two, and after three straight turnovers, Patterson drilled a monster trey to give the Lady Knights a one-point lead at 55-54. Badertscher scored inside to give Wooster the lead, then Patterson, a tremendous free throw shooter, missed both shots at the line with 53 seconds to play. Kostohryz scored inside with 35 seconds to play, and after a West Holmes miss, Allie McMillen came away with a huge steal; and fed Reynolds to trim the deficit to one with 10 seconds left. West Holmes needed to foul, but was forced to foul Levy, the one player they couldn't afford to foul. The sharpshooter nailed both for a 60-57 lead, and West Holmes was unable to get a final shot. The victory went to Wooster, and now the OCC title is up for grabs between these two evenly matched teams, who are through playing reach other and must now take care of their own business while hope the other team gets tripped up by someone else.
Patterson scored 18 to lead the Lady Knights while Ella McMillen added a dozen and Fair and Reynolds both scored nine. Wooster was paced by Badertscher with 18 and Pettorini with 16, Kostohryz scored 10, Levy scored eight and Gray added five.
Ella McMillen snared 12 boards to lead all rebounders, while Fair hauled down nine and Reynolds added eight. Kostohryz snagged 10 to lead Wooster while gray recorded eight boards. WHHS now stands at 12-2 while Wooster moves to 9-5, and this loss stops a 20-game winning streak for West Holmes in the OCC.