Hiland battles until the end in state semifinal loss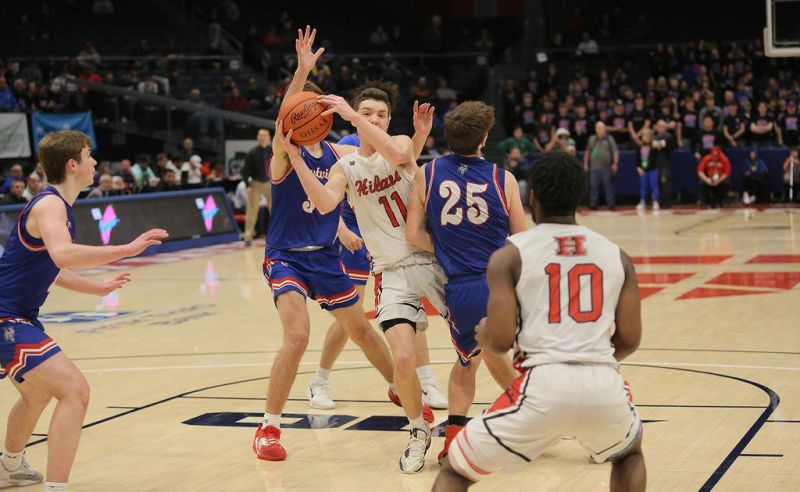 Hiland's boys basketball team had an 8-9 overall record after losing to Bishop Ready on Jan. 28.
That loss proved to be a turning point in the season for the Hawks, who won their next 11 games to reach the Division IV state tournament.
Their winning streak — and season — came to an end in a 69-63 loss to Convoy Crestview in a state semifinal March 17 at the University of Dayton Arena.
Hiland (19-10) led 17-16 at the end of the first quarter and 28-27 at halftime, but the Knights (25-3) came out aggressive in the second half and continuously attacked the rim. After Hiland's Nick Wigton buried a jumper to tie the score at 32-all early in the third quarter, Crestview ended the quarter on a 21-3 run to take a commanding 53-35 lead into the fourth.
"We didn't feel we played like we're capable of playing (in the first half), especially at the offensive end," Crestview coach Doug Etzler said. "(Our halftime message was to) just play downhill. If we go down, let's go down swinging by attacking the basket and making them attack us like they did to us in the first half. If we get beat, get beat by being aggressive."
The Knights took their biggest lead of the game with 5:19 left in the fourth when Mitch Temple, who scored 20 of his game-high 25 points in the second half, made a free throw to put them ahead 59-38.
That's when things got a bit interesting.
Hiland continued to fight, cutting its deficit to single digits (63-54) when Alex Miller sank a 3-pointer with 1:10 remaining. But Crestview took care of business from the free-throw line and never let the Hawks get any closer than six points the rest of the way.
"It's human nature (to let up when you have a big lead), but I think (Hiland went on a run at the end of the game because) Hiland doesn't quit," coach Etzler said. "Those guys were down 13 in the fourth quarter in the regional finals, and they just kept attacking and kept playing. We knew they were going to.
"I thought defensively we could have done a little bit better, but they were taking it right at us. They were getting downhill, and we either fouled them or they got to the rim and scored."
With Hiland fouling out of desperation for much of the fourth quarter, the Knights went to the free-throw line 26 times in the quarter, making 16. Free throws proved to be a key factor in determining the game's outcome. Crestview attempted 25 more free throws and made 18 more than the Hawks during the game.
Sammy Detweiler led Hiland with 19 points. Carson Habeger and Wigton both chipped in 10 points, Alex Yoder eight, Miller six and Phin Killy five.
Backing Temple were Wren Sheets with 17 points, Carson Hunter with 11 and Gavin Etzler with seven.
When Hiland lost to Ready and fell below .500 at the end of January, advancing to the state tournament wasn't considered a possibility, but a change in how the Hawks approached practice began their upward trajectory.
"We were not a good basketball team at that point in time in the year," Hawks coach Mark Schlabach said. "We weren't good at either end. We just have a bunch of guys who practice really hard. We haven't had a bad practice since we were 8-9. We had a lot of bad ones before that. That was the biggest thing. We practiced really hard. We made big improvements defensively. We became a more physical defensive team.
"When (Habeger and Detweiler) and Phin Killy really started to play well offensively, and we weren't just relying on Sammy at the offensive end, that's when things started to click as a team."
Habeger, one of seven Hiland seniors, said the team improved a lot on defense throughout the season.
"On ball and off ball, just being there help side, I feel like we've done a lot better job throughout the second half of the season with just guarding our man," he said.
Hiland finished the regular season with a 13-9 record, but it played the second-toughest schedule in the state for Division IV teams. Playing challenging nonleague games helped prepare the Hawks for a lengthy postseason run.
"I think it was until our last game of the season, we had the toughest schedule in the state (for Division IV teams)," Schlabach said. "… (Our tough schedule) was one of the reasons as coaches we never lost confidence in our kids, and I don't think they did either. We knew that we played a really tough schedule. Last year when we lost to Richmond Heights (at state) the way we did, we knew we had to bump our schedule up. Our goal is to win state championships. It's not just to get down here. Credit to our athletic director Seger Bonifant. I said, 'Go schedule the toughest schedule in D-IV,' and he tried. We'll try again next year.
"Five thousand people watch us walk out on the floor, and we don't look like much. The only way we can compete with those teams is if we've played the toughest schedule in the state and our kids learn how to compete at the highest level, and that's something that's really helped us this year."
The loss marked the end of the high school playing careers of Habeger, Killy, Logan Troyer, Luke Mast, Jack Hershberger, Kendrick Wilson and Ryan Miller.
"We've got a great group of seniors," Schlabach said. "Carson and Phin Killy, those two guys started for us. They had tremendous offseasons. They didn't play a ton last year. It's cliché (to say), but they worked extremely hard. They're weight room guys. They did individual work on their own (and put up) tons of shots. They led the way.
"Our other senior guys didn't get as many minutes. You don't find many guys like that anymore in high school sports. We had five of our seniors who don't play a lot, and those are the kinds of kids who at other schools ruin locker rooms and ruin seasons for coaches and ruin seasons for their teammates. Our kids don't do that stuff. I give those kids a ton of credit. They worked hard every day in practice just to make the team better, and I think that's something that separates Hiland kids from other kids."