Knights boys reach new heights with third at state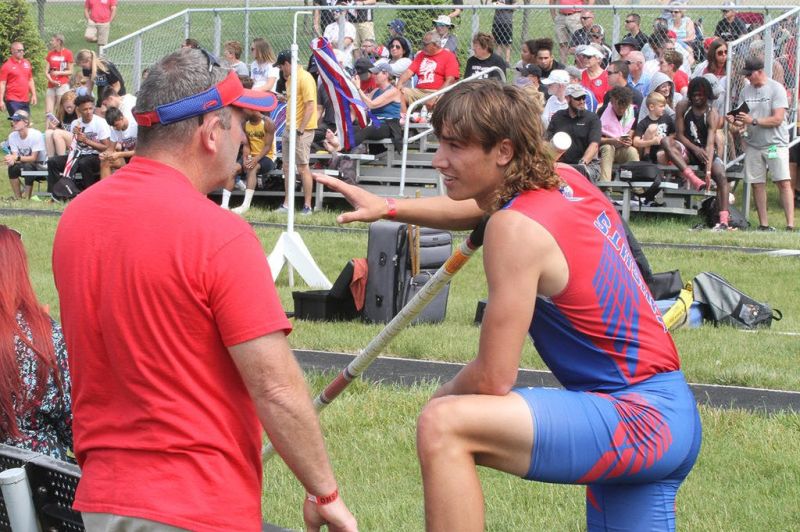 Through 15 events at the boys OHSAA Div. II state track and field meet at Pickerington North High School on Saturday, June 5, the West Holmes Knights found themselves in a very uncommon position: standing atop the leader board.
But with Woodridge boasting two strong runners in the 3200-meters and a team in the 4-by-400 relay finals and Glenville's 4-by-400 relay team having the top qualifying spot, Knights head coach Ty Harris could see the writing on the wall.
When the 4-by-400 was complete, Woodridge had posted a winning score of 43, inching past Glenville's 42.5 with the Knights placing third with 35, Perry and Lisbon Beaver rounding out the top five with 24.33 and 24, respectively.
For a team that has never sniffed a track and field title, the third-place finish was more than enough to satisfy their head coach.
"Those two teams just had more weapons than we did here down the stretch, but I am so proud of the way our kids came in here and competed," Harris said. "This team has done things that no West Holmes team has ever done before."
It started in the throwing ring, where senior Lane Graham dominated, winning both the shot, where he was favored, and the discus, where his final throw of 180-06 shocked the throwing world, especially heavily favored Colt Sechrest of Bellaire.
However, what made this weekend even more special was every single one of the boys competing found their way to the podium, making all of them All-Ohioans.
Five sprinters gobbled up quality points for the Knights.
Senior Brady Taylor led the way, qualifying for three different events including the 200-meters, the 4-by-100 relay and the 4-by-200 relay. His run of 22.29 in the 200-meters left him in fourth, a position that didn't elate him, but after running twice prior, it may have taken a toll on a very hot day.
"It could have been better, but I made it here," said Taylor, who has plastered his name all over the West Holmes record book in both track and football.
The Knights' quartet of Gavin Freeman, Austin Myers, Emmett Myers and Taylor reeled off a sizzling 1:29.91, placing them fourth, as Taylor went sailing by three competitors late including 100-meter champion Caleb Smith of Lisbon Beaver.
The team of Freeman, Sawyer Pritt, Emmett Myers and Taylor then whistled their way to sixth place in the finals in 43.56 while Emmett Myers also placed seventh in the pole vault, earning All-Ohio status there as well. Like Taylor, he too was excited to be All-Ohio but knew better things were a mere inch away, as he barely knocked the bar off on his final attempt at 14-06.
"I thought I had that jump the whole way," Myers said. "I think I could have placed higher, and I had bigger expectations coming in, but I am excited to make the top eight."
Myers continues a strong tradition of vaulters at West Holmes and said he is honored to be part of that growing list of top talents. Harris said the determination of each pole vaulter and their willingness to work at refining the little things are what has propelled the Knights to such great heights in the event.
"They love doing it. They are willing to work at it, and it makes it very fun to coach," Harris said. "Emmett has committed to this event for the past five years, and he works so hard on technical things."
Harris said the best the Knights have done as a team was a seventh three years ago, so leaving their mark is a true tribute to this group.
"It's been a tremendous year, and that is a tribute to these kids and their willingness to do whatever is necessary to improve and compete," Harris said.
For the Lady Knights, their lone competitor was Katie Sprang, who was making her final appearance for West Holmes in the 800-meters. Sprang knew she would have to run a flawless race to even compete for a top-eight spot in the fast field of 18, and after running with the lead pack for 400 meters, she faltered late and struggled home in 16th, crumbling to the grass immediately following a race in which she gave every ounce she had to compete.
While it wasn't what she wanted, Sprang's overall body of work at West Holmes places her among the finest overall athletes to come through the school.
In the 4-by-200 relay, the team of Hannah Rohr, Jasmine Giaugue, Daphne Alexander and Sprang finished with a time of 1:49.06. This put the girls in the top-15 relays team in the state of Ohio.