Knights enjoy great success in a record-setting season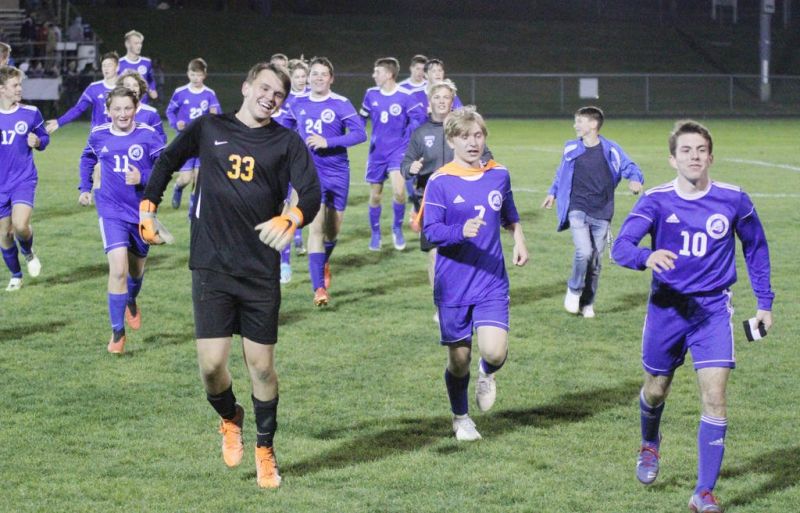 A record of 10-8-3 may not seem like a reason to celebrate, but the 2019 campaign on the pitch for the West Holmes Knights had everyone in a celebratory mood.
Every year coaches talk up the second season, the tournament time when everyone begins 0-0. They talk about how the regular season no longer matters.
That was never more true that this year's version of the Knights, who had to struggle through a monstrously difficult regular-season slate of games that cut right through the heart of a powerful Ohio Cardinal Conference schedule.
But when the second season began, a bunch of players head coach Jason Arnold believed in despite a sub-.500 record began to gel and play with confidence.
The Knights captured the school's first-ever sectional crown. Then they won a district game, another first, followed by a district title. West Holmes wasn't done, churning out an incredible 2-1 victory over undefeated Dover in the regional semifinal tilt that took them all the way into the Div. II Elite Eight.
Finally, facing a Columbus Academy juggernaut that brings in the top talent from around Columbus, the Knights bowed out, dropping a 2-0 game to CA and ending their magical run.
"Nobody likes to lose, but overall we are very content with what we saw take place on the pitch this season," Arnold said of his rookie debut season. "We got beat by a great team, a great program. There were some things that we felt we could have done differently, and it would have been fun to see what would have happened had we been able to punch one in. But we had a sensational year."
Columbus Academy got through with a single tally in each half against a valiant Knights' defensive effort.
Arnold said watching his team gel and perform throughout the season was something special.
"I've never seen anything like this before, where every single kid from the JV to the top varsity guys bought into what we wanted to do this year," Arnold said. "Our JV team was good enough to challenge our varsity at practice. And while a lot of teams have one or two go-to guys, we had so many guys who could contribute. We had five different players each score a goal in our district win over River View. We saw our kids grow in confidence with each win, and they played as a total team."
Arnold said early on in the season his players were terrified to play teams like Lexington or Ashland or Dover. That all changed at mid-season, and the Knights rode that wave of confidence in trouncing a ton of school records.
In addition keeper Brendon Yoder received First Team OCC honors while Tyler Masters and Jackson Oliver earned Honorable Mention nods. In the Eastern District, Grant Baker was named First Team while Yoder made Second Team and Grant Miller, Oliver and Alex Schrock all made Honorable Mention.
But in a season of highlights, none were sweeter than the victory over previously undefeated Dover in the regionals.
After battling to the school's first-ever sectional title, WHHS garnered the school's first district championship, and on Halloween night, Oct. 31 at Coshocton High School, West Holmes set its sights on conquering its biggest foe yet, facing a 15-0-4 Dover team that had just knocked off highly touted New Philadelphia 5-4 in a thrilling shoot-out that gave them a district crown.
A giant underdog, West Holmes fell behind in the first half 1-0, then clamped down on defense. Making the most of their limited scoring opportunities, the Knights came through with a pair of goals that led to a 2-1 victory that propelled them into the regional finals.
All night long the Tornadoes hammered away at the Knights' defense and keeper Brandon Yoder. The Tornadoes crushed 25 shots, inundating Yoder with possible scoring chances, but the senior keeper proved he was up to the challenge, swatting away and gobbling up all but one of those shots.
Midway through the first half, Dover's Devon Swiger found the sweet spot and drilled a shot by the diving Yoder to put the Tornadoes up a goal.
Dover continued to hammer away at the Knights, but the defense stiffened, and with just two minutes remaining in the first half, West Holmes struck back with the equalizer when Tyler Masters drove a direct kick into the box, where Alex Schrock picked up the rebound and slammed it home.
The score stunned Dover, which had dominated to that point, but if that knocked Dover on its heels, the knockout punch would be delivered barely before the two teams took the field to begin the second half.
"We kind of watched our kids take the will to compete away from Dover," Arnold said. "We just battled and fought and kept pressuring the whole way, and they became deflated."
A mere 30 seconds into the half, Curtis Wagner found Jackson Oliver near the top of the box, and Jackson settled it and drove home the game-winner by Dover keeper Chase Sanda for a 2-1 lead.
From there it was over 39 minutes of the Knights fending off all of Dover's attacks. It was an intense 39 minutes of play for the team and its fans, but he Knights were up to the task.
Efforts like that led to a watershed moment in the program, one which Arnold hopes will be the first of many more to come.