Knights' football team relishes a chance to get back to work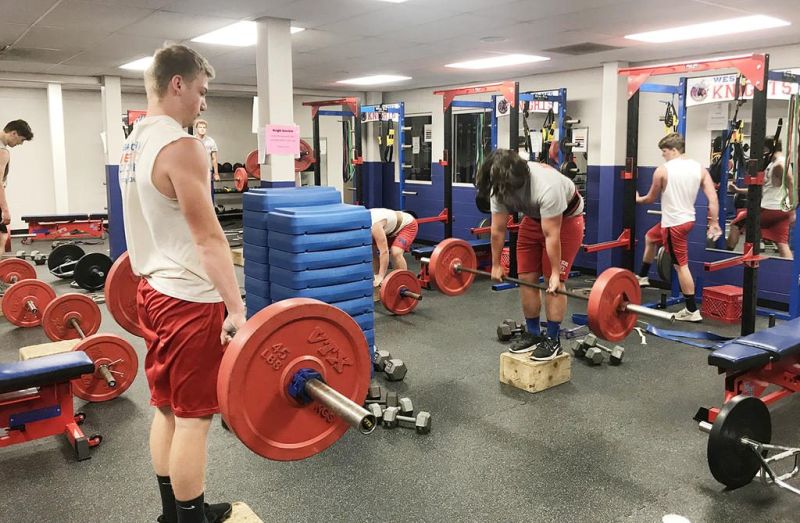 West Holmes football coach Zach Gardner yelled at one of his players in early June, and it felt so right.
No, Gardner wasn't excited about having to yell at a kid for doing something incorrectly; he was simply ecstatic he had an opportunity to voice his thoughts as the Knights' football team began a two-week period of practicing in pods of nine or fewer players.
Gardner and his staff drew up an intricate game plan that had to pass inspection with the Holmes County Health Department and saw each member of his coaching staff taking on a group of players from an area of the football squad.
The pods then met at scheduled times throughout the day Mondays through Thursdays at West Holmes Stadium, going through lifting programs, sprints, stretching exercises and more as they prepared for what may or may not be a football season.
While it was great to be with team members and working hard, the game plan the staff drew up also included following state-mandated procedures that followed social distancing rules of 6 feet apart. It also included the coach of each pod strenuously wiping down and cleaning all of the equipment for the next group.
It was an extraordinary effort that took a lot of teamwork and discussions, but Gardner and his staff felt all of the extra work and preparation was well worth it, whether a football season takes place this fall or not.
"What we are doing is important, and we have told our guys that over and over," Gardner said. "I can't say for sure or not right now whether we will ever step on to the football field or not and play a game this fall, but getting back to some semblance of normalcy was important for these guys. These last two weeks have been great to just be around them. It's been a long time, and we all miss that."
The sheer amount of work that went into the team's game plan to create worthwhile workout plans for each of the individual groups was a massive undertaking because Gardner wanted each pod to have its own unique workout plan. That meant the offensive-linemen group was not doing what the receiving group was doing, and the quarterbacks and cornerbacks were working on different aspects of the game, each aimed at aiding the players in a specific skill set.
"It was a daunting task to organize this," Gardner said of creating the plan. "We have eight different pods with eight different coaches, and I can't say enough about our kids and our parents and how flexible they have been in getting here every day to work out."
The pods were phase one, which began June 1. Phase two officially kicked off June 15 when up to 50 people began to gather together while continuing to adhere to the social distancing rules set forth by the state and the county health district.
"We are extremely excited about that opportunity because it gets us one step closer to getting back to where we want to be as a team," Gardner said. "We are definitely taking the necessary steps toward playing meaningful football. We made a conscious effort in the first two weeks to promote the football family atmosphere, even though we were in small pods. We made a conscious effort to set the culture of the safety guidelines and sanitation that needs to take place."
Gardner said the other thing his staff realized was every player wasn't at the same place physically because of the circumstances, so they had to take that into account. He said they prepared workout plans that hit every part of the body, starting out slowly, wanting to eliminate injury risks as much as possible while at the same time pushing the players.
Gardner said having the full support of the district administration and the community has helped them feel good about where they are in the early going of preparing for a football season under some strange circumstances.
Gardner said the attendance of his players and their effort have been phenomenal, and with the effort of the staff, it puts the Knights ahead of the curve, especially with multiple Zoom meetings with the staff during the COVID-19 shutdown.
"This is important," Gardner said. "It's been a total effort by a lot of people. We've practiced social distancing, but we are getting what we want out of the programs we have designed for each pod, and I believe that we are ahead of a lot of programs out there right now because of our preparation and work ethic."
Gardner said whether they play a game this fall or not, what these young men are going through is only going to benefit them in the long run, physically, mentally and in terms of learning to work hard.
"Our kids are taking pride in building leadership roles through this," Gardner said. "We've been in constant contact with our staff and with our kids throughout this whole thing, but nothing beats getting in here together, even though we are following strict social distancing directives, and we see this as an opportunity to get a head up on the competition while building a better sense of family and unity in our players and coaching staff."