Knights' Wolfe named finalist for Ohio Mr. Football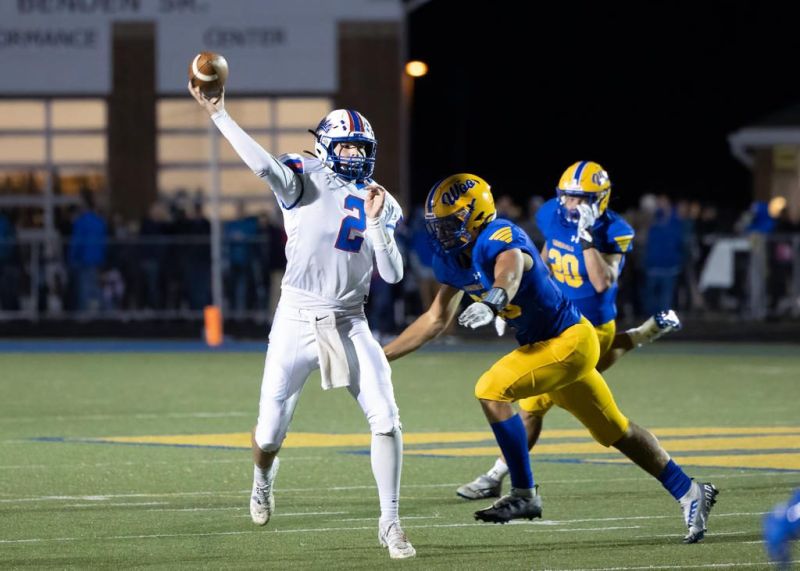 Mason Wolfe had to wait until his senior year to become the starting quarterback for the West Holmes football team.
It was better late than never for Wolfe, who had one of the best seasons by a QB in school history this year.
People around the state took notice of Wolfe's banner season, as he was named a finalist for the Ohio Mr. Football Award by the Ohio Prep Sportswriters Association on Nov. 23.
"It's special (to be named a finalist)," Knights coach Zach Gardner said. "It's special for Mason. It's special for our football program. It's special for our school. It's special for our community. That's some serious stuff when you're up for such a prestigious award.
"It's just a testament of Mason's hard work, of his selflessness, of his toughness and is indicative of the level of play he had this year."
Wolfe, who was recently named Division IV Offensive Player of the Year by the East District, completed 180 of 258 passes for 3,164 yards and 41 touchdowns while rushing for 101 yards and three scores in 13 games. His passing touchdowns and yards were both single-season school records.
He helped the Knights finish the regular season undefeated for the second consecutive year and reach the Div. IV regional semifinals. They ended the year with a 12-1 record, averaging a school-record 49.9 points.
Wolfe had only one varsity start under his belt before this season. Filling in for injured QB Noah Clark, Wolfe showed flashes of his potential in last year's regional semifinal win over Rocky River. He passed for nearly 400 yards and four touchdowns, adding another score on the ground.
Gardner said Wolfe's transformation into a Mr. Football finalist didn't happen by accident.
"It shows his preparation," he said. "It shows his ability to buy into our culture and our development process. It's a true testament to that. Mason went the whole way through getting developed. He went from being a freshman football player to a junior varsity football player to a varsity football player to upping his game to what it was this year.
"It's a tale of trusting the process of a development of a football player. I'm just so proud of him and his teammates and their accomplishments."
Gardner said he's "not at all" surprised Wolfe had such a stellar season and is a finalist for Ohio's most prestigious football award.
"The way that he prepares," Gardner said. "He's the next in line of great quarterbacks that we've had come through here who have bought into our system and done great things. He learned from the guys before him, and he's taught the guys behind him.
"He's just a true program player. For him to have those accolades is something very special."
Gardner said future West Holmes players should try to copy how Wolfe approached the game of football.
"Every young West Holmes football player needs to mimic the way Mason did this, with his perseverance and patience," he said. "When he did get his opportunities, he made the most of them. All the cliches that you want young football players to understand, that's what Mason Wolfe went through and did.
"I'm just so proud of him and his accomplishments."
Wolfe is one of seven finalists for the award, joining Cleveland Heights senior QB Darreon Fair, Wyoming senior RB/DB CJ Hester, Gahanna Lincoln junior RB Diore Hubbard, Moeller junior RB Jordan Marshall, Akron Archbishop Hoban senior RB Lamar Sperling and Perrysburg senior RB Connor Walendzak.
Fair rushed for 1,318 yards and 29 TDs on 116 attempts and threw for 644 yards and 11 TDs on 41-of-75 passing in the regular season.
Hester had rushed for 2,967 yards and 46 TDs on 331 carries heading into the Div. IV state semis.
Hubbard had rushed for 2,306 yards on 309 carries and scored 29 total TDs entering the Div. I state semis.
Marshall had rushed for 1,796 yards and 27 TDs on 217 carries heading into the Div. I state semis.
Sperling had rushed for 3,348 yards and 51 TDs on 339 carries entering the Div. II state semis.
Walendzak ran 166 times for 1,320 yards and 18 touchdowns in the regular season. He also finished with 102 tackles (14½ for loss), 3½ sacks, one interception and three forced fumbles.
The winner of the Ohio Mr. Football Award will be announced on Dec. 1.