Lady Pirates working hard to overcome host of challenges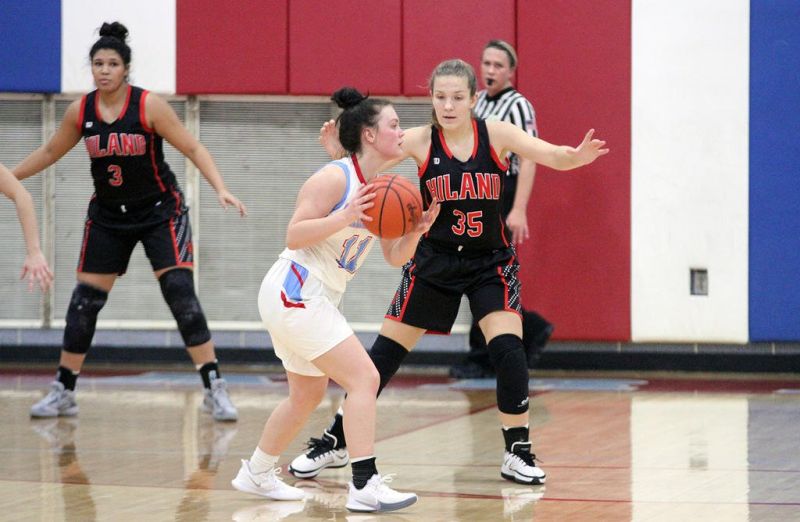 There are probably a number of high school basketball teams that have had to face COVID-19 concerns this season, but few teams have been hit as hard by the virus as the Garaway Lady Pirates.
Not once, not twice, but three times Tracy Miller's team has faced a quarantine, creating not only a dearth of games, but also limiting his team to very few practices. Miller said it seems as though when his team isn't quarantined, it is hopping from game to game with little time to try to put several practices together in sequence, which means the learning process is slowed. In addition, it is difficult to get any kind of rhythm going when games are sparse and practices are even more sparse.
Tack on the fact that the teams the Lady Pirates have been able to square off against in the first five games, and it has been a very trying time for Miller's troops.
However, that hasn't stopped the team from working hard at every opportunity, nor has it dimmed their belief that by the end of this season they can be a very good basketball team come tournament time.
"It's been rough for us," Miller said. "It's been two weeks off, then three practices, two more weeks off, and a couple of practices or a game, and so on. We can't get into any rhythm, and then our schedule has been incredibly tough, both on the mental and physical side."
Miller said every two weeks of quarantine designates two weeks of basically not taking any steps forward in game skills and in teamwork. He said it is easy for the girls to lose focus during that time.
"Some of our younger kids haven't really been bothered by it a lot, but the ones who it has hit the hardest are our seniors," Miller said. "They have all been through a lot in their careers, and this isn't what they envisioned their senior year being."
Miller said instead of dwelling on the negatives, they continue to look for the silver lining, focusing on the little things that show improvement despite having so much time off.
Now, with the next three weeks showcasing three games each week, if they stay healthy, they will get in a ton of basketball, both in terms of games and practice, which should help them immensely. However, Miller said he has to wonder what kind of stamina his team will have once they get into the rigors of so many games in such a short time span.
"We have five girls who have fought the virus and beat it, but you do wonder where that leaves our stamina, having played so little," Miller said.
Miller said during this downtime he has resorted to contacting his assistant coaches a lot. "It makes me feel better to text them and stay connected any way possible," he said.
Miller said staying focused on ways to improve when they do get a chance to practice, encouraging the girls to watch game film to stay mentally sharp and game planning are critical. He believes while the offense may gain ground as the season progresses, this team will eventually be a defense-first team.
Miller said finding leadership has been a key to this team's ability to fight through the struggles, and he said senior guard Lizzie Mullet has been key in that department.
"That becomes critical during times like these, and I thought Lizzie really stepped up and delivered some quality leadership today against Hiland," Miller said. "I think there are things we can take away from this Hiland game as real positives, and once we are able to get back into a rhythm and get our feet under us, I think you'll see a lot of improvements across the board."
Now if Miller and the Lady Pirates can catch a break and get healthy, they can clean the slate and begin 2021 on a hopeful note.
Epilogue: A couple of practices and one game later, Garaway went to Ridgewood and handed the Generals a 52-22 loss. Rylee Putt went off for 18 points, eight assists and three steals; Kenadi Yoder added eight points and seven rebounds; Makayla Stitzlein knocked down nine points and added three boards; Marley Metzger scored six points; and Mullet scored four points, grabbed four rebounds and didn't have a single turnover as the Lady P's went on an early tear that led to a 44-8 lead through three quarters.