Miller basks in glow of Senior Night despite rainout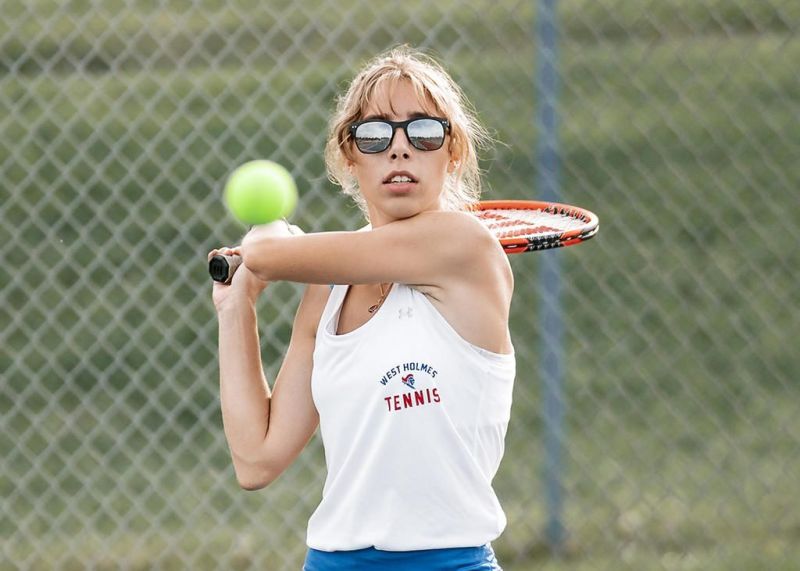 While the nasty weather that blew away Genna Miller's final home tennis match of her career put a damper on the West Holmes senior's regular season against Kidron Central Christian on Monday, Sept. 26, it didn't quash the feeling of celebration she experienced prior to the teams taking the court.
Head coach Rebbie Hill honored Miller for her four years playing for the Lady Knights and spoke glowingly about the lone senior on an improved team.
Hill said during Miller's freshman year, she decided to play on the boys tennis team in the spring so she could play soccer in the fall, but that season was wiped out by COVID-19.
Since then Miller focused on playing tennis for the Lady Knights for her remaining three years.
Hill said tennis was far from Miller's only extracurricular activity.
"During her season she juggled many extracurricular activities such as marching and pep band, Ohio Model United Nations, National Honor Society as well as 4-H and junior fair board," Hill said. "There were many days that I had to share her with her other activities, but I knew they were important to her, and I wanted to support that."
Miller has played both singles and doubles for the Lady Knights, and her coach said she is a versatile player who played wherever needed.
"Being a coach, you do hear the chatter of preference from players as they get more comfortable on the court, but Genna was never one to complain and always played where she was most needed. She is always eager to learn something new, and anytime I would coach her in what to do while playing, she would do exactly what I said and win the point."
For Miller, playing with her teammates is something she will miss.
"It's been a fun year. We've learned so much, and everybody has grown throughout the season," Miller said.
As for seeing her final season winding down on the court, Miller was diplomatic about the end nearing.
"It's a blast, and I'm just living it, having a great time," Miller said. "I don't see the end as something to be upset about. I feel like it's something to celebrate as the next step in my life."
She said the past four years of playing have been a journey of improvement to where she broke through into a starting role this season.
She said building relationships with her friends on the team, some of which she has known for years and some of whom she has gotten to know this season as first-year players, has been an enjoyable part of the journey.
"I feel like leadership to me has always come easy, and I feel like I have taken on a leadership role with some of the younger players," Miller said. "Developing that trait is something that has made this season even more fun."
The trip south comes with a steep price
The East District sectional is no more, at least in the high school tennis ranks.
West Holmes has played in the East District sectional in Dover for years, but this year the district was disbanded and teams were moved to several other sites.
While moving players along to districts was commonplace at the Dover event, the trek to advance became increasingly more difficult this year when West Holmes was shoveled into the Central District at Columbus Academy.
That means the Lady Knights will face competition from a handful of schools known for their tennis acumen including singles players ranked nationally.
"I really don't have any idea as to what happened," Hill said, having stepped into the head coaching role at the last second before the season started. "I didn't know anything about what district we were in. So last week, our athletic director asked me where we were playing, and I said we play at Dover every year."
Hill was shocked to learn that wasn't the case.
She said when she sat down and took a good look at the teams in the Central District, she realized the challenge was going to be exponentially more difficult.
"My heart started fluttering, and I couldn't believe some of the competition down there," Hill said. "The Bexley girl is number one in the state and 19th in the nation."
Hill said in playing the East District, West Holmes players played those teams throughout the year and knew the various styles of play and the players they would face, so they could better prepare.
Heading south is a whole new ballgame, and they are heading into this sectional tournament blind.
She said many of the top players around Columbus have been playing, have had teachers and have been taking lessons since they were 3 years old. She said the only thing her team can do is head to Columbus, play their game and see how they stack up against the competition.
"There are some girls down there who are real diehards, who eat, sleep and live tennis," Hill said. "They play in indoor facilities all year around."
Lady Knights' first singles player Arora Chaney earned the number-four seed based on her 11-4 record. However, Hill said records can be tossed aside because this is a whole new game.