Raise a glass to Hiland's new queen of the boards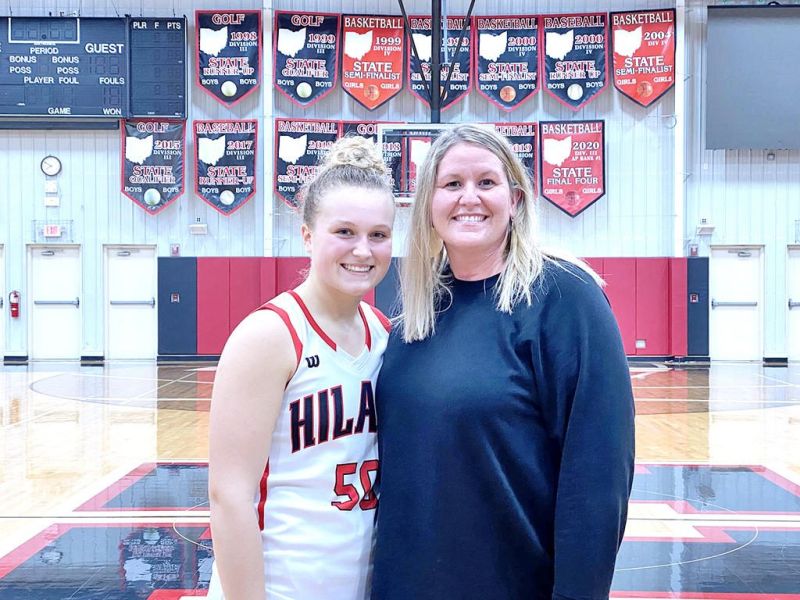 Seven years ago former Hiland Lady Hawks All-Ohioan and all-time leading rebounder Erica Bevington had a group of young girls in her fifth-grade class at Berlin Elementary who loved playing basketball.
Bevington kept telling one of those girls, Zoe Miller, that someday she was going to break Bevington's long-standing career rebounding record at Hiland, which she set in 1995, culminating a career in which she hauled in 705 rebounds.
On Saturday, Dec. 12 in a contest against Tuscarawas Valley, Miller did indeed complete Bevington's prediction, becoming Hiland's all-time leading rebounder.
Hiland head coach Dave Schlabach succinctly summed up what it takes to be a great rebounder, and he said Miller has exactly what it takes, aside from her strong, tall, athletic frame. Schlabach said rebounding is about 10% technique, 10% athleticism and 80% of having a greater will than your opponent to do whatever it takes to get a shot that caroms off the rim.
"She has always had that, even at a young age," Schlabach said of Miller. "Erica's record has stood the test of time for 25 years, and we have had some really, really great post players come through here the past three decades, so this is no easy accomplishment. We are very proud of Zoe, and she has put her name on to a lot of records."
For Bevington, getting a chance to see one of her students surpass her is an exciting event, one she has looked forward to for quite some time.
"I had Zoe in fifth grade at Berlin, so ever since then, I have continued to tell her that she was going to break my rebounding record," Bevington said. "I think about her eighth-grade year she started getting tired of me telling her that. To see a player of her quality break the record is a thrill for me."
Bevington took time away from watching her own children play to catch Miller and the Lady Hawks in action on Thursday, Dec. 10 when they squared off with CVCA at the Reese Center in Berlin. She said watching Miller play was exciting, and just seeing Miller and her senior teammates — whom she remembers so fondly from their elementary years at Berlin — playing together again brought back plenty of memories.
"I think that ever since those grade school days, this group has been all about team and never about any kind of individual accolades," Bevington said. "Not one of them is selfish, and Zoe is such a hard worker, whether it is on the court or in the classroom."
Bevington said this talented group used to play boys against girls on the playground during recess, and many times the girls would emerge victorious. She said watching the boys fall to the girls never sat well with the guys, but seeing how incredibly gifted this group of seniors is proves the girls were working hard to hold their own on the playground.
"It's been a joy to watch all of them, but because Zoe is a post player, it has been most satisfying watching her develop into the force that she has become," Bevington said. "I will gladly hand over my record to a young woman who has worked that hard to achieve so much."