Special class of glass greets bidders at the annual auction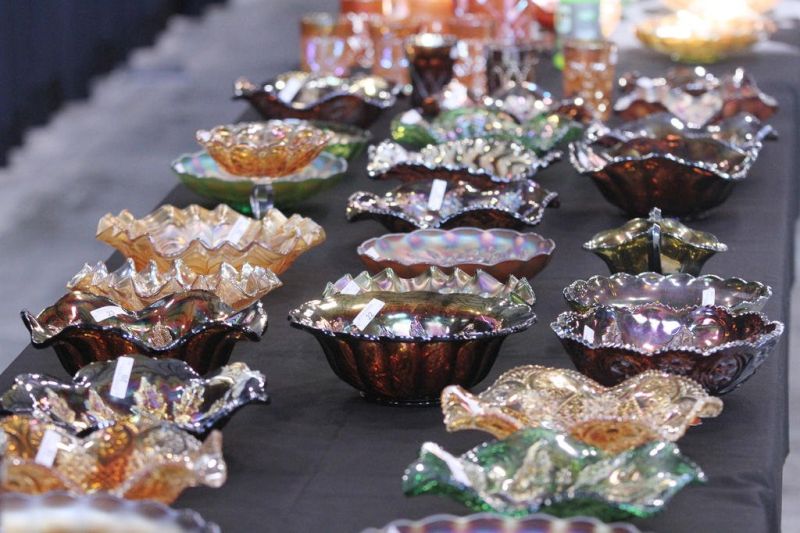 The annual Millersburg Glass Gathering Auction will take place at Harvest Ridge at the Holmes County Fairgrounds west of Millersburg on Saturday, Oct. 5, beginning at 9:50 a.m.
The auction will again be hosted by Matthew Wroda Auctions, and this event has become an addition to the Antique Festival's already packed weekend schedule.
While this year's auction is one of the two smaller auctions that take place between every third year's big auction, that doesn't mean there won't be plenty of glass there for Millersburg Glass fans to check out and bid on.
As always there will be a little something for everyone, regardless of the size of their wallet or pocketbook.
"There is literally the whole range of Millersburg Glass, from inexpensive pieces to those rare collectibles that bring in some of the bigger collectors looking for that rare piece of glass," said Steve Maag of Kaufman Realty & Auction, who has helped build this event into one that is widely attended by collectors both local and from far away. "Even though this isn't the year for our big auction, there are still going to be some really nice pieces."
According to Maag, the market for Millersburg Glass and for carnival glass in general is very strong right now. He said with this auction being in the very heart of Millersburg, where John Fenton made his iridescent glass in the early 1900s, the market is especially good.
"Obviously there are a lot of local collectors who want to invest in Millersburg Glass, but there have actually been a lot of record prices this year set for glass from across the nation. Those rare items, collectors who have the income will spend whatever it takes to come away with the rare Millersburg Glass pieces that help make their collection special," Maag said. "A lot of times it comes down to their egos and how badly they want a piece. If something is really rare and a couple of people really want something badly enough, they don't care how much it costs. They'll go after it with a purpose to make a purchase."
While this auction won't have that one rare piece like the Blue People's Vase that sold in Millersburg, Maag said the auction will boast numerous pieces that should go for more than $10,000.
Maag said earlier this year a piece of Millersburg Glass that would normally have sold for around $10,000 went for $50,000 because two bidders wanted it that much for their collection.
"Neither of them wanted to give up on the piece, and it ended up going for some pretty crazy money that nobody really expected, but that is the nature of Millersburg Glass," Maag said. "If someone has the money and they aren't worried about reselling it later and they simply want it for their collection, you never know how far someone might go for a piece."
Maag said that element of not knowing when a piece of glass might capture the attention of the carnival glass world and skyrocket is part of what makes these types of auctions so fun to attend, whether collectors are in the market or just watching.
That is the high end of the market. The nice thing about this particular auction is it invites every collector in to bid. The auction will feature plenty of items under $100 and for several hundred dollars, pieces that will add nicely to anyone's collection.
"We have a lot of glass that is very affordable," Maag said. "Probably the majority of the glass that will be there is something that the average collector can afford to bid on and buy, and that makes it exciting for everyone."
Maag said even if someone isn't in the market to buy, they should come and watch and listen because the history and knowledge on display will give people insight into how creative Fenton was with his glass and why it is now so highly sought after.
"It's pretty educational," Maag said. "People will get to see a lot of pieces at events like this that they normally wouldn't get to see."
With that in mind, those attending the auction will want to venture over to the Millersburg Glass Museum at 484 Wooster Road in Millersburg beside the Victorian House. Hours for the museum Oct. 5-6 will be from 1-4 p.m., and on Saturday, Oct. 6, there will be a docent to lead visitors on a guided tour.
For a complete list of what is available at the Millersburg Auction, visit www.matthewwrodaauctions.com.
Harvest Ridge is located at 8880 OH-39.