A sign that spring is near!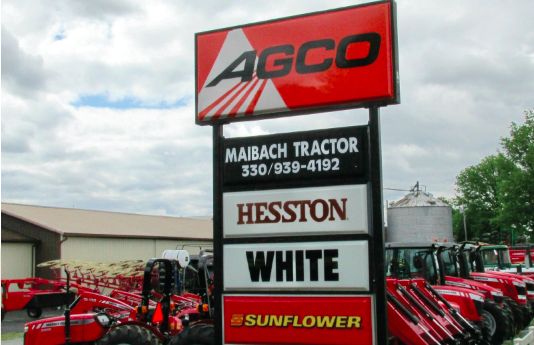 The popular full-service farm equipment dealership will hold its highly anticipated event on Thursday, Feb. 25 from 10 a.m. to 4 p.m. The Customer Appreciation Day — held in a dry, warm indoor facility — offers new and longtime customers the chance to inspect Maibach Tractor's equipment offerings and chat with manufacturers' reps while enjoying pastries and a hot meal. A full meal is served with grilled hotdogs, pork sandwiches — hotdogs are grilled and the barbecue pork and smoked pork is prepared on location — green beans, relish trays including cheese and pickles, fresh fruit, an assortment of pastries from Ann's Pastry Shop in Wadsworth, along with drinks including white and chocolate milk, coffee and water. Guests also will have a chance to win fun and practical door prizes.

"We've been doing this for more than 15 years, and it's become something the community looks forward to," co-owner David Rohr said. "We look forward to seeing an abundance of familiar faces and visiting with clientele."

Maibach Tractor is also offering 10 percent off on all preordered and prepaid new AGCO parts; discounts will be given on parts the week of Feb. 22 -27. Customers may call in their discounted AGCO parts orders before Feb. 23 by calling toll-free at 800-808-9934.

Maibach Tractor specializes in new and used tractors, parts, equipment and service, offering some of the industry's most reliable names like AGCO, Hesston, Massey Ferguson, Oliver, Rhino, Sunflower, Schaben and White.

"We have some new tractor models on display this year, along with new sprayer models from Schaben," Rohr said.

Rohr's partner Rudy Maibach started the business as a supplement to his family's dairy farm in 1988. He began by selling used and salvage parts for Oliver tractors. Today, Rohr said, the business, which added new equipment in the 1990s, still operates the salvage yard.
"We have excellent parts and service departments, and we keep a full-time truck driver busy making deliveries and pickups," Rohr said.

He said the business has grown due to hard work, long hours and good employees who provide friendly and attentive customer service.

"Maibach Tractor is well-known for its friendly atmosphere, reliable service, quality products and customer satisfaction," Rohr said. "We look forward to showing our gratitude to our customers at the annual Customer Appreciation Day."

Advance registration isn't necessary to attend the Customer Appreciation Day at Maibach Tractor, 13701 Eby Road in Creston. Find more information about Maibach Tractor at 
www.maibachtractorparts.com, or call 330-939-4192 or toll-free
at 800-808-9934.