Bolivar Council approves funding for water-meter project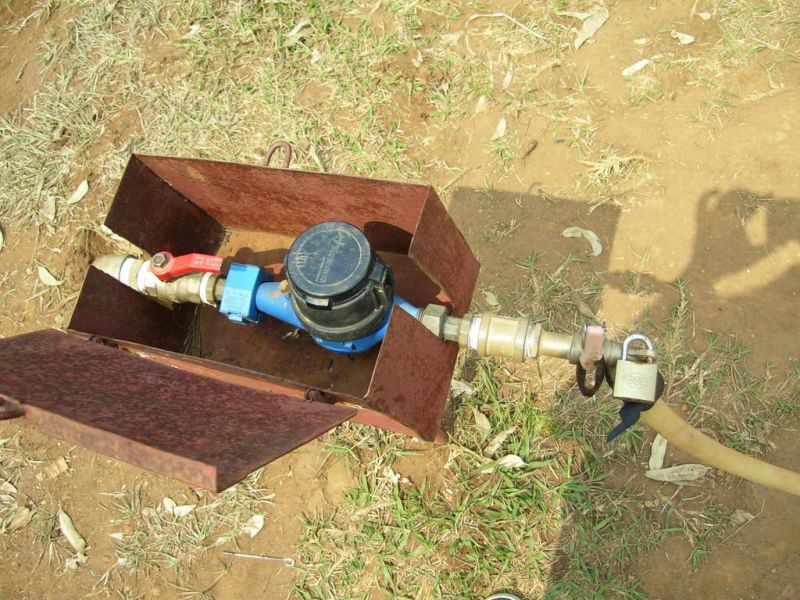 After a lengthy and at times contentious discussion, members of Bolivar Village Council passed three emergency measures at their Aug. 3 meeting that will keep the water-meter project moving forward.
The first was a measure to enter into a contract with Spano Brothers in the amount of $868,335 for water-meter installation. The second was to contract with the GPD Group for technical services and supervision of the installation in the amount of $71,440. The third measure was to accept the $1,470,708 loan (the total amount of the Spano and GPD contracts) from the Ohio Water Development Authority/Ohio EPA to fund the water-meter project.
Councilman Bruce Lawver was the lone dissenting vote on all three measures. However, prior to the vote councilman Dan Oberlin indicated he was prepared to vote no until he could see the design plans and the bids.
Oberlin said considering some of the problems residents had after the downtown beautification project was complete, he wanted to try to head potential problems off. A discussion followed with fiscal officer Maria App saying the project had already been approved with the preliminary award having taken place in May when council approved resolution 06-2020.
"The EPA is releasing funds for this project that has been in the pipeline for over a year," App said. "And in order for it to move forward, we need five out of six to vote yes. So who is prepared to contact the EPA and tell them the project is dead?"
Oberlin said he wanted to see the bids. Mayor Rebecca Hubble said council went through the bidding process earlier in the year when they opened the bids and agreed to award the contract to Spano Brothers. "I thought that between the time the bids were opened and now, he would have seen the bids."
Hubble said the EPA is expecting this project to be complete by the end of December. "If people were uncomfortable, they should have been contacting myself or Maria before now. We've been discussing this for months."
Lawver said he felt from the time he came on council until now, the arrangements seem contradictory. Oberlin asked what kind of problems it would pose if the vote were delayed until September. "If the EPA will even allow us to wait without killing the project entirely, there would be no way the project could be completed in 2020," Oberlin said.
"My problem is we just had a $900,000 contract on the downtown project, and there were a lot of problems with it," he said. "I think before making a decision on spending close to a million dollars, I have to look at the plans and bids."
"We get letters every month from the EPA telling us we are in violation of health advisories," councilman Tim Lang said. "We have been receiving those letters since June of 2017. We looked at doing our own sand filtration system, and then we looked at going with the county, and either way, we need to be able to show our water loss, which means we need to have water meters. We've been telling the EPA for over two years that we are going to install water meters so we can go ahead with the next phase, and we've said here in council for two years that the first step is to get water meters installed."
Megan Gettan said, "We owe this to the residents. Our water is not in compliance. It has too much manganese in it, so it's not just the EPA we need to do this for; it's the residents of the village. They deserve to have good, healthy water that is in EPA compliance."
Gettan later added council owes the residents a safe and updated water system. Council has worked hard toward that end, and not going through with it would be devastating on many levels for the village and its residents.
"In order for us to move forward with the county, we have to be metered," Hubble said. "We will not be able to go with the county and their water system unless we are metered. That was a contract stipulation, and it was already approved."
Oberlin then asked if council approved the measure at the meeting, could they look at the plans later and alter them. "Is there anyone here who wouldn't have changed something about the downtown renovation?"
Hubble said the plans cannot and should not be changed. "There are specific areas where these meter pits have to be located because of the water line," she said. "We can't change that even if we don't like it. And there are some residences where the meter will have to be located in the home because there is no other choice."
Hubble told Oberlin and all members of council they are welcome to look at the plans and study them, but the plan cannot be changed. "Aesthetic things could have been altered with the downtown project, but that and the meter project are two entirely different things," she said.
Gettan said the downtown project was a beautification project, but this project is a necessity. Lang further explained people may have had different ideas about what they preferred aesthetically with the downtown project. "But this is different," he said. "Unless you're an engineer, you won't be able to have any real input on it."
Oberlin asked if the issue could be re-examined next month. Law director Tara Wright-Timberlake differentiated the downtown project with the water project. "This is health versus beautification. We're talking here about the health and safety of the residents, and the rules with the downtown project simply don't apply here."
"Again, the big thing is this," Hubble said. "We are paying GPD to supervise the engineering and to make sure installation follows specific guidelines. There is a contract stating that we will have meters in place before we connect with the county water. The EPA has been after us for years to get meters, and they want the project to be completed this year. These are arguments that really should have been brought up earlier this year."
"Let's not forget that the residents have had higher water bills and will be saving money with this project," Gettan said.
App brought up the possibility of liability if the project were canceled. Timberlake said the village could be found in breach of contract on any contracts that have been signed.
Mayor's report
Hubble met with George Ebey with the Ohio & Erie Canalway Coalition regarding work on the Towpath Trail and the need for rights-of-way on some of the land to be changed. "We're working with very strict EPA regulations. Some trees cannot be disturbed and work can only be performed at specific times of the year so as not to disturb certain wildlife," she said.
Hubble attended a fire levy meeting and reported that there will be a 3-mil levy placed on the ballot in November. "I don't have a problem with the levy because I do think additional funding is needed," she said, "but I do think there has to be accountability for those funds."
The possibility of establishing a fire-protection district also was discussed and would include Zoar, Bolivar and Lawrence Township. Hubble attended a webinar on House Bill 481, which provides $350 million in federal aid to local governments for coronavirus-related expenses, and she said there will be a special council meeting to determine how to use the funds.
Hubble attended the county mayors meeting, where the main topic of conversation was the COVID-19 relief fund and how different mayors were planning to use the money.
Oberlin asked if any progress had been made on a monument planned for the Ohio & Erie Canal. Hubble said the bricks people donated money toward are in and that council needs to have a discussion on moving forward. She said the project was put on a back burner during Richard Lebold's illness and has not moved forward since he passed away.
Committee reports
Finance chair Lawver deferred to App for the report. App made several recommendations that were voted on by council as follows:
Council approved the purchase of four illuminated emergency exit signs for the town hall and police building as recommended by the insurance company at a cost of $145. Council approved a quote from Weathermakers for $6,656 to replace the 31-year-old air-conditioning and furnace system in the police building with Lawver voting no.
Council approved the addition of an ionizer to the system for killing bacteria, molds and viruses at a cost of $850, which will be covered by COVID-19 relief funds.
Council approved replacing the roof on the village Santa Claus house with shingles at a cost of $2,900 versus $4,000 for a metal roof with Lawver voting no.
Council approved amending appropriations by moving $5,000 from the general fund into the capital fund with Lawver voting no.
Council approved an ordinance revising the income tax split for the remainder of 2020 to keep 85% in the general fund but to increase the capital fund to 14% from 7% and reducing streets from 5% to 1%, generating approximately $7,000 per calendar year in the capital fund, with the proviso that the arrangement can be re-assessed and rescinded at a later date. It was noted that funding for streets will be available from the gas fund.
Dave Franks reported on discussions and recommendations made during the street and alley committee meeting. Council approved a number of recommendations including having Levco complete paving and striping at a cost of $1,035, purchasing 24 reflective stop signs and a 10-foot round pole for a flashing pedestrian sign already purchased at a total cost of $1,171.29, purchasing 10 curb boxes and 10 one-inch compressing fittings through Core & Main at a total cost of $702.40, and purchasing a decorative sign post as previously discussed for the parking lot adjacent to the Cherry Street parking at a cost of $288 plus shipping.
Robert Lloyd reported that the police department received 68 total calls and that all police officers should be certified through Lexipol by next month.
Sprinkling ban in effect
Franks asked residents to observe the sprinkling ban by watering lawns and plants only between the hours of 8 and 9 a.m. and 7 and 9 p.m. He said stricter enforcement of the ban is coming, and residents who do not observe the rules will receive one warning but may receive a citation after that.
Other reports
Franks said he is waiting on additional quotes for concrete work before recommending a vendor. He also said all valve exercising as part of the water-meter project is complete and that three valves will need replaced.
Franks also said there are some trees that need to come down, but he is waiting for additional quotes.
App said that LiquiVision Technology is scheduled to begin reservoir cleaning on or around Aug. 13.
Timberlake gave the second reading of an ordinance to permit the operation of golf carts within village limits, referring to them as low-speed specialized vehicles. She asked if council wanted to add any restrictions on which roads carts can use and where road crossing needs to take place. Carts will need to be inspected by village police in order to drive in town.
Timberlake said council may specify where streets can be crossed; which, if any, village streets are not to be used; and any other regulations, and she will add them to the ordinance before the third reading.
The next council meeting will be Tuesday, Sept. 8 at 7 p.m. due to Monday of that week being Labor Day.