Housing shortage in Wayne County still persists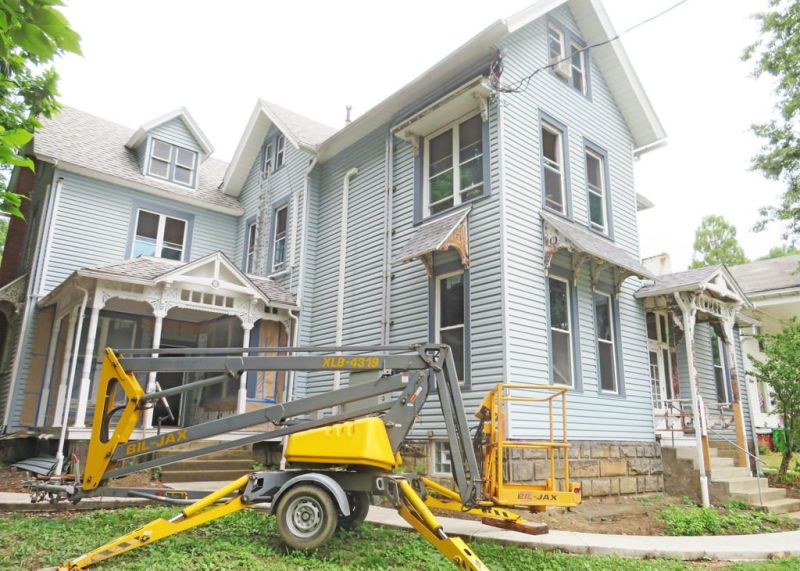 Stacey Barrett of Orrville recently sold her home. "Listed it on Saturday, May 30 and had four offers by 1 p.m. on Sunday the 31st. We had been watching reasonably priced houses fly off the market for weeks and were glad that it sold quickly," she said of her experience.
The housing shortage in Wayne County has been a recurring story for several years, and indicators show the issue has persisted, even during the pandemic.
According to the Wayne-Holmes Association of Realtors, Wayne County has a lack of housing inventory in almost every price point. This lack of inventory means buyers will have fewer options when wanting to purchase a "move up" type property, which also does not allow for lower-end homes to come on the market for first-time home buyers.
It's fairly clear there is a housing shortage in Wayne County based on the current housing stock not meeting the current demand. But the devil is in the details. Who is most impacted by the shortage? And what are the implications for the rest of the county?
Municipal perspective
Wooster economic and community development coordinator Jonathan Millea was quick to acknowledge the problem. "Yes, there is a limited supply of housing in different income categories in the market," he said. "There is a need especially on the affordable housing side."
The term affordable housing can be complicated to discuss because it's often laden with connotations and political implications.
"Based upon the data and our assumptions, $100,000-$150,000 is the best range for affordable housing," Millea said. "Generally for an individual, it's considered burdensome if you have to pay much more than 30% (of your income) for housing. We can make some educated guesses (about affordable housing) based upon average savings and average debt that individuals will have. There is a back-end ratio that looks at debt and other expenses like car payments and childcare expenses."
The lack of housing has implications for the workforce and businesses. "We want to keep people in Wooster, and one way to do that is to encourage them to buy a house. Then they are also more likely to stay with a particular employer," Millea said.
The most urgent concern, though, is for entry-level positions coming into the workforce. "Those are the types of workers that really need realistic housing options if they are going to stay here," Millea said.
The City of Orrville also expressed concerns about a lack of housing. "The biggest need is a diversity of housing for a range of needs," said Kristin Endsley, Orrville planning and community development manager.
"We have a lot of older housing stock in Orrville that could be more useful through renovation," said Lori Reinbolt, president of the Orrville Area Chamber of Commerce. "And if you have the type of housing that interests millennials, now that we have more people working from home, we could attract more residents."
Both Endsley and Reinbolt noted several advantages to attracting more residents. Income taxes and property taxes would provide more support for public schools while more residents means more spending at local stores, keeping the retail workforce employed.
Smithville Mayor Tom Poulson pointed out the lack of options at both ends of the age spectrum.
"When I look at the housing market, particularly in our area, how quickly houses are selling gives a good indication of market demand," Poulson said. "There is a need for starter homes for young families so that they can achieve the dream of homeownership to start having assets in their name. There is still some need for housing for retired folks."
Housing Authority perspective
As executive director of the Wayne Metropolitan Housing Authority, Stan Popp is well aware of the issue of sufficient housing in Wayne County to meet current demand.
"There are never enough units — more of both permanent housing and rental properties are needed," Popp said. "The problem is that the community has lost a lot of housing units over the past several years. We had to demolish about 80 properties in Wooster that were no longer viable. They exceed their useful life, and they have to go."
The Housing Authority provides almost 1,000 vouchers through the Section 8 program for Wayne, Holmes and Ashland counties. Households must qualify for the program based upon income. Once enrolled, they can participate indefinitely. But if the voucher recipient can't find housing in the time allowed, they lose their voucher and have to be added to the wait list until another voucher comes available.
"The vouchers are for low-income families. They need to use their voucher in 120 days, and many times they can't find a rental unit in that time frame," Popp said. "There is a gap between market rents and what our program pays. For instance, a two-bedroom apartment voucher covers $700 including utilities, but in practice that value is not actually enough to cover utilities."
Implications and challenges
Tom Pukys, president of the Wayne Economic Development Council, explained that a lack of workforce housing can be a barrier to economic development.
"I think population growth and job growth go hand in hand," Pukys said. "We have a lot of companies that are continuing to grow, and they are going to need people. If your population isn't growing, it is putting more stress on our businesses to find qualified applicants. Businesses have already been very vocal that it is already hard to fill positions, with insufficient people available with the skill sets needed."
The situation gets more complicated when considering the number of people commuting from one county to another for work. "Jobs Ohio has a good tool that shows us where our labor force is. There is a total employee pool of 1.6 million within a 45-minute radius around Wayne County," Millea said.
The large number of potential commuters suggests the potential population of home buyers is a moving target. That makes predicting future demand for residential development more uncertain.
Plus, developing new housing is expensive. It can be tricky for developers to guarantee a strong return-on-investment, especially when it comes to low-income housing.
Additionally, managed growth and balanced land use are complex processes that inherently involve trade-offs.
"Here we still have green space, and we still recognize the value and importance of farmland," Poulson said. "I think you can have development, and at the same time, we recognize the other parts of community that make it worth living here. It provides a quality of living that people are looking for."