Mayor commends city employees, says home rule is at risk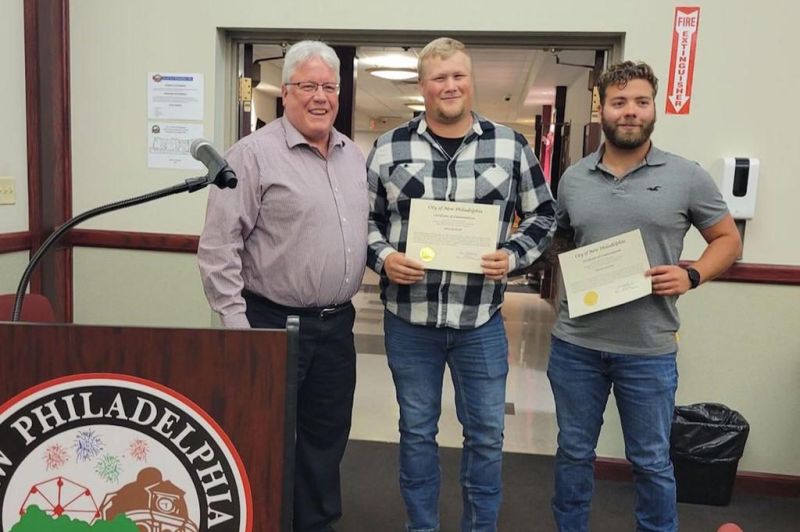 At the May 23 meeting of New Philadelphia City Council, Mayor Joel Day recognized three general service department employees for going beyond the call of duty. On April 12 Triston Hunter, Mike Brinkley and Donny Pettitt were driving a city vehicle on Park Avenue Northwest when they saw an elderly woman fall down the steps outside of her home. The three called 911 and stayed with her until paramedics arrived.
"Had they not responded so quickly, it's uncertain just how long the woman would have gone without help," Day said.
Day also said in his report to council that the Ohio Municipal League has advised local elected officials and citizens of continuing efforts by the Ohio legislature to erode the power of cities to enact local self-governing laws and regulations, otherwise known as home rule. According to Day, OML cites a lack of participation by local citizens and elected officials for giving special interest groups and lobbyists more say in writing legislation.
Day urged citizens to get involved by learning more about the bills being considered by the Ohio legislature by visiting www.legislature.ohio.gov and contacting State Rep. Brett Hillyer and Ohio Sen. Jay Hottinger.
Reports to council
Service Director Ron McAbier said the Kent State Connector Trail planned by the city will be completely funded by grants totaling more than $2 million. He also said work on runway lighting at Harry Clever Field will begin the week of May 30, and the Dominion gas line project has been rescheduled to begin in September, at the earliest.
Law Director Marvin Fete said he is researching, at the request of the mayor, ways the city may be able to prohibit the recreational use of marijuana, should it be legalized by the state.
Jim Seldenright, chair of the airport commission, asked for and received a vote approving two new members to the commission to fulfill unexpired terms.
Mitch Pace reported for the parks commission that construction will begin on pickleball courts at Tuscora Park on Aug. 1. Pace also said the city parks department is looking for summer help.
Dean Holland reported for the health board, saying the city health department will be receiving state funds totaling $22,755 as reimbursement for expenses incurred due to the COVID-19 pandemic. Along those same lines, Holland said COVID-19 cases are on the rise again in both the city and Tuscarawas County. Vaccines and home test kits are still available at the city health department.
Holland reminded the public that FEMA is offering funeral assistance for deaths caused by the COVID-19 virus. Those needing assistance should apply at www.fema.gov.
In other health matters, Holland said 20 overdose deaths were reported in the county during the month of April, with 12 of those occurring in New Philadelphia.
Approved legislation
Council voted to do the following:
—Increase sanitation fees by 50 cents per month beginning in June. Councilwoman Cheryl Ramos said she felt the measure was a "happy compromise" from the originally proposed $1.25 per month increase.
—Approve the mayor's appointment of Nicole Bache, director of nursing at the city's health department, to represent region 11 on the OneOhio Recovery Foundation board in charge of dispersing settlement proceeds from opioid legislation.
—Adopt an agreement between the city and the American Federation of State, County and Municipal Employees Local 1958 and Ohio Council 8 regarding city employee contracts from Jan. 1, 2022, through Dec. 31, 2024.