Rural Action seeks local support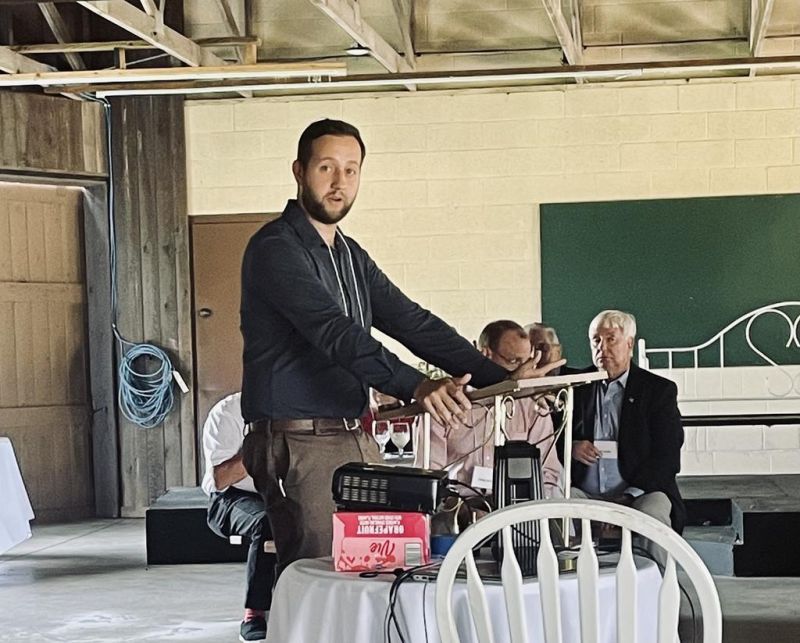 For the first time in its history, Rural Action held its annual meeting in Tuscarawas County on Friday, Sept. 10.
Held at Trumpet in the Land Amphitheatre, the outdoor luncheon catered by the Daily Grind at New Philadelphia brought together Rural Action members, local dignitaries and individuals seeking more information about the group.
Founded in 1991, the member-based organization seeks to empower communities to value and take ownership of the environment, economy and community in an effort to meet current needs but also to build a sustainable future.
Rural Action programs focus on sustainable agriculture, environmental education, service and leadership development, sustainable forestry, resilient communities, watersheds, zero waste, sustainable energy solutions, and social enterprise.
While 2020 was a challenging year for the organization, leadership and members approached the tasks at hand with resilience and adaptation.
Belle Everett, a member of the Rural Action Board of Directors, shared her history with the organization at the luncheon.
"In 2006 I first became involved with the Huff Run Restoration Partnership," Everett said. "I became involved because these people were some of the first people I had ever met who could get things done. So from 2006 to today, the partnership between Huff Run, Rural Action and the Ohio Department of Natural Resources has managed to direct millions of dollars into stream land, and most importantly, it really worked."
One of the successes Everett touted was the ability to increase fish diversity in the local watershed. There was one species in 1997 at the mouth of Huff Run, and today there are 26 documented species.
"I want to make sure that we don't use resources that end up in a landfill," Everett said. "I want this region to have a diversity of economic opportunities so that our children can grow up, decide to stay here and raise their families in this beautiful place. Rural Action helps all of those hopes become reality."
Everett introduced Marissa Lautzenheiser, who was still a teenager when she attended her first Huff Run meeting. Today, Lautzenheiser serves as Rural Action's director of northern programs.
"In 1991 (Rural Action) was formed by people who had been engaged in advocacy in responding to the different challenges faced by our region. Our founding director, Carol Kuhrei, invited 23 organizations to meet and discuss what they wanted moving forward," Lautzenheiser said. "Rather than arguments and fights, they wanted to help craft a vision of what we want for our region and to build that from a place of hope. They wanted to end the destructive cycle of boom-and-bust economic development and create economies that work for all people for the long term."
By adopting principles of sustainable development, they agreed the way to get to a better world was to focus not on what they didn't want but on what they already had: people, tenacity, resilience, and the beauty and rich biodiversity of the region.
Rural Action's work in Tuscarawas County began in 2004 when they took over the operations of the Huff Run initiative.
Today Rural Action seeks support from members of the community. Those interested can join Rural Action's Giving Society, make a one-time donation or provide a company match. The first $20 donated is applied to membership dues. The remainder of the donation is tax-deductible.
"Today is a chance to invest and give Rural Action the funds that grants don't give them," said Brian Vadakin, the chief program officer at Rural Action. "These funds keep the lights on and prepare our offices to meet new challenges."
To support the efforts of Rural Action, visit www.ruralaction.org.