Solution found for Tuscora Park algae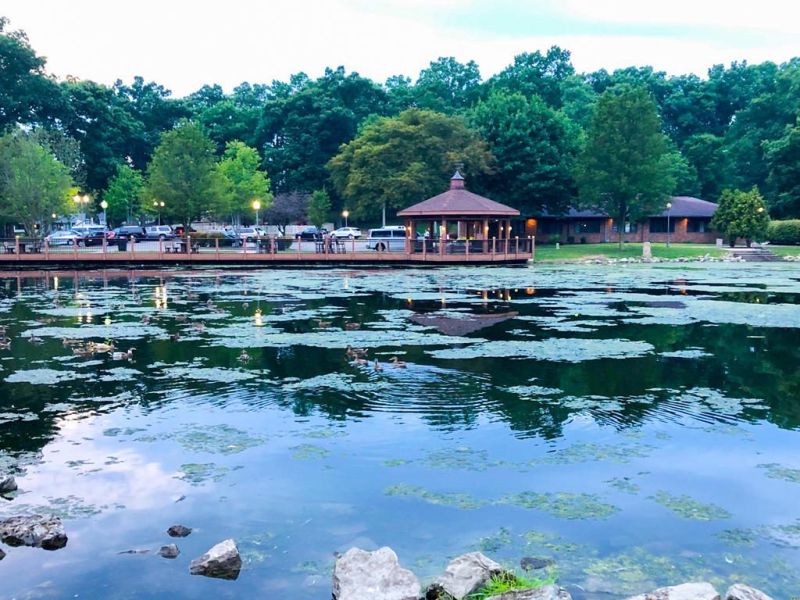 Work is scheduled to begin on clearing the Tuscora Park lagoon and pond of algae around Sept. 24, according to New Philadelphia service director Ron McAbier. The plan is to dredge the lagoon and remove approximately 18 inches of sludge from the bottom.
McAbier outlined the plan of attack for New Philadelphia Council members during the Sept. 13 council meeting. He said following the removal of the sludge, bottom aeration will be performed along with the addition of natural cleaners to both the lagoon and the pond. Both water bodies will then be stocked with new fish.
Consultants working on the project will receive assistance from John Oliver's natural resources class at Buckeye Career Center.
Administrative reports
Mayor Joel Day said ground has been broken for construction of the new 88-room Marriott TowerPlace Suites Hotel on West High Avenue. The hotel will be located at 1298 W. High Ave. beside Hog Heaven. Developers said it will take 16 months to complete the $8.7 million, four-story structure. Day said he has contacted ODOT officials about building an access road behind the hotel and neighboring businesses to Bluebell Drive to help with traffic flow.
Day also said the city health department will spray for mosquitoes in several areas of Uhrichsville. Although Uhrichsville is not within the health department's jurisdiction, Day said the Ohio Revised Code allows such requests to be granted.
McAbier said the water department will flush from 10 p.m. on Sunday, Sept. 19 to 6 a.m. on Sunday, Sept. 26. McAbier said residents may experience low water pressure or see dirty water during this time.
The Lakeview Road project is now complete, according to McAbier. The flashing beacons have been repaired, topsoil was brought in and about 40% of the area has been reseeded.
McAbier said the project of replacing water lines on Minnich Avenue from Second to Fourth streets was awarded to Palmer and Sons of Wooster, whose bid came in at $213,475. Engineering for the project is estimated to cost $207,200.
Board and committee reports
Councilman John Zucal said Tuscarawas County is ranked 52nd of the 88 counties in Ohio in terms of COVID-19 cases. "We have to be very diligent and thoughtful about where we continue to go," Zucal said. "The virus is not going away, and we know that mutations are taking place."
Zucal said health commissioner Vicki Ionno is asking people to follow the necessary protocols to help improve the situation.
Chairperson Dean Holland said the public works and economic development committee met earlier in the evening to discuss a resolution to construct a joint-use path extending from Kent State Tuscarawas to downtown New Philadelphia. He said committee members voted to send the resolution back to ODOT for redrafting to reflect the path will extend from the campus to 13th Street, rather than downtown.
Chairman Dan Lanzer asked council for a voice vote on a liquor license renewal for Mini-Shop Inc. at 150 S. Broadway St. Council approved the renewal.
Council comments
Cheryl Ramos informed council of an event called Field of Freedom taking place Sept. 17-19 at 1053 state Route 39, New Philadelphia, just past the I-77 interchange. Information and a schedule can be found at www.thefieldoffreedom.com. The weekend, according to the website, will include music, worship, prayer and revival.
Legislation
First readings include the following:
—An ordinance to change size restriction on nonilluminated signs from 2 square feet to 6 square feet.
—An ordinance to approve, adopt and enact replacement pages to the codified ordinances.
The next meeting will be Monday, Sept. 27 at 7:30 p.m. at the John C. Knisely Municipal Centre at 150 E. High Ave.