Twin City food pantry seeks donations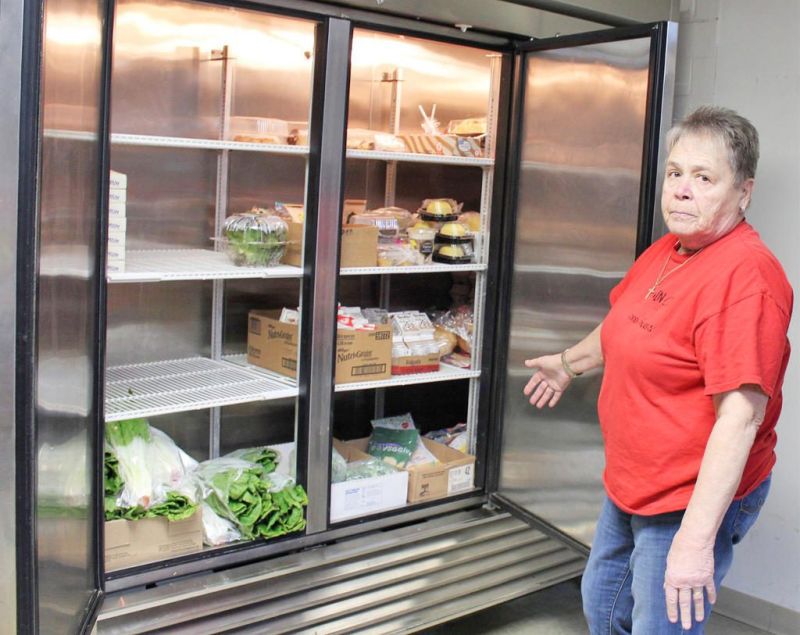 The Coronavirus crisis is behind a recent increase in people seeking food donations from food banks. That is not good news as the Twin City Christian Service Center Food Pantry had already seen an increase this year.
In February, before the health threat and "Stay at Home" order threw many people out of work, the center distributed food and hygiene items to 1,009 people and their families.
"We were increasing every month even without the crisis," said Carl Sowers, director. "There are more seniors coming in because everything goes up but their income. It's tough."
The TCCSC food pantry is operated by volunteers from the community and supported by churches in the Uhrichsville and Dennison area and generous individuals and businesses.
With the recently issued Stay at Home order the food bank has decreased their hours to be open only two days a week beginning immediately on Tuesday and Thursday from 10 a.m. to 1 p.m.
"We'll do what we feel is right," Sowers said. "We have some older volunteers we need to protect, but we still have an obligation to feed people.
Sowers said the new hours will be evaluated if the need is great. He is unsure whether people will venture out of their homes during the Stay at Home order.
Sowers usually made trips to the Akron Canton Food Pantry to pick up food twice a week. Since supplies of food are running low there, he will only be making one trip this week.
The Twin City food pantry has already changed their procedures to limit the chance of transmission of the disease in addition to extra cleaning throughout the day. People needing food will not be waiting in the lobby. The volunteers will get their identification at the front door and then those needing food will go to their cars and pull around in the alley behind the center. Volunteers will load the food into their cars.
Prior to the threat of Coronavirus, those needing food were able to select a limited number of items of their choice. Sowers thinks allowing people to choose their own food cuts down on food waste. Because of the health threat, people are no longer allowed in the room set up for food selection and volunteers are pre-packing bags of food with staples such as pasta, rice, bread, and canned food.
No-one who needs help gets turned away from the food pantry and can get help one time each month just by showing their identification. "If they need food, they will get it," said volunteer Debbie Biers.
Even though the food shortage has people getting less. "Nobody seems to complain," said volunteer Sherry Fisher. "Everybody is happy they are getting food. We explained to them about the shortage and they're OK."
"Maybe people will help us, because we do need a lot," said Fisher noting the increase in those seeking food in just the past week with businesses closing down. "We had new people coming in."
The food pantry also tries to help with baby formula and supplies, and some foods for those on special diets but it always depends on what items they are able to get in stock.
There are many ways to help.
"We welcome everyone who wants to volunteer, most only volunteer one or two days a week," said Bier, who schedules the volunteers and tracks their hours. "There are at least 11 volunteers who show up every day. The oldest volunteer is Anna Lou Maurer at 92."
Volunteers from Adult Developmental Services and students, mostly from Claymont Schools and a few from Indian Valley Schools, also help.
All donations are welcome whether in cash, food, or hygiene products. Many businesses donate items to the food pantry including Mako's Market, Rod's Donut Shop, KFC, Long John Silver's, Texas Roadhouse and Shearer's Chips.
For every dollar donated to the food pantry they can provide four meals according to Sowers. When he picks up food at the Akron Canton Regional Foodbank costs will vary depending on the item. Fresh food is hard to get, food that they have an abundance of is sometimes free and other foods can cost as little as .54 cents per case.
The food pantry's lobby room was recently given an upgrade to make it a more pleasant space.
"People feel bad enough that they need help," said Sowers. "We don't want to make them wait in a dreary room."
The upgrade of the room was an Eagle Scout project by Alex Douglas of Boy Scout Troup 84 and includes new ceiling and lighting, chairs, and a fresh coat of paint. A television mounted on the wall flashes information on the guidelines and availability of help from government organizations as well.
For more information on the TCCSC food pantry call 740-922-6276 or email twincitychristianservicecenter@gmail.com. Donations may be sent via mail to Twin City Christian Service Center Food Pantry, 109 North Water St., Uhrichsville, OH 44683.