Wooster man earns aerospace education awards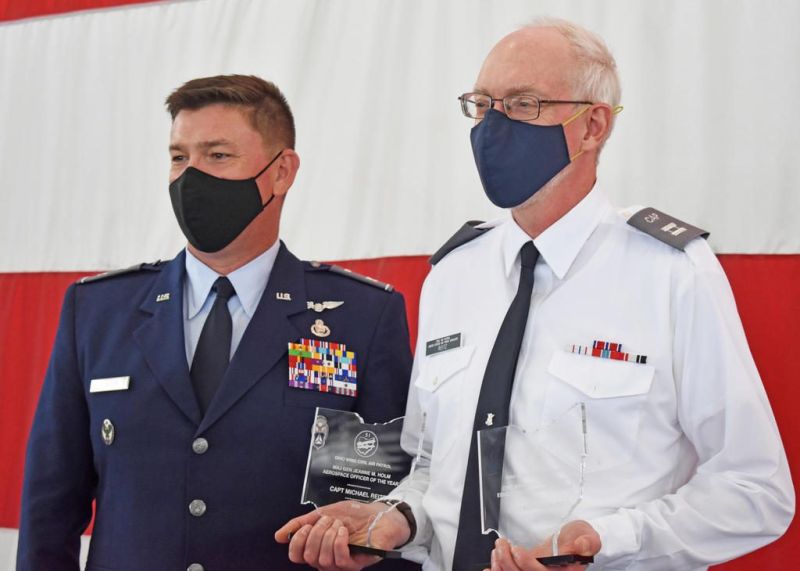 Capt. Michael Reitz of the Civil Air Patrol Akron Canton Composite Squadron 278 (USAF Aux) — a Wooster resident — received Ohio's top two awards for Aerospace Education at a recent ceremony at the MAPS Air Museum. Col. Peter Bowden, Ohio's Civil Air Patrol commander, present Capt. Reitz with the Maj. Gen. Jeanne M. Holm Aerospace Officer of the Year, and the Civil Air Patrol Aerospace Education Teacher of the Year awards.
The Civil Air Patrol's Major General Jeanne M. Holm Aerospace Education Officer of the Year award is a national-level award established to recognize and reward any Civil Air Patrol member who is dedicated to promoting and teaching aerospace to the members of Civil Air Patrol and to spreading the excitement of aerospace to their communities.
The Civil Air Patrol Aerospace Education Teacher of the Year Award is a national-level award established to recognize and reward any Civil Air Patrol member who is a certified K-12 teacher for outstanding accomplishments in aerospace/STEM education and for possessing those honorable attributes we expect from American teachers who are inspiring the next generation of aerospace-related STEM citizenry.
Civil Air Patrol, the official auxiliary of the USAF, is required by congressional mandate to provide aerospace education to both Civil Air Patrol members and the general public. In his role as Squadron 278's Aerospace Education Officer, Reitz teaches classes to both cadet and senior members on rocketry, robotics, astronomy, drones, and other aviation and STEM related subjects. He also provides community outreach through presentations to local schools, clubs, and civic organizations; he was responsible for the Wayne County's library display for the 50th anniversary of the man moon landing.
Civil Air Patrol was founded on Dec. 1, 1941, just days before the bombing of Pearl Harbor, to mobilize the nation's civilian aviation for national defense. Currently CAP operates a fleet of 560 single-engine aircraft and more than 2,100 small Unmanned Aircraft Systems (sUAS). It performs about 90% of continental U.S. inland search and rescue missions as tasked by the Air Force Rescue Coordination Center and is credited by the AFRCC with saving an average of 82 lives annually.
CAP's 56,000 members also perform homeland security, disaster relief and drug interdiction missions at the request of federal, state and local agencies. Operating as a nonprofit organization, CAP also plays a leading role in STEM/aerospace education, and its members serve as mentors to more than 23,000 young people participating in CAP's Cadet Programs.
The CAP Cadet Program was created on Oct. 1, 1942. The cadet program is for youth ages 12 to 21, with a curriculum that focuses on leadership, aerospace, fitness and character. Cadets activities include free orientations flights (O-Rides), in both powered and glider aircraft, encampment at Wright Paterson AFB, opportunities for volunteer service, training in emergency service and search and rescue, and flights in military helicopters and transports. The cadets can advance up 16 steps of promotional levels to cadet colonel. There are also various awards they can earn, including the Wrights Brothers Award, Billy Mitchell Award, Amelia Earhart Award and Spaatz Award. Youth do not need to be interested in military service, nor is there a service requirement. The Cadet mission of CAP is to train youth to be good citizens.
For teachers interested Civil Air Patrol there are a number of free products and programs available, particularly STEM related. There are currently 20, different, free STEM kits (K-12) from telescopes, Raspberry Pi, weather stations, rockets, quadcopters, robotic arms, and flight simulators that you can use and keep for your class. There are K-6th grade Aerospace Connections in Education (ACE)program, Aerospace Education Excellence (AEX), Teacher Orientation Program (TOP) flights (in CAP aircraft), and more.
If you have questions, would like classroom support (CAP has an Adopt-a-Classroom program), or would like a special program on an aerospace subject from history to current events, Reitz is available. As a retired classroom teacher he has degrees in both astrophysics and physics.
Wayne County does not currently have a Civil Air Patrol squadron. Squadron 278 at the Ohio National Guard Armory at the Akron Canton Airport is the closest. It is a Cadet Squadron of 24 cadets ages 12 through 19; there is also a Senior Squadron of 11 adults from their 20s to 60s. For more information contact Reitz at michael.reitz@ohwg.cap.gov.