A capsule look at Triway High winter sports teams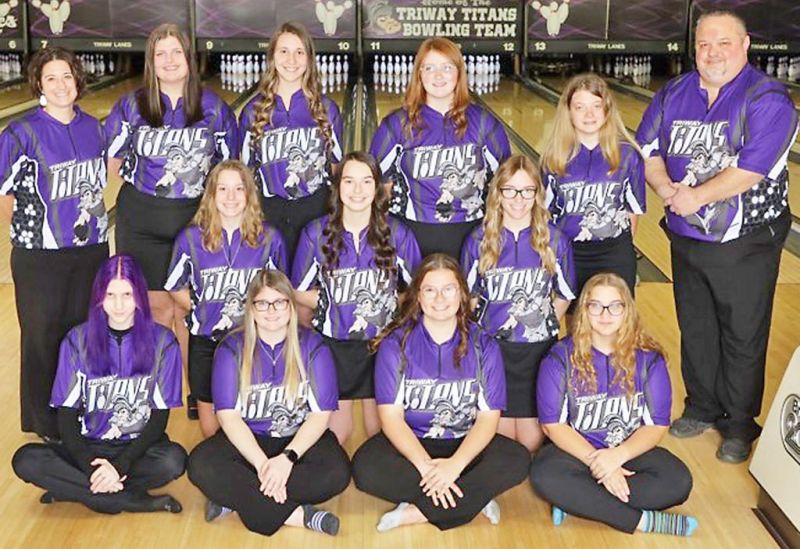 The following is a preview of Triway's varsity winter sports teams:
BOYS BASKETBALL
COACH: Ben Holt, entering sixth year.
2021-22 record: 7-16 (4-8 Principals Athletic conference, tied for fifth).
LETTER WINNERS RETURNING: Seniors Zack Miller (5-foot-9 guard), Seth Miller (6-0 forward), Riley Gumber (6-0 F); juniors Cale Drown (6-1 G), Tyler Snyder (5-10 G), Owen Walter (5-9 G), Drew Bishko (6-2 G); and sophomore Landon Frank (6-1 F).
KEY NEWCOMERS: Senior Jaxon Hackett (6-4 F) and freshman Brayden Holt (5-10 G).
COACH'S COMMENTS: "With the amount of letters inners back, we are looking for this experience to help in all aspects throughout the year," Holt said. "We again need team defense, guys to play to their capabilities on offense and to take care of the basketball on a consistent basis. We have the talent. Now it's a matter of execution and playing to our ability."
SCOUTING REPORT: With eight letter winners back and several talented newcomers, Triway should be one of the area's most improved teams. The 5-foot-8 Zack Miller (16.9 ppg) was a first-team All-PAC honoree, while 6-1 Bishko (13.1) earned second-team honors. Holt burst on to the scene in his first high school game with a big scoring night in the Titans' season-opening win at Northwestern.
GIRLS BASKETBALL
COACH: Mike Miller, 26-22 entering third year at Triway. Has a 486-274 overall record in 34 years as a coach.
2021-22 record: 13-12 (5-7 PAC, fourth).
LETTER WINNERS RETURNING: Seniors Kalie Campbell (5-5 G), Mallory Fluharty (6-0 F), Jaymes Gilbert (6-2 F); juniors Caitlin Titler (5-8 G) and Leah Wirth (5-8 G).
KEY NEWCOMERS: Sophomore Kenzie Gatti (G); freshmen Payton Snyder (5-1 G), Sydney Frank (5-8 F), Tori Manley (5-7 G), Zoey Baker (5-7 F), Julia Root (5-5 G), Alayna Perman (5-5 G) and Brooklynn Tarleton (5-11 F)
COACH'S COMMENTS: "We have four starters back from last season, as well as Jaymes Gilbert who started as a sophomore," Miller said. "We have a deeper bench with sophomore Kenzie Gatti and several freshmen battling for varsity playing time. We need to continue to improve each day on the defensive end of the floor."
SCOUTING REPORT: Wirth (13.9 ppg) was a first-team All-PAC honoree, while Titler (12.0) earned second-team honors. Triway has five players back with experience as starters counting Gilbert, who's returned for her senior season after not playing as a junior. Defending PAC champ Northwest has four starters back and runner-up CVCA has all five starters back, so it will be an extremely competitive league.
WRESTLING
COACH: Sean Teter, entering sixth season with a 40-25 record.
2021-22 record: 12-4, fourth in PAC.
LETTER WINNERS RETURNING: Zane Carr (sr. 126), Ethan Cuarenta (soph., 113), Aiden Fiscus (jr., 150), Keith Harvey (soph., 138), Cameron Haynes (sr., 113), Jagger Hyatt (jr., 150), Kannon Thoman (sr., 160), Peyton Wengerd (sr., 132), Tristian Williamson (sr., heavyweight) and Adam Wolf (sr., 106).
KEY NEWCOMERS: N/A
COACH'S COMMENTS: "We should come close to filling every weight class this year, which will help us greatly in dual meets," Teter said. "We have a lot of depth with the light and light middleweights. Dropping to Div. III will make our postseason look very different."
SCOUTING REPORT: Returning district qualifiers Carr and Thoman (175 PAC champion) will lead the Titans and have set goals of becoming state placers. Dropping from Div. II to III will help the Titans' tournament chances. Triway will open in a fun backyard brawl against Wooster Dec. 1.
GIRLS BOWLING
COACH: Corby Anderson, entering second season as head coach.
2021-22 record: 17-1 (10-0 Stark Bowling Conference National Division champion). Div. II sectional, district and state champion.
LETTER WINNERS RETURNING: Seniors Danielle Densmore, Lindsay Miller, Sydney Wile, Victoria Baker, Gillian Murphy; juniors Emma Yoder, Addyson Meshew; sophomore Kennedy Finley.
KEY NEWCOMER: Sophomore Dana Armstrong.
COACH'S COMMENTS: "Graduating zero seniors after winning a state title, expectations are pretty high on this season," Anderson said. "We just need to continue to work hard at practices and keep growing as a team. Our goal is to always be better than our opponents both physically and mentally. With this whole team experiencing the state tournament the past two seasons, our main strength is experience. That and having a lot of pure talent on this team should get us pretty far."
SCOUTING REPORT: Yoder averaged 210 per game last season highlighted by winning the Div. II individual championship, followed by Meshew (201), who became a repeat All-Ohioan. With everyone back from the state title team, the biggest key will simply be staying hungry and working as hard as last year.
BOYS BOWLING
COACH: Vince Yoder, entering 11th season with a 152-28 record.
2021-22 record: 16-2 (10-0 SBC National Division champions). Div. II sectional and district runner-up, 11th in state tournament.
LETTER WINNERS RETURNING: Seniors Ethan Rutherford, Brandon Rich, Chad Harper, Caden Swanger; juniors Owen Fiesler, Aeron Meshew; and sophomore Maxton Fiesler.
KEY NEWCOMERS: Freshmen Jonathon Eikleberry and Andrew Lilley.
COACH'S COMMENTS: "Our strength should be our experience. We graduated no one last year," Yoder said. "Watching our girls team win state last year, I think gives us the hunger and drive we need to get back to state. We have a pretty solid lineup from top to bottom in those seven returning starters and have the ability to move kids around if someone is struggling."
SCOUTING REPORT: The Triway boys are loaded for another big season. There are a combined 14 seniors between the boys and girls teams, so there's lots of leadership and experience. Harper and Meshew both averaged 205 per game last season, followed closely by Fiesler (199) and Rich (191).
GYMNASTICS
COACH: Angie Mullen, entering second year as coach.
2021-22 record: 7-0, won Northeast Gymnastics Conference (NEGC) for first time
LETTER WINNERS RETURNING: Seniors Kaelee Garst, Ana Neuman, Kayleen Hutchison; juniors Lilee Mullen, Rileigh Hostetler, Alyse Stutz; and sophomore Addi Hudson.
KEY NEWCOMERS: Freshmen Parker Clippinger and Miley Jarvis.
COACH'S COMMENTS: "We have a very close team that is always encouraging and supportive of each other," Mullen said. "The gymnasts all put in many hours in the gym year-round and work incredibly hard. Gymnastics is a very mental sport, so the gymnasts are working on staying confident in their abilities and the skills that they have worked hard to achieve and are looking forward to the start of our season."
SCOUTING REPORT: Garst is a calm, consistent gymnast and a great leader, according to Mullen. With an experienced roster, Mullen said the girls have added new skills to their routines, which will potentially score higher. Having Hudson healthy after suffering an ankle injury will be a big key, but Lilee Mullen is coming off of ACL surgery and will be limited this season.