Baseball Generals believed, then achieved Sweet 16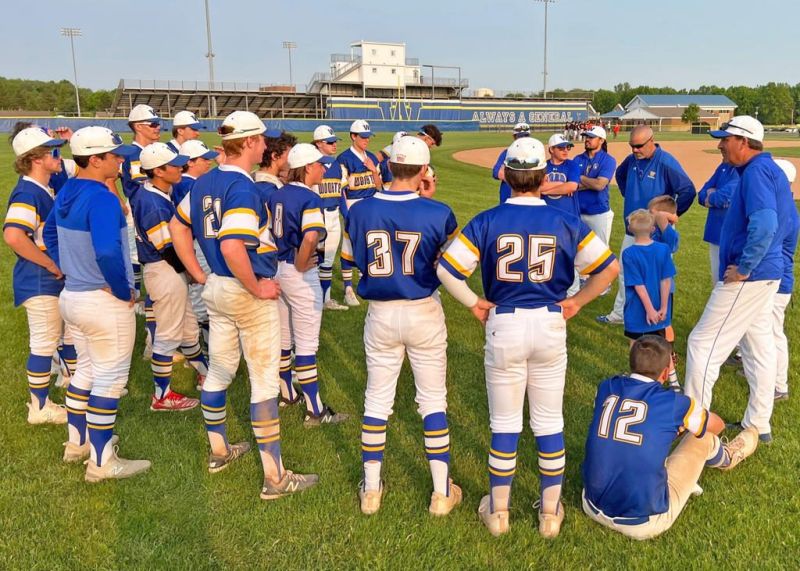 The Wooster baseball team believed and then achieved.
The fourth-seeded Generals' 3-2 win over top-seeded host Cleveland St. Ignatius at Brookside Reservation Talty Field in a Division I Cleveland District final on May 25 was a major upset to outsiders.
The Generals (22-4) hadn't been to the regionals since their 1998 state team and were in the districts for the first time in seven years. Wooster's only other state baseball trip came way back in 1935.
The Wildcats won a state title in 2019 and have been to the state tournament 14 times.
However, Wooster coach Steve Young said his team not only believed it could beat St. Ignatius, but also was confident they would do it.
"I still had goosebumps for two days after (beating St. Ignatius)," Young said. "After the (district semifinal) win over Brecksville, in the outfield we reminded our guys about our scrimmage at St. Ignatius on March 23. We talked in March after scrimmaging St. Ignatius and said, 'This is what we're trying to do. This is what we're trying to accomplish. Here's how we're going to do it.'"
Despite losing the scrimmage 10-3, Wooster led 2-1 after two innings before making wholesale changes and substitutions.
"We told our kids that day that we would be back here, and we're going to beat them," Young said. "We built toward it all year.
"If you want to get to the ultimate goal, which for us is winning a state title, then you've gotta beat some big dudes along the way. It was more about standing toe to toe, not backing down and just competing every single pitch and see where things fall. Our kids may have been the only ones in the country who believed we'd beat Ignatius, and they went out and did it."
Although St. Ignatius had all the history and a lineup loaded with Div. I college signees and prospects, the game obviously wasn't played on paper. Wooster teamed up to get the win and advance to a regional semifinal against Medina at Gates Mills Gilmour on June 1.
Whitehouse Anthony Wayne will play Toledo St. John's at Bowling Green State University Warren Steller Field in the other semifinal, with the regional final slated for BGSU's Steller Field on June 2 at 5 p.m.
Wooster senior right-hander Elisha Steiner (5-0) earned the complete-game win over St. Ignatius with a four-hitter, striking out five and walking none.
"Steiner threw an absolute gem," Young said. "He was spot-on with everything, and we were clean defensively. We were really good execution-wise, whether it was with bunts or running the bases. That's the recipe for us that's worked all year, so we will take it and continue to build."
Wooster scored all its runs in the third inning, with the top three hitters in the batting order reaching and scoring: Hayden Meese (BB), Ben Winge (1B) and Blake Bowen (BB). Brady Bowen, Steiner and Sam Nielsen followed with RBI. Kentucky signee Blake Bowen was 2 for 2 with two walks.
It was a program-defining win for Wooster and proved once again that Young's emphasis that his pitchers throw any pitch in any count is invaluable.
"If you looked on paper, then they're probably better than us, but the old adage is that's not where games are played," Young said. "We play together. We do things the right way. We execute, and it's been a successful recipe for us all year. This team is special, and they are gamers and don't back down from anyone."
And it all starts with pitching.
"From the time that kids come into the program as freshmen, we teach them relentlessly that they can be very effective high school pitchers by just throwing two pitches for strikes in any count," Young said. "We're very fortunate that Brady Bowen (9-1, 1.15 ERA, 62 Ks, 15 BB, 54.2 IP) can throw four different pitches for strikes and Elisha has three. We scouted Ignatius six different times and knew their tendencies."
Medina has won three straight tournament games by 1-0 scores, so Wooster knows runs will once again be at a premium.
Shortstop Blake Bowen is having another fantastic year, batting .486 out of the third spot in the order with five doubles, four triples and four home runs. He has 27 RBI, 34 runs, 30 walks and a .631 on-base percentage.
The rest of the starting lineup against St. Ignatius also has excelled: centerfielder Meese (.262), second baseman Winge (.329), third baseman Brady Bowen (.316, team-high 27 RBI), Steiner (.313), first baseman Nielsen (.337), right fielder Jacob Russell (.250), catcher Dylan Hudson (.244) and left fielder AJ Likowski (.412).
"We're anticipating a race to three or four runs against Medina," Young said. "Our kids have all bought in and do whatever they can to help us win. There are no egos. It's all about the team, and we're looking forward to the regionals."
Aaron Dorksen can be emailed at AaronDorksen24@gmail.com.