Pair of Dalton athletes enjoying rare success this year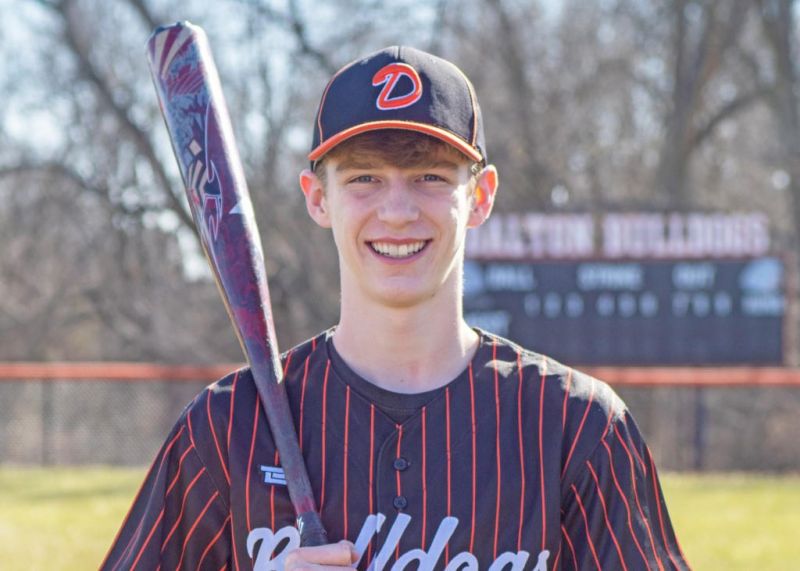 Imagine if a race horse won the Triple Crown and then went out and finished first in three more major races in the same year.
Or a pro golfer won the Grand Slam and then captured the next three biggest tournaments that season.
On a local level, Dalton senior Bryce Johnson and sophomore Brady Hignight have been a part of something so rare that it completely defies the odds.
Call it a high school Triple Crown times two.
Johnson and Hignight played on varsity teams that won or shared Wayne County Athletic League championships in football, basketball and baseball during 2022-23. Only a handful of WCAL schools have ever won all three titles in the traditional "big three" sports in the same school year.
Here's where Johnson and Hignight joined extremely rare air, possibly a club all to their own in WCAL history: Dalton also reached the regionals in all three sports.
"I've been around here for a long time, and I can't ever remember anything like that being done," said Dalton baseball coach Scott Huth, whose 18-8 team will take on Warren JFK in a Division IV Louisville Regional semifinal on June 1 at 2 p.m. Hartville Lake Center Christian will play Tiffin Calvert in the other semifinal at 5 p.m. with the championship slated for 5 p.m. on June 2. "Only a few schools have even won all three major sports in the same year."
The 5-foot-10 Johnson played linebacker on coach Broc Dial's 10-3 football team while Hignight (6-3) was a wide receiver-defensive back. The Bulldogs lost 33-0 in a Div. VI regional final against eventual state runner-up Kirtland.
In basketball, first-year coach Justin Greenfelder's team finished with a 17-9 record after falling to eventual state champ Richmond Heights 81-48 in a Div. IV regional title game. Hignight scored seven points in the regional final, and Johnson was a bench player.
Johnson, who's a triplet along with siblings Grant and Kylee, was worried he might be relegated to the bench in baseball too. He even considered quitting the team.
The left-handed hitter will always be grateful he stuck it out. Johnson is the designated hitter and bats fifth in the Bulldogs' regional lineup while Hignight is the lead-off hitter and plays right field.
"It's crazy to be a part of three teams like this," Johnson said. "I'm just blessed with great teammates and coaching staffs. It's great to go this far (in baseball) with only three seniors, and I hope we can keep it going."
Dalton's baseball team got off to a rough start record-wise at 4-6 but had played a meat grinder that included losses against Waynedale, Garaway and Manchester. Johnson found himself on the bench for a few games, but when he got another chance, he got his bat going and hasn't stopped hitting. He entered the week batting .304 with eight runs and 10 RBI.
Hignight was batting .310, second on the team in runs (20) and third in RBI (14) and stolen bases (9). Johnson and Hignight have one double apiece.
"I kept practicing when I didn't play much," Johnson said. "I tried to help my teammates be better players. (Coach Huth) has meant a lot to me. Coach told me to stick with it because we could be something special."
Johnson has played infield and outfield during his time in the Dalton program but accepted the role of being the DH and has been a key contributor.
"Bryce has been as hot as anyone lately," Huth said. "He just hits the ball so hard every time, and he gets on base. We plugged Bryce in between Talan Greegor (.276, 6 2B, 18 RBI) and Will Carmichael (.278, 8 2B, 1 HR, 17 RBI) to go righty-lefty-righty in the order. He's such a good kid who comes from a great family. He's a triplet, and all three kids are super fantastic. Bryce kept coming to practice and working hard every day and being positive. When he got his chance a second time through, he's kind of taken off, and I'm very happy for him. He's been a great leader."
Hignight has been an infielder growing up, but with standout senior Jack Steiner (.371, 25 R, 2 2B, 1 HR, 18 R, 21 RBI) at shortstop, he was selfless enough to accept playing right field.
"Brady is a special athlete," Huth said. "He could be a really good infielder and may wind up there next year, but he's so athletic and so talented that it doesn't matter where I put him. He will be above average anywhere. Brady made a diving catch against Hillsdale in the district final and he threw a runner out at the plate from right field."
Hignight, whose father Chris was an outstanding high school athlete at Central Christian, has actually been a part of five WCAL championships in his first two years in high school.
"I don't want to say it's become normal to win and go to regionals, but it's been a lot of fun," Hignight said. "Dalton is a great place to go to school, and the community support around us is fantastic."
The baseball team's WCAL tri-championship with Waynedale and Norwayne and regional run is the unlikeliest of all three Dalton teams. Steiner, Johnson and Justin Basinger (.333, 3 2B, 19 R, 13 RBI) are the lone seniors, and the team only went 14-12 in 2022.
"Nobody really expected us to be here with the (eight) seniors that we lost," Hignight said. "Our three seniors this year have done a great job leading us to this place that we're in right now. I don't think we would be anywhere near where we are today without them. I hope that our class and the following classes can continue to make that kind of impact on the younger kids."