Scots win opener to tip off Moore's final season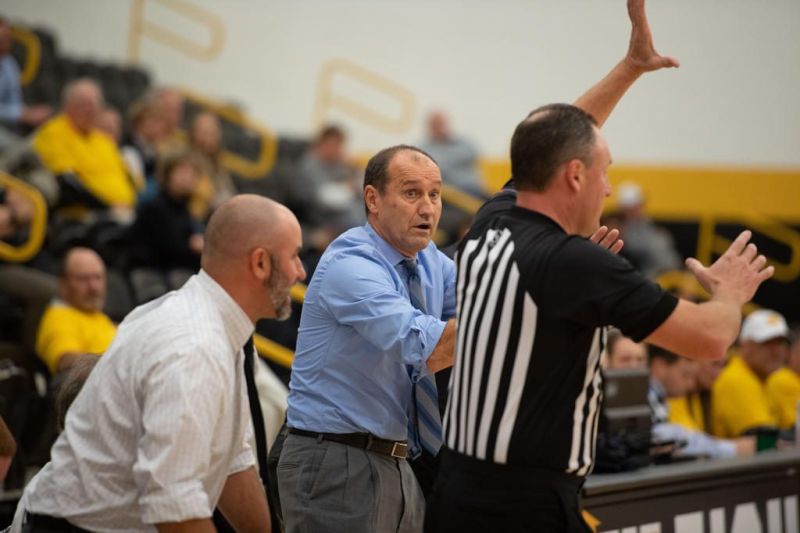 Steve Moore is in his 33rd and final year as the College of Wooster's head men's basketball coach and plans on keeping the gas pedal to the floor until the finish line finally appears in his rearview mirror. Of course that won't be until March.
"I really haven't thought about it that much. I really haven't thought about it at all," said the 66-year-old, the second-winningest coach all-time in NCAA Div. III hoops.
His team recently scrapped to a 110-100 victory over Medaille College in Timken gymnasium.
For the Hall of Fame mentor, the season opener seemed like business as usual. "It feels like every other year right now. I guess at the end it will be different," Moore said.
For the second time in six months, those loyal to the Black and Old Gold are about to see the end of an era unfold. Last June Tim Pettorini, the college's head baseball coach of 38 years, departed the COW dugout for the final time.
The winds of change already were howling. Moore's retirement at the end of the 2019-20 academic year was officially announced last March with longtime assistant and former Scots roundball standout Doug Cline tapped to take the reins.
"He's intense. He's competitive. He's one of the biggest competitors I've ever been around," Cline said of Moore following the win over Medaille.
Cline is a big man who knows he has some big shoes to fill.
"I don't care if we were playing Ohio State. Coach Moore thinks we should beat Ohio State, and that's great. He's the type who is never going to give in. He's going to play to the end. He thinks we're going to win until the final seconds tick off the clock," Cline said. "Off the court he's totally different, but on the court he's so intense, but in a positive way. He gets the guys to play harder than most people get their guys to play. He gets them to really buy into being a team."
The numbers speak for themselves: as of Nov. 12, 847 victories in 38 total seasons on the bench. He's now 760-180 at the College of Wooster. His winning percentage of .775 ranks him number two all-time in that category among Div. III coaches with a minimum of 10 years on the job.
Among his many accolades, Moore guided the Scots to 27 NCAA tournament berths and a league-best 18 North Coast Athletic Conference championships. He was tabbed NCAC Coach of the Year on nine occasions. The Scots advanced to the Div. III national championship game and won a team-record 31 games during the 2010-11 season.
Yet Moore's legacy isn't just about the numbers. His program is defined by the traits of the young men he has mentored.
"I know that our program over the years has had good players. Our success has been because we've had talented players. Everybody knows that," Moore said. "I also know that we've had quality young men, and that's really been special for me. They've been great young men who are team-oriented, quality guys off the court, good students who care about one another and their families and treat people well. They've represented the college very well."
In April 2008 the National Association of Basketball Coaches rewarded Moore by presenting him the Guardian of the Game award for education, an honor also once bestowed upon the revered John Wooden.
Senior sharpshooter and defensive standout Danyon Hempy said he feels every member of this year's team is committed to making Moore's final campaign extraordinary.
"Throughout the whole preseason and the first few weeks of practice, we've said we're going to go out there and give it our all every night because we know it's his last hurrah," said Hempy, who led the team in scoring last year with 20.6 points per game. "We want to reward him for all of his hard work over the years. We just want to give him something special and finally get him that national championship ring."
Hempy said he's sensed a different vibe in the gym this year.
"I think we've been a little more intense than in years past," Hempy said. "We've battled relentlessly, and I think that's kind of a new attitude we're displaying. We're harder on each other, and I think that can sometimes give us a competitive edge when we step onto the court."
It's far too early to tell whether or not the players' desire to win for their about-to-retire coach will become a distraction or put additional pressure on them. Last spring Pettorini said he felt his baseball disciples sometimes may have "squeezed the bat a little too hard" in their attempt to make their skipper's swan song the most memorable ever.
As the new basketball season goes on, that may become a factor Moore, Bruce Martin (his assistant of 26 years) and Cline will need to address.
Until then it's on to another Al Van Wie/Rotary Classic in Timken on Nov. 20 vs. Hiram at 7 p.m. and Nov. 23 vs. Wilmington at 4 p.m.