Varner's slow start doesn't keep him off podium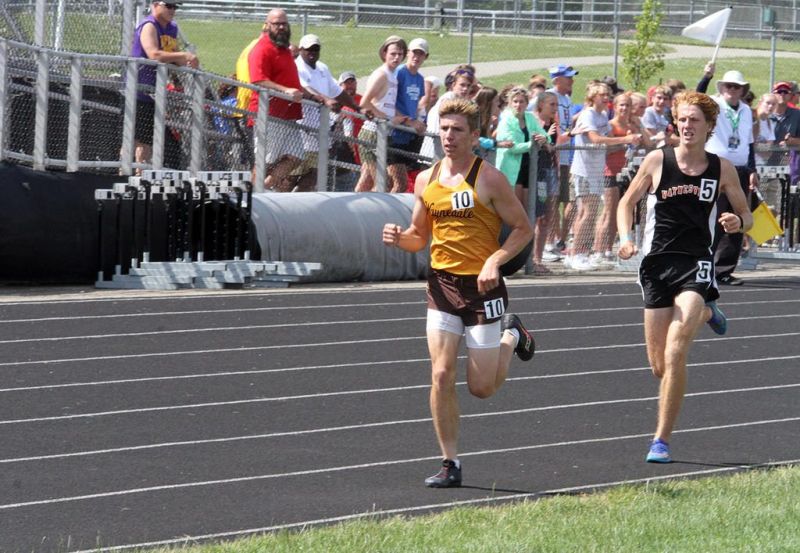 Nearly two-thirds of the way around the opening lap of the eight-lap 3200-meter finals in the OHSAA Div. II state boys track and field meet at Pickerington North High School on Saturday, June 5, Waynedale junior Johnathan Varner found himself a little farther back than he expected to be. In fact, Varner was in dead-last, looking at the numbers of every single one of the other 17 competitors.
However, there was no panic in a seasoned runner who came into the event with his sights set on a podium finish.
By lap two Varner began weaving his way through traffic, and by the third lap he had settled in several yards behind a pack of six runners who were threatening to pull away from the crowd. Running relaxed and confidently, even as the nerves boiled inside of him after the slow start, Varner ended up running a 9:45.52, placing him seventh and earning him All-Ohio status as a top-eight placer at state.
"I knew I was around sixth coming home at the end, so I knew I really had to go and pushed myself because I didn't want anyone going by me at the end," Varner said.
Varner, who knows what it's like to be honored on the podium as an All-Ohioan in cross country, said the thrill never gets old.
"That's what it's all about," Varner said. "This is what you do all of the work for, and it is exciting to be able to walk out there and be part of that group on the podium."
Varner said he came into the race hoping for a top-five spot, but if that didn't happen, he definitely wanted the All-Ohio medal. That looked deeply in doubt early on.
"That was in no way part of the plan," Varner said. "I didn't even realize I was in last, but I knew I couldn't lose sight of that first group."
With hot temperatures and a strong headwind down the home stretch, he knew times might not be fantastic, and his time of 9:45.52 was nearly 10 seconds off his regional championship time.
"Between the heat and the wind, it was pretty tough conditions, but we all had to deal with it," Varner said.
Varner said what made it even more difficult was the sun had slowly baked the track surface all day, and by the time the 3200-meter race came along as the 16th of 217 events, it was hot.
"I could feel the heat coming through the soles of my shoes, and it was burning my feet," Varner said.
As for the process necessary to put oneself into position to accomplish such lofty goals, Varner said it just takes commitment, desire and a whole lot of running.
"For me, it's all about the work I put into the off-season," Varner said. "I know I have to get my base up because I am not as fast as a lot of these other top runners, so for me, the work I put in outside of the season is critical, and it really paid off for me."
As a junior Varner should get one more crack at climbing up higher on the podium in both cross country and in track and is excited about the future of what might be. However, for now he will bask in the glow of the All-Ohio medal draped around his neck.
In the Div. III meet at Westerville North, Dalton senior Ozzie Miller led the Bulldogs to a third-place team finish by winning the 100 in a time of 10.98.
Miller also ran a leg on the 4-by-100 relay team that placed third in 43.60, running with Adam Marthey, Dillon Horst and Jaiden Malone. Also for the DHS boys, Evan Hodkinson was fourth in the 800 (1:56.42), and the 4-by-8 relay quartet of Jordan Muth, Lucas Oswald, Mitchell Kutz and Ev Hershberger was fifth in 8:05.58.
In the D-III girls meet, Dalton's Brianna Chenevey placed second in the 200, running a 25.77 in the final. She also ran a leg on the 4-by-8 relay that placed seventh, joined by Miki Fath, Emberlynn Nolt and Addesa Miller to clock a 9:43.64.
Also in Div. III, Daysia Hargrave (100 hurdles, 15.13) and Ainsley Hamsher (pole vault, 11-0) both placed third for Orrville. The Red Riders were 23rd in the team standings, just ahead of Dalton and Rittman, who tied for 27th.
Pyper Gibson of Rittman was second in the girls 3200-meter and seventh in the 1600-meter while Norwayne's Colby Morlock was third in the boys shot put.
Wooster's Cassidy Brown earned All-Ohio status with her fourth-place jump of 12-4 in the Div. I pole vault while Triway's Cameron Soss was sixth in the Div. II boys 100 (11.34).