Waiting game: Wooster High won't start most fall sports until Oct. 1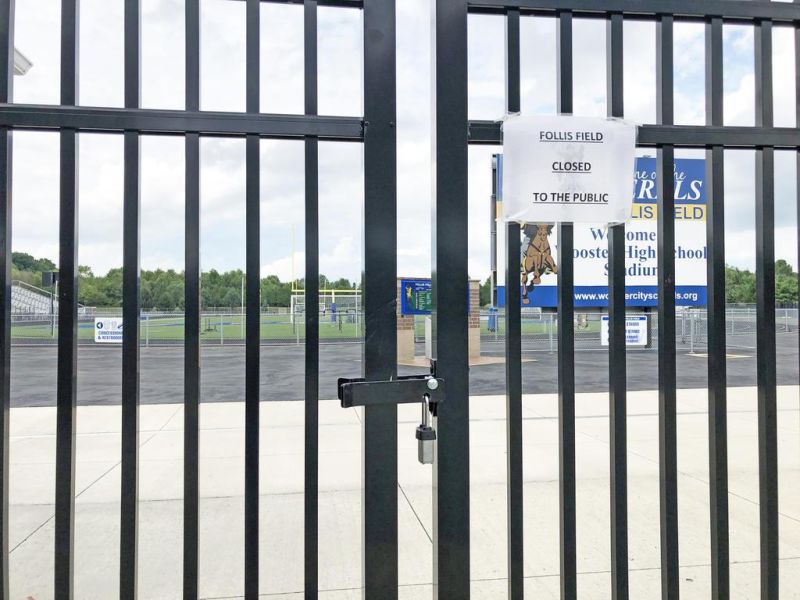 The Wooster City School District kept waiting and waiting for the Ohio High School Athletic Association to follow the lead of several county medical boards in Ohio and postpone the start of the fall sports season.
Many college leagues have even canceled fall sports altogether due to the COVID-19 pandemic.
On the afternoon before the Aug. 1 start date for fall practices, the OHSAA did no such thing.
Instead, the state's scholastic sports organization reaffirmed its position that fall sports seasons go forward with games starting as scheduled, despite a multitude of questions ranging from how much the coronavirus will spread when school and athletics resume, to how schools will be able to test all athletes 72 hours before each contest.
At the 11th hour, a group of Wooster administrators met to weigh the OHSAA's position. They concluded that they needed to take a different course of action, even if the decision might be unpopular with a lot of people.
The Wooster athletic department announced late on the afternoon of July 31 that high school and middle school football, boys and girls soccer, volleyball, boys and girls cross country, cheerleaders and marching bands will be delayed for seasonal competition until Oct. 1.
"I was honestly really surprised with the position that the OHSAA came out with, when you have health departments in Summit, Portage, Cuyahoga and Franklin counties recommending that fall starts should delay," said Wooster superintendent Michael Tefs, who's entering his 13th year leading Wayne County's largest school district. "They're looking at a lot of statistics.
"When the OHSAA didn't suspend the start, we looked at the re-start plan we have for our schools and we wanted athletics to mimic that plan. We always put student safety first and didn't think resuming athletics five or six days a week and having interscholastic competition was congruent with the rest of the (social distancing) back-to-school plan that we have in place.
"This is probably the hardest decision I've ever been a part of as Wooster's superintendent," Tefs continued. "I agonized over it, as did the other people in the room that helped to make the decision. I've read about the other schools and leagues being suspended or canceled, but it's different when you do it. I think about all that our athletes have invested in their sports and my heart goes out to them, but we think we're making the best decision for our students."
Pushing competition back to Oct. 1 means the football team will compete in only half its regular-season games at best.
Only the boys and girls golf and tennis teams will be able to take part in interscholastic competition as scheduled in August, due to the built-in social distancing of those sports.
Wooster football coach Doug Haas broke the news to his team during an online Zoom meeting and told his players it was OK to be mad and upset. He also stressed to them that he thought it was the right decision.
"I told them that they don't need my permission to mourn, or be disappointed," Haas said. "I said to go ahead and feel those emotions, but then added that ultimately we can only control what we can control.
"I'm proud of the resolve that was demonstrated by our kids during the Zoom call. There were some kids that said, 'Hey, that just gives us more time to get bigger, stronger and faster.'"
Wooster is expecting big things this season, with 17 seniors on the roster. There are nine starters back on offense and seven on defense from a team that finished 2019 with a 7-4 record, won the Ohio Cardinal Conference title and reached the playoffs.
Some of the returning standouts include Joey Lyons, Owen Roach, Micah McKee, Josh Henderson, Jimmy Lyons, Ted Amstutz, Marius Stoll, Koty Henry and Cooper Smith.
"Obviously we're very disappointed by the news," said Joey Lyons, a running back/linebacker who's received offers from Dayton and Valparaiso. "As a team, we have very high expectations this year.
"With a strong senior class, aided by a couple of transfers returning to Wooster, we are itching to compete against a tough schedule. Whether it's through organizing additional lifting sessions or skill work, I am doing everything in my power to help prepare our team for a season. We are remaining hopeful. If we get our opportunity to play, we will be ready."
Roach said the postponement has left the team extremely discouraged and sad.
"We've all looked forward to this season since we were just kids and it was supposed to be special with the collection of talent we have all over the field," Roach said. "As a leader, I have to take it upon myself to keep the team's hopes and spirits up to be ready to play games whenever we are able to. Until they officially cancel everything, there is hope."
The Generals will be able to continue train under Phase 2 social distancing protocol. If Wooster is able to play after Oct. 1, its schedule looks like this: West Holmes (Oct. 2), at Mount Vernon (Oct. 9), at Mansfield Senior (Oct. 16), Massillon (Oct. 23) and Ashland (Oct. 30).
Wooster is the first school in the OCC or Wayne County to suspend its season, but it is hardly alone statewide. The Cuyahoga County Board of Health has advised its schools not to conduct fall sports, while schools in Summit and Portage counties have been asked to delay their seasons until Oct. 1. A Cleveland.com article reported more than 45 schools that have delayed sports.
During the winter tournaments and spring sports seasons that were suspended and then canceled, the OHSAA took the decision away from schools.
"I'm actually kind of flabbergasted that the OHSAA decided not to push back the fall sports season, but not mad at them," Tefs said. "I wasn't in their meetings to hear what they talked about, just like no one other than the seven or eight people who were in our meetings know how much we agonized over the decision and how thoroughly we talked it through.
"Some people have asked how come we're suspending the seasons when kids have been training for three weeks already? They've been social distancing and working out in small groups. Bringing the whole football team back and having linemen go head to head, for example, that's a lot different than what we've been doing."
Lyons said it's hard to think about other schools playing while the Generals are sidelined.
"One of the key things worrying me at this point is the lack of uniformity with a decision," said Lyons, an honor student. "A lot of the teams on our schedule have not made the same decision, and if they ultimately decide to go ahead and play, we would lose all playoff points from those games.
"I believe we all would love to see a concurrent decision by Governor DeWine and the OHSAA, and a prompt one at that."
Wooster will take some heat as the first local district to suspend fall sports, but it might not be the last.
"I would not be surprised if more schools elect to do this," Haas said. "I would really, really struggle if one of our players was infected and got sick, or took that home and an immediate family member got sick.
"That would be hard to grasp and not feel some form of culpability. It was a hard decision, but Dr. Tefs, (principal) Tyler Keener, (athletic director) Joe Rubino and the rest of the group that met made the proper decision to put student safety at the forefront."
Aaron Dorksen can be reached at aarondorksen24@gmail.com. Follow him on Twitter at @AaronDorksen.