5 Knights go 5-0 at Claymont Duals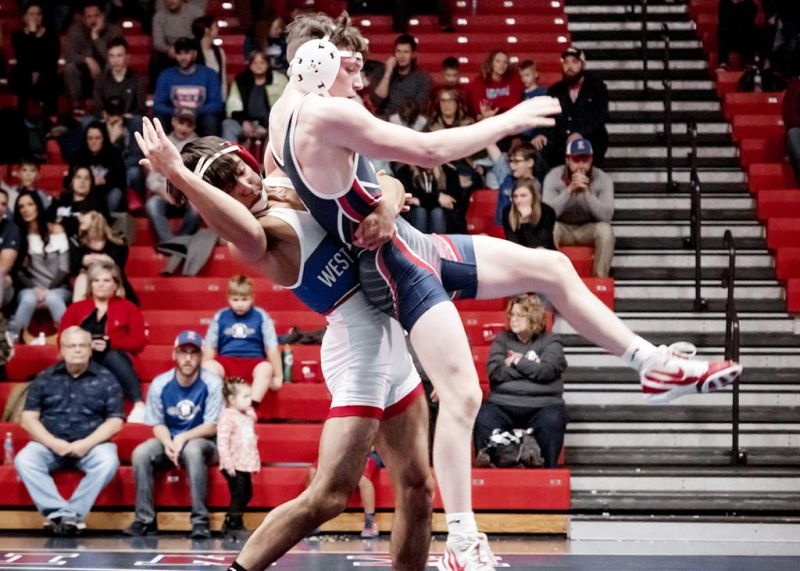 The West Holmes High School wrestling team posted a 4-1 mark on Saturday, Jan. 8, good for the runner-up spot at the six-team Mustangs Duals at Claymont High School in Uhrichsville.
West Holmes opened the day with a 72-7 pounding of Magnolia Sandy Valley, followed by a 63-13 thrashing of the host Mustangs. The Knights also recorded a 58-19 win over Bloom-Carroll and downed Solon 48-25.
The only blemish was a 40-28 loss to Minerva, which finished their day 5-0, and that loss to the Lions grated Knights fifth-year head coach Scott Vaughn.
"Overall, I think we had a decent day," Vaughn said. "I personally can't quit going over the Minerva match. I have a real problem when we can't match or top the physicality of our opponents. I take that as a shot to my coaching ability. I feel like I've let the kids down as a coach. If I have one take-away from today, it's that we have to find a way to come back after we've been 'punched in the mouth.'
"I've always liked Mike Tyson's quote about, 'Everyone has a plan till they get punched in the mouth.' Everyone is going to lose a match eventually, that's a given. We need to figure out why and try not to let those mistakes repeat. That is what we will focus on this week. I need to find a way to help the kids change that mentality. We looked like we are well conditioned. As a coaching staff, we are seeing improvement in everyone's technique. We just need to get back up when getting knocked down."
Brady Smith (senior, 106 pounds), Dylan Strouse (senior, 138), Conner Varnes (senior, 144), Tucker Kaufman (senior, 150) and Collin Gardner (junior, heavyweight) all posted perfect 5-0 marks while Blake Norman (junior, 157) also went undefeated with a 3-0 mark. Strouse and Kaufman both scored five pins while Varnes and Gardner pocketed four falls, and Smith and Norman both notched two pins apiece. The final win of the day for Strouse was extra special as it was career win 100 for the senior co-captain.
All five undefeated wrestlers were chosen as the Knight of the Weekend for their performances.
"Brady had a lot of tough opponents today and dominated every one of them," Vaughn said. "He is starting to look himself again. Dylan continues his great season. I saw some little improvements from him today that we've worked on since our match Wednesday. That tells me he is understanding the big picture.
"Conner is on a tear right now. He is putting together a good run and looks like a confident wrestler. He is going to be a tough out the rest of the season. Tucker was up at 150 all day for us. He beat a very solid two-time state qualifier in his first match of the day, pinning him in the second period. He looked very good as well.
"Collin Gardner only had wrestled one match before this weekend. It was nice to have him back, and he looked like a more confident wrestler. His technique is growing, and he looked very good.
"Blake Norman bumped up to 157 in three duals. His movement was really good, and he wrestled very smart matches. Even though he was giving up some weight, he looked good. Bumping up a weight class is not always the easiest thing to do."
Mason Taylor (junior, 113) was 4-1 with three falls while Noah Tish (senior, 126) and Elisa Baldridge (junior, 215) finished at 3-2. Tish scored two fall wins while Baldridge had three pins. Morgan Smith (freshman, 132) and Grant Miller (sophomore, 190) finished 2-3 with Smith getting one fall win. Posting 1-4 records were Cole Porter (freshman, 157/165) and Dakota Patterson (junior, 175) with Patterson's win coming by pin.
Seven B Team wrestlers finished a sparkling 12-1 with 12 falls in their extra matches. Those Knights included AAJ Roberts (freshman, 106, 1-0, one fall), Macin Miller (freshman, 120, 1-0, one fall), Hunter McCluggage (freshman, 126, 4-1, four falls), Caleb Larimore (junior, 144, 2-0, two falls), Hunter Eberhard (senior, 150, 1-0, one fall), Braylen McKinney (freshman, 215, 1-0, one fall) and Gabe Averbukh (freshman, heavyweight, 2-0, two falls).