After falling in final, Titans vow to come back stronger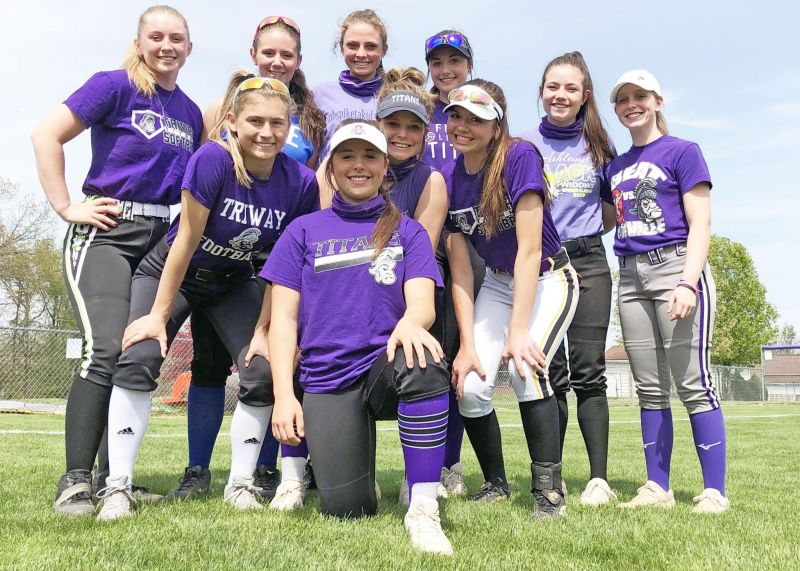 The 2021 Triway softball team was able to check off all but one box on its list of goals: win a state championship.
The Titans got closer to that ultimate achievement, which was among the goals written on a glass jar they carried to every game, than just about anyone could have dreamed.
Triway was tied against LaGrange Keystone entering the seventh inning before falling 7-3 in the Div. II state title game played at Firestone Stadium in Akron on June 6.
Keystone, which finished with a 32-1 record, was in the Final Four for the 19th time and won its fifth state title. Triway (28-3) had never been past the district level, but that didn't stop the Titans from coming up just short of pulling off a state shocker.
"It's disappointing because we were right there at the end and had a lot of opportunities to win it, but I'm also extremely proud of our girls for the way they played all season," said Triway coach Ron Rock, whose team joined Dalton (state champs 2006, 2007) as just the second school from Wayne County to play for a state softball title. "I don't think anyone thought we could make it that far."
The best news for Triway and its fans is the whole team should be back next year. The Titans didn't have a single senior on the roster while the Wildcats graduated five players.
"I'm just really proud of our team," Triway junior shortstop Hailey Massaro said. "We wanted to make it to state, and we did. It might not be the outcome that we all wanted, but the fact that we got there, it's just amazing. We were the first Triway team to do it, so I couldn't be any prouder."
Soon after the final out of the championship game, Massaro told her teammates, "We're going to be back here next year and win it."
Triway will have as good a shot as anyone to win a state title in 2022. A look back at the final numbers from 2021 proves the Titans were one of the top all-around teams in area history.
The Titans batted .479 as a team with 45 home runs and all nine regulars in the lineup hitting .379 or better.
Massaro, an Ohio State recruit, led the way with a .590 batting average (62-105), 14 home runs (school record) and 86 RBI (tied state record).
Pitcher Carter Wachtel (.585, team-high 22 2B, 7 HR, 46 RBI) led off in the title game, followed by center fielder Emily Yacapraro (.496, team-high 59 R), Hailey Massaro, left fielder Hanna Massaro (.505, 5 HR, 44 RBI), right fielder Emma Flinner (.438, 8 HR, 44 RBI), second baseman Clowie Flinner (.443), first baseman Emma Hudson (.436, 8 HR), designated player Katie Hoffa (.424) and third baseman Haylee Pruitt (.379).
Wachtel's freshman season was just as spectacular on the mound. She had a 22-2 record with a 1.45 ERA, 202 strikeouts and 23 walks in 143 innings pitched. Maddie Fatzinger was outstanding at catcher.
Rock knew Wachtel had the physical skills to excel but also was impressed with the way her mental strength grew throughout the season.
"Carter really stayed with it against Marlington (10-7 regional semifinal win)," Rock said. "We got up big (8-0), but just like we told the girls they would, Marlington kept fighting. They hit three home runs off of Carter, but she didn't let it rattle her and finished strong. I think that really helped her confidence the rest of the way."
Triway played all of its district, regional and state games at Firestone Stadium. The Titans started calling it their other home field. They stayed loose before games by line dancing to "Cotton-Eyed Joe" blaring over a speaker someone on the team brought.
Nothing could prepare them for what it would be like in the state title game, though, played on a Sunday evening in a jam-packed stadium.
"I've never heard it louder there," Rock said. "Even talking up close to the players or the umpires, we had to scream to hear each other."
Massaro said the pregame dancing helped the girls "shake out some nerves," but not quite like in previous games.
"I'm not gonna lie. In that first inning, I think we all had to settle down because there were just so many people," Massaro said. "We could see all of our loved ones in the stands. It's just an amazing feeling, and there were a lot of nerves, but we pushed through it in that first inning."
Wachtel was the hard-luck losing pitcher in the state title game, despite striking out 14 and hitting a two-run homer.
Hailey Massaro was 1-for-2, walked twice and made a spectacular catch on a fly ball in which she collided with Yacapraro in the seventh inning. Throwing from her back in shallow center field, Massaro nearly gunned down a Keystone runner at the plate.
Pruitt, batting in the ninth spot, went 3-for-3 with two doubles and two runs scored. She also made a great effort going after a foul ball into the Triway dugout and stayed in the game despite possibly suffering cracked ribs.
"My goodness, what a game Carter had," Rock said. "To strike out 14 and also hit a home run in the championship game as a freshman was amazing. Hailey hit one of the longest home runs I've ever seen in the state semis (4-3 win over Hebron Lakewood), and that catch and throw in the championship game was incredible. The kids fed off their performance all season long.
"It was really a total team effort with everyone doing whatever they could to contribute. Look at Haylee Pruitt. She might have broken a couple ribs, but she wouldn't come out of the game."
The Titans' commitment will be even stronger next season. Triway's theme for 2022 could be called "Unfinished Business."
Aaron Dorksen can be emailed at aarondorksen24@gmail.com. Follow him on Twitter at @AaronDorksen.