College of Wooster sports pioneer Ginny Hunt dies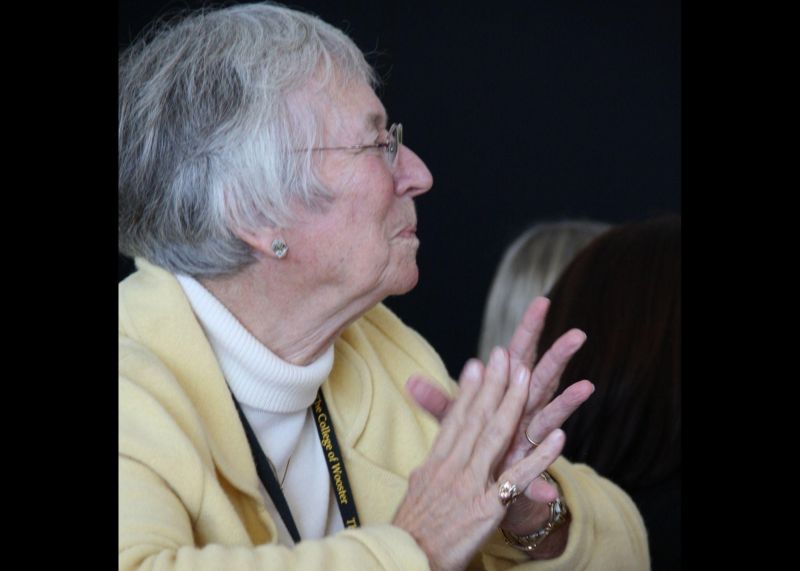 Virginia "Ginny" Hunt, a legendary and tireless advocate, teacher, coach, administrator, and mentor who helped start the first women's varsity athletic teams at The College of Wooster, passed away on Sunday, Nov. 27 in Iowa.
Hunt joined Wooster's faculty as an instructor in the Women's Physical Education Department in 1962. After the departments for men and women were combined, Hunt was elevated to assistant professor in 1965 and associate professor in 1970. She served as the first director of athletics for women at Wooster and was the acting chair of the Department of Physical Education from 1973-1974. Hunt was believed to be the very first woman to head both a men's and women's department at the time.
Wooster's Women's Athletic Association, a student-run and student-funded organization, supported club basketball, field hockey, and volleyball teams upon Hunt's arrival at the College. She was named the first head coach for the field hockey and volleyball teams upon their elevation to varsity status. Hunt led the field hockey team for seven years, guiding the program to 39 wins (39-16-13) and five winning seasons, headlined by an unbeaten 6-0-3 squad in 1966. In volleyball, Hunt's teams went 64-18 over seven years, which included an undefeated 11-0 ledger in 1969.
Outside of her duties as coach, educator, and administrator, Hunt organized several signature tournaments for women during her time at Wooster. The College hosted the Association of Intercollegiate Athletics for Women (AIAW) championships in volleyball, and Hunt directed and officiated women's championships in basketball at the state and regional levels.
Hunt pursued her Ph.D. at the University of North Carolina at Greensboro while at Wooster and left the College in 1976 to finish her doctorate. She joined the University of Michigan as associate athletic director from 1976-1977, then embarked on a distinguished and decorated career as women's athletic director at Montana State University, helping transform the department's women's programs from glorified intramurals to varsity status. Hunt helped establish the Montana West Athletic Conference and later served on the Women's Committee of the Big Sky Conference during her 16-year tenure in Bozeman.
Hunt was among the first women inducted to Wooster's W Association Hall of Fame in 1985. She was selected to the Montana State Athletic Hall of Fame in 2000, was honored with a Lifetime Achievement Award from the National Association of Collegiate Women Athletic Administrators in 2000, and Wooster's volleyball team named its annual tournament the Ginny Hunt Kilt Classic in 2015. She was actively involved with the AIAW, the NCAA, and the U.S. Olympic Committee. Hunt chaired the AIAW Ethics Committee and was the organization's president-elect when it was folded into the NCAA.
The family is planning to hold a celebration of life at a later date.