Golden Graham: Knights senior goes out as 2-time state champ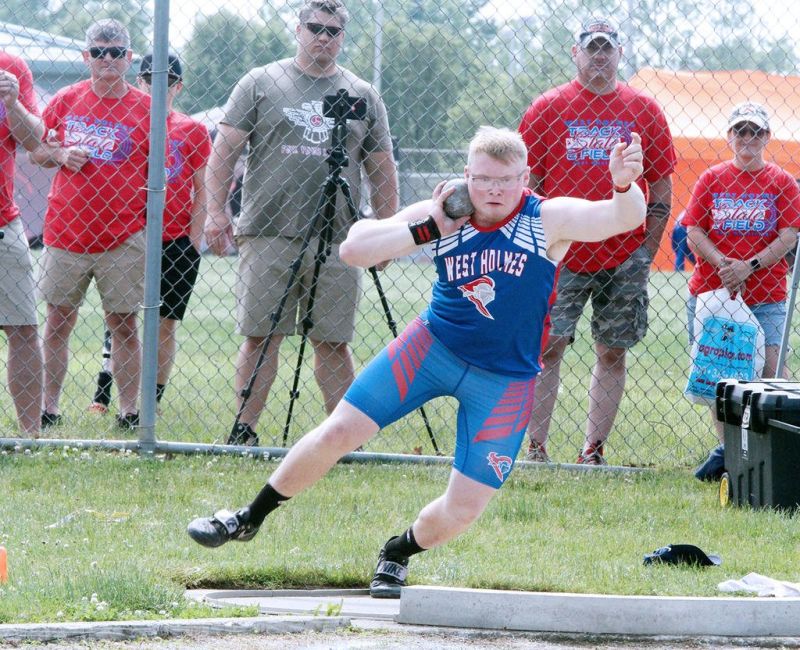 If West Holmes head track and field coach and teacher Ty Harris ever decides to retire, he may want to turn to the art of prognosticating as a second career.
After Knights senior Lane Graham won the Div. II shot event on Friday, June 4, Harris was discussing the possibilities for his thrower extraordinaire in the discus, where it would take a throw of such proportions that it would have to see Graham throw more than 10 feet farther than he ever has to catch a golden favorite in the event.
Harris admitted it wasn't likely before throwing out this caveat: "If anyone can do something like that, it is Lane Graham."
Less than 24 hours later, Graham made his coach look like a genius as he captured the discus title with a throw of 180-06, a full 10 feet farther than he had ever thrown before.
"Nobody does that," Harris said of increasing distance by that much at the state meet. Well, nobody but Graham.
Graham's venture to the OHSAA Div. II state track and field tournament at Pickerington North High School ended up being one of those defining moments in any young athlete's career.
First, on Friday, June 4, came the anticipated.
After fouling on his first attempt, Graham chucked up a throw of 57-10 that easily put him far ahead of the pack. Nobody else was within 4 feet, and it nearly stayed that way. His toss of 59-09.25 only made the lead bigger, with runner-up Riley Porter's throw of 55-10.5 being well short of Graham's effort.
By the time Graham entered the throwing ring for his final toss, it was already over, and Graham soaked in the adoration of not just Knights fans, but also all of the fans and competitors who appreciated his effort and his willingness to cheer on his competitors.
"It's surreal," Graham said of the moment. "I knew what I had to do and that I could do it. I just had to come out here and do it."
Graham said he owes so much of his success to his coaches, Ed Honebarger and DiVaunta Spearman, as well as the crowd, which seemed to grow with life each time Graham entered the throwing area. He also was spurred on by head coach Ty Harris, who allowed him to run sprints this season until Harris said it was time to get down to brass tacks.
"Coach took me out of the 4-by-100 (relay) because I started throwing like crap," Graham said.
Graham said he never really started to think in terms of competing for a state title until districts, and even then, he said he never thought about winning a title until the competition started at state.
"I know all too well that you can hear people talk about it and expect it, but you have to come out here and prove it," Graham said.
Then on Saturday, June 5, came the unanticipated.
Entering the event, Bellaire's Colt Sechrest stood head and shoulders above the crowd, kind of the same position Graham occupied in the shot. Sechrest's regional throw of more than 182 feet was well beyond anyone else's throwing prowess. Well, that was the case until Graham's final attempt of the entire event.
Trailing only Sechrest, who was in at 177-02, great friend and rival J.J. Durr of Ridgewood mustered up one final beastly effort himself, uncorking a throw of 173-03 to move into second place past Graham.
Always the genuine sportsman, Graham was truly elated for his friend. He also was ready to accept the challenge. Always the showman, Graham got the fans into a rhythmic slow clap, then raised his hands encouraging them to get fired up.
Graham twisted, turned and let loose with a throw that nearly carried him out of the ring, but he was able to furiously continue to spin in circles until he regained his balance. He knew he had uncorked a throw of a lifetime, but when the announcement came that it was a lifetime throw of 188-06, he bellowed out a massive roar.
Sechrest couldn't respond in kind, and Graham became one of the rarities, a double champion in the same year.
Former Knights throwing great and coach Pete Norman said of Graham, "His heart, his mind and his eagerness to learn are out of this world. He eats up everything he is being told and then applies it, and he will not leave until he perfects it."
Honebarger said Graham is one of those special kids who is not only talented, but also driven.
"He puts a lot of time into his craft, and his fundamentals are incredible," Honebarger said. "He has made huge jumps from where he was a couple of years ago, and that is his work ethic. His technique and speed are pretty impressive."
Honebarger said they actually tried not to have him do too many throws this season.
Spearman said aside from the work ethic, there is one other driving force in Graham's game.
"He is so driven to be the best," Spearman said. "That pushes him. He is such a fun-loving kid, goofy, active, and he will laugh about anything, but when it comes to competing, he is all business."
Spearman said Graham wants to be the best, but he also wants his fellow competitors to be at their best too. "He wants the best out of everybody so that way he can be the best, and he loves helping and encouraging other throwers because that's the kind of kid he is."
On this special weekend, Graham got everything he wanted and more and emerged as a two-time state champion.