Hiland girls, Garaway boys double up in the win column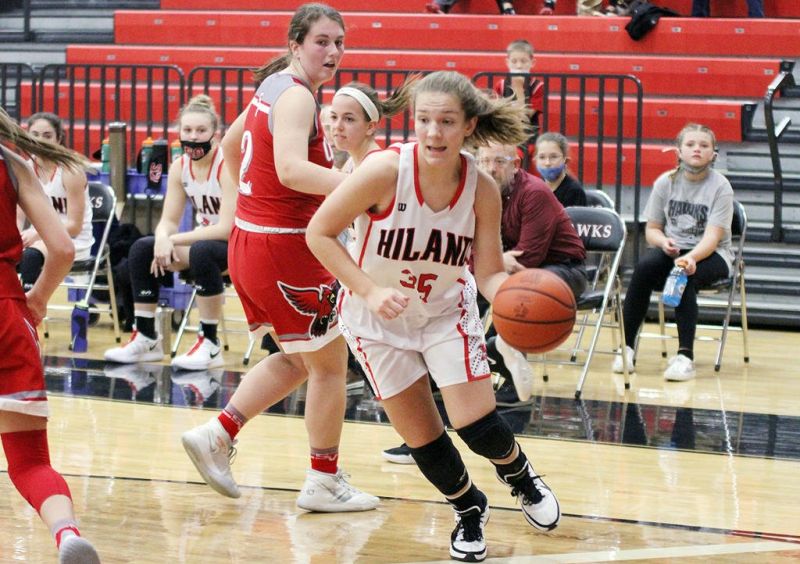 The Hiland Lady Hawks girls basketball game versus an overmatched Indian Valley Braves team was almost over before it even began, Hiland racing out to a 33-1 lead after one quarter, which led to a dominating 101-8 victory.
The Lady Hawks (6-0, 4-0 in IVC play) took flight off the bat, using its pressure defense and hitting almost everything in sight. By halftime Hiland led 62-6, and the Lady Hawks all got in plenty of playing time in the second half.
Hiland's big five did most of the damage, racking up large numbers across the board. Zoe Miller scored 16 points, grabbed five rebounds, had four assists and added three steals; Kelsey Swihart scored 18 points, collected five boards, and added five assists and three steals; Brynn Mullet knocked down 21 points on 5-of-6 three-point attempts, adding four assists and four steals; Kylie Horn had 11 points on three treys; and Morgan Yoder scored a game-high 23 points, hitting five threes, dishing out 10 assists and collecting five steals.
In addition, Hiland got six points and four steals from Ashley Mullet and four points, six rebounds and three assists from Mallory Stutzman. Defensively, Hiland held the Braves to just 2-of-19 action shots, forcing them into 30 turnovers.
The Lady Hawks then turned their attention to Claymont and buried the Mustangs 79-18. It was another huge start that paved the way to the easy win, Hiland bolting to a 24-3 lead through one quarter and a 44-6 halftime lead.
Horn poured in 17 points, adding three steals; Miller went off for 15 points and six boards; Swihart scored 14 points, adding five rebounds and four steals; Brynn Mullet scored 11 points with eight assists; Yoder scored six points and had seven assists while racking up eight steals; Ashley Mullet tacked on seven points; and Stutzman added five points and four rebounds.
Hiland's defense forced the Mustangs into 37 turnovers and a 6-of-27 shooting night.
The Garaway Pirates boys team seems to be rounding into shape following a lengthy delay to the season due to COVID-19 quarantine.
On Friday, Dec. 18, the Garaway Pirates boys basketball team picked up its second win of the season, reeling in a 46-41 victory over a pesky Claymont squad.
Payton Keim led the Pirates with 13 points, followed by Alexander Roden with 12. The Mustangs were led by Murphy White with 12 points.
Three days earlier the Pirates knocked off a talented Tusky Valley team 44-33 with Brady Roden leading the way to victory with a 12-point night.