Hiland wills its way to win over Garaway in another classic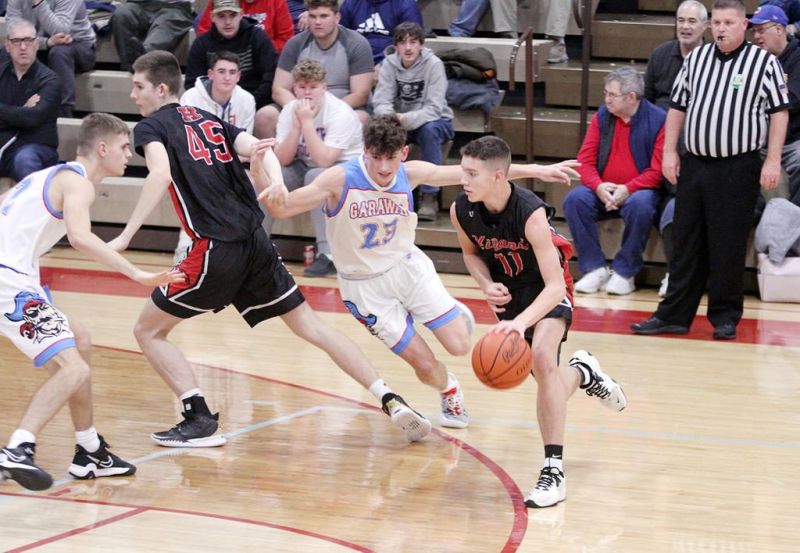 Garaway looked poise to take down rival Hiland in a key Inter-Valley Conference gig in Sugarcreek Friday, Jan. 14.
The Hawks had other ideas, overcoming a 12-point fourth-quarter deficit to earn a 60-54 win to stay clean in the IVC South.
"That was rough," said Garaway coach Terry Rowe. "That one hurts."
"Wow," said Hiland coach Mark Schlabach. "That was a struggle. Both teams did some nice things to take away the other's strengths, and we were fortunate to find a way to make some plays late that were pretty key.
The first half was exactly what everyone thought this duel was going to be — one defensive grind. The Hawks took an early 11-5 lead, led by Dylan Weaver, but after Sammy Detweiler's jumper gave the Hawks an 18-12 lead in the second period, Garaway went to work in a big way.
Key No. 1 – Alex Roden takes over.
Roden owned the second quarter, and his score inside was followed by a triple and another drive for two, keeping Garaway within shouting distance at 18-12. He then scored twice more inside, made a steal and fed Jarrett Wallick for a score and when Jensen Garber scored off a drive, Garaway had pushed ahead 20-18. Alex Yoder scored four quick points for the Hawks, but Roden struck again, moving off the ball to set himself up for a score inside. With Hiland going for the last shot of the half, Wallick made a steal with three seconds left, turned and heaved the ball down the floor to Brandon Raber who laid it in just before the buzzer for a 24-22 Garaway lead at intermission.
Key No. 2 – Pirates run wild.
The third quarter was all Garaway, which compiled 17 points in the period. Wallick came out of the locker room and hit a trey and scored inside. Brady Roden connected inside and Logan Yoder hit Alex Roden on a perfect lob for a score. Brady Roden would score again, Yoder would make two free throws and when Drew Mullet scored off a drive, Garaway seemed to be in control at 41-29 as the teams headed for the final quarter.
"I thought we played well early, but Garaway just owned us the second and third quarters," said Schlabach. "They owned it and had such a rhythm going in getting easy shots."
Key No. 3 – A quick Hiland uprising.
Just as quickly as Garaway had built its lead, the Hawks came storming back. Caden Miller muscled in a score inside and Detweiler broke loose and canned a 3-pointer. Wallick scored inside byt the Hawks defense was intensifying and getting stops. Tony Yoder scored inside off a no-look assist from Weaver and Detweiler struck again from deep. When he hit a free throw with 2:38 to play, the Hawks were within three at 43-40.
Brady Roden's difficult spinner stemmed the tide and Garaway led 45-41 with 1:40 to play.
Key No. 4 – Shetler on the mark.
Chris Shetler hasn't been great from the free throw line this season, but that all changed when the burly senior nailed four straight free throws, the first two with 37 seconds to play, the second two with just 12 ticks, drawing Hiland even at 45.
"I can't pinpoint any single thing that turned it around for us, but we made some pretty critical plays that helped revive us."
Key No. 5 – Tony Yoder rising.
Inbounding the ball under Hiland's bucket with 12 seconds to play, Garaway went deep to Alex Roden, who hauled in the perfect pass and appeared to have an uncontested path the bucket and a lead. He drove to the right side of the bucket, but out of nowhere soared Tony Yoder, who rose high and blocked the shot out of bounds.
After a timeout, Garaway got the ball right where it wanted to, setting up Wallick on the right block. With Hiland defenders swarming all over him, the ball was knocked loose, and Garaway never got off a shot to win it.
Key No. 6 – Grant Miller produces.
After Tony Yoder got the Hawks up on a put-back to start overtime, Mullet answered with a long 3-pointer to give Hiland a lead. Yoder responded by driving for two to give the Hawks the lead at 49-48, and it was then that Garaway began struggling to get off quality shots, forcing up several inaccurate efforts. Meanwhile, Garaway went to fouling Grant Miller. The senior point guard had scored sparingly throughout the game, but this OT was going to be his to own. In succession, Miller split two free throws, then sank four straight for a 54-48 Hiland lead.
Garber's and-one trimmed the Garaway deficit to 54-51, but Tony Yoder calmly ripped a pair of charity tosses with 1:02 left.
Key No. 7 — A critical call.
With 40 seconds to play and Garaway trailing 56-51, Mullet drove the paint, creating a pile of bodies in the process. At the same time, he fired a pass to Garber in the corner, and Garber nailed a three that would have made it a two-point game. Instead charging was called on Mullet, negating the huge bucket. Two free throws from Weaver and Grant Miller iced the game, with Brady Roden's triple at the end of the game only making the final score a bit closer.
"We've done a good job of finishing game for the most part all season, but tonight we didn't do a good job of it," said Rowe. "If we want to go where we want to go this year, we have to be able to finish tight games like this against very good teams. We did a lot of great things tonight, but when it came down to it, we just didn't finish."
He won't have to wait long to get a chance to rectify that, with the Pirates upcoming schedule including IVC South juggernauts Indian Valley Ridgewood and Tusky Valley.
Garaway was paced by Alex Roden's 15 while Wallick added 14, Brady Roden scored nine and Garber and Mullet each scored five. Hiland got a very balanced attack, led by Detweiler with 12, with plenty of help from Shetler and Tony Yoder, who scored 11 and 10, respectively, while Grant Miller and Weaver each added eight, Alex Yoder added six and Caden Miller scored five.