Holt hopes tough stretch toughens Titans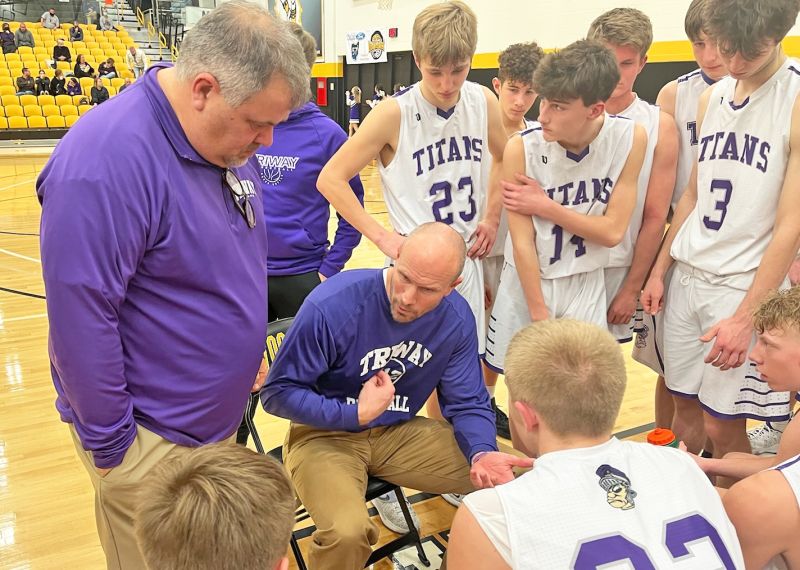 Triway junior point guard Zach Miller came out red hot and never stopped firing against University School in the WQKT-Steve Smith Classic at The College of Wooster on Jan. 9.
It's not too often a fan will see a player score his team's first 12 points of a game, but that's exactly what Miller did as he connected on five-straight shots to help the Titans lead by two points early.
The Preppers had too much size and depth in the second half, though, and pulled away for an 84-72 victory.
University tried to surround Miller with its best defenders, but the 5-foot-9 sharpshooter continued to defy the odds and make shot after closely contested shot.
Miller dropped in long 3s, quick-release mid-range jumpers and twisting layups in heavy traffic to finish with a game- and career-high 43 points on 16-for-26 shooting. He was presented the Outstanding Player Award, but because the Titans lost, he wasn't in the mood to accept praise afterward.
"It felt pretty good to come out shooting like that, but at the end of the day, we lost," said Miller, who was five points away from tying Larry Benning's single-game Triway record of 48 points set in 1988. "A loss is a loss and win is a win. We didn't get the win, so that's all that matters to me."
The loss extended a tough stretch for Triway, which was coming off narrow setbacks against Fairless (60-57) and Northwest (56-54).
Triway has only one senior in 6-3 Kain Weaver, who's the only player in the rotation taller than 6-1. Miller and 6-1 sophomore Drew Bishko are the only returning starters.
None of that matters to coach Ben Holt, who challenged the Titans after the game to find a way to get it done.
"I don't care if we're starting five freshmen or five seniors," Holt said. "We try to turn this over in the game of life, and you've got to compete in everything, whether that's for a job interview or for the next thing up. For our team it's not just about winning the game, but winning the small, little one-on-one battles, and we just lost too many of those."
In a close game, Holt is trying to impress upon his team that missing even one defensive assignment, losing on a box out or not finishing around the rim could decide the outcome.
Triway has one of the area's best basketball traditions, with state Final Four trips in 1988, 1991, 2005 (second) and 2006 (second) and a long list of league titles.
Holt teams have excelled during his tenure, compiling a 67-28 record entering his fifth season at the helm. He's hoping a tough stretch, which followed with a 50-12 loss against Hiland on Jan. 11, will toughen up the Titans (4-7).
"There are no excuses," Holt said. "We just need to keep getting better. I know we're young, but we're about halfway through the season, so I'm taking these guys to the next grade level as far as I'm concerned. I thought the effort was awesome, and we'd been planning for (University), but we just never settled down defensively."
Holt couldn't remember a game he's coached in which a team went through an entire game without finding its defensive footing.
"We've had a bad couple of minutes, quarter or maybe even a half," he said. "We never settled down for the whole 32 minutes. We were almost like clapping every time we got a stop, which is not typical for us. If we score 72 points, we feel we should probably win, and we lost by 12."
Despite the recent losses, there are bright spots to look at for Triway, and it all starts with the undersized Miller, who was the school's quarterback in football.
"Everything that Zach gets, he deserves, and so do a lot of these guys," Holt said. "Zach is absolutely a warrior out there, and it's not just on game nights. It's not just in practice. It's working hard before school, after school and in the weight room."
Miller, who's averaging 15.8 points a game, 2.6 assists and 3.5 rebounds for the season, has connected on 22 three-pointers.
"Whether you're 6-10 or 5-9, good players find a way to get it done," Holt said. "It's just a matter of determination for Zach, his desire, and he refuses to lose.
"I've said it before to our coaches, 'They just don't cut them out of that cloth much anymore.' It's just a pleasure to watch the fact that he's on our side, and I'm glad we get him for another year. Now it's just a matter of him helping other guys continue to grow as well, and he is a great leader."
Other top scorers for Triway are Bishko (12.3 ppg) and 6-1 sophomore Cale Drown (9.0). Drown and Bishko lead the way with 6.4 rebounds a game.
"Between our three-headed monster of Zach, Drew and Cale, it's a lot of pressure, and they have to play pretty doggone good for us to win," Holt said. "They've done a pretty good job. Landon Frank is a freshman trying to hold his own. Kain took a year off, and we're starting to see some good things out of him."
Miller said he's played basketball many times in Timken Gym and watched a lot of COW games there. Getting a chance to shine on the Scots' floor was exciting, but he was more focused afterward on the coaches' challenge to get better than his points.
"Our coaches are always motivated," Miller said. "They never let us accept a loss — that's for sure. We've always got to get better; we've got to move on. We've got to watch film and work more in practice. And like coach says, 'Find a way — no excuses.'"