Lady Knights' Alexander more than willing to take 'charge'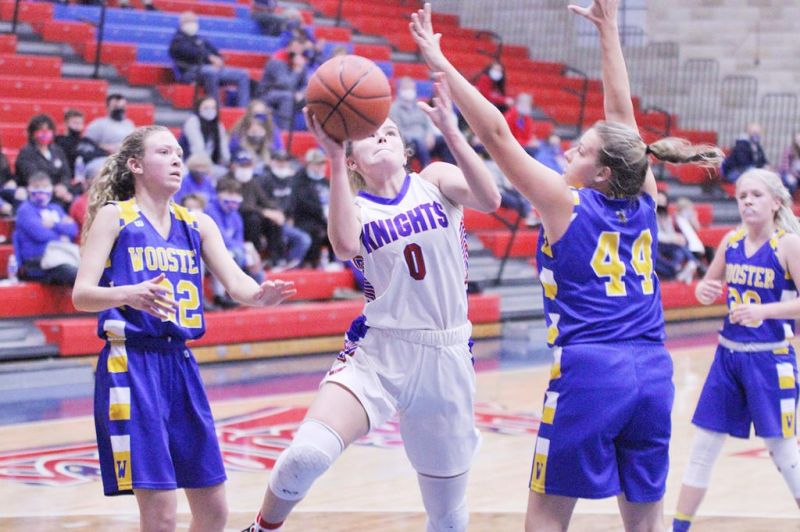 Over the past four years, many a player has driven down the lane against the West Holmes Lady Knights basketball team, bent on finding a clear path to the hole and laying one in for two points to receive the accolades of her teammates.
More than a few of those would-be scorers have come away shaking their heads, having officially met Alicia Alexander, the Lady Knight in charge of the charge.
Unlike many players, Alexander has taken a true liking to stepping into the path of careening drivers seeking glory, firmly planting her two feet in the lane, standing tall and taking a charge. Most of those times, bodies have gone hurtling across the floor including Alexander on numerous occasions, but bodies hitting the floor and the ensuing oomphs and grimaces of disappointment in her opponents' eyes, along with the thrill it brings her teammates, is more than enough to satisfy Alexander and make all of the physicality well worth the price she pays each time she steps in and takes a charge.
"I think that brings energy to the team," Alexander said of taking a charge, of which she did three times in a recent Lady Knights win versus Wooster.
Alexander said they do drills in practice to work on taking a charge, but there is a special mind-set and grittiness for those who actually take it to heart and make it part of their game.
Alexander said she doesn't think ahead of time about setting up to take a charge, but rather it is something when she is just "in the moment" during game action that things kind of come together for that violent reaction in the paint.
"I honestly don't even know when it all started," Alexander said. "I think after I took my first charge, I saw the kind of energy it brought, and I kept doing it."
Assistant coach Steve Frank said Alexander has already posted double digits in taking charges just five games into the season, so she is already continuing to add to her rather impressive numbers.
Taking a charge is a gutsy, oftentimes difficult thing to do in the heat of the action, but Alexander seems to have taken a real liking to it.
"We work on taking charges, but we have very few kids who are actually willing to do that during a game, when someone is putting their head down and charging at you full speed," Lady Knights head coach Lindsy Snyder said. "I think everyone kind of expects that from Lish, and that toughness is something that she brings to our team that a lot of kids don't have. If you see Lish setting up in there to take a charge, just get out of the way and let her take the charge and do what she does best. She is a tough kid and leads by example."
After taking so many charges throughout her career, it is almost second nature for the Lady Knights senior to step into the danger zone and put her body on the line for her team.
"I guess it's kind of an instinct now," Alexander said.
An instinct that has left numerous players second-guessing their decision to try to rumble through the lane again, lest they come up against the brick wall that is Alicia Alexander.