Miller a shining example of the benefits of H.S. sports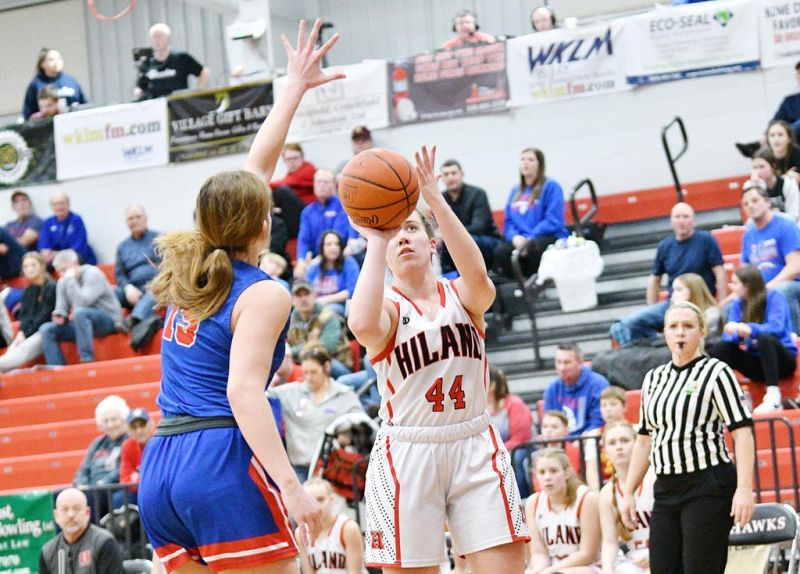 Hiland senior Abby Miller has waited a long time to take on a key role for the Hiland Lady Hawks basketball program.
While Hiland has produced a lengthy list of star-power players who have gone on to play at the collegiate level, Miller isn't about to say she belongs on that list.
However, the list she does belong to is an admirable one.
Miller is one of what is becoming a rare breed, the kid who sticks around with the program despite not receiving a ton of playing time. She understands her role is not a glamorous one, and having played as a reserve and practicing day in, day out against the 2021 state championship group, she recognizes what it takes to compete at the highest level.
Miller is a true team player, willing to commit and provide whatever she can and do whatever is necessary to help her team be successful.
This season Miller has finally received the time in the sun, getting a chance to start for the program she has poured her heart and soul into since elementary school. On Monday, Jan. 16, she capped off her final performance at Classic in the Country, where she said playing in front of the big crowds was exhilarating and enjoyable.
"This is always fun, and I'm going to miss it, but I am appreciative of the opportunity to experience it this last time," Miller said.
Miller has been an exemplary teammate. A disciplined and hard-working player, those attributes are something that not only accompany her onto the basketball court, but also into the classroom, where she shines as a member of the National Honor Society.
"Being part of this team is something I've always wanted," Miller said. "I love being a part of this team and a part of this program. I love this game, and being a part of it any way I can is something I cherish and count as an honor."
She said playing many different roles over the years has always been challenging, but she has continually attacked whatever the task at hand was with a passion for making both herself and her teammates better.
Whether it was grinding away as a practice for the starting crew for the championship team or filling in for minor minutes to play defense, set a pick or be an encourager, she has always sought to give her all.
"With that state championship team, I had to remain focused every day to help them get better and to improve myself," Miller said. "It was a hand-in-hand relationship."
It paid off. She is now starting her senior year and playing with her teammates this year, and the relationships and values she has developed through the game are experiences she won't soon forget.
"It's about learning how to be disciplined, how to work hard and being part of a team working toward the same goals," Miller said about the game of basketball. "Those are huge assets for me to take from the game. I know I didn't always get the minutes, but I was part of this team, part of this program, and I know the things I've learned here are going to go with me out into the world wherever I go."
She said she has already applied much of what she has learned toward her real-life experience. Miller said she is taking as many college-prep courses as possible in anticipation of attending Mount Vernon Nazarene University next fall, where she plans on majoring in accounting, with her sights on becoming a CPA.
"I've definitely used what I've learned from the game of basketball and applied it to my life," Miller said. "Pursuing what you want in life sometimes takes sacrifices. That might mean not doing what I want to do and instead doing what I need to do."
Whether it is working hard on the hardwood or in studying in the classroom, Miller is focused on being the best she can be. While she does so, she knows that in her final go-around in her high school career, she wants to hold nothing back and have no regrets.
Miller said the lessons she has gleaned while playing in a demanding and successful basketball program will provide a stable foundation for her wherever she goes.