Opening hoops night full of surprises for Hawks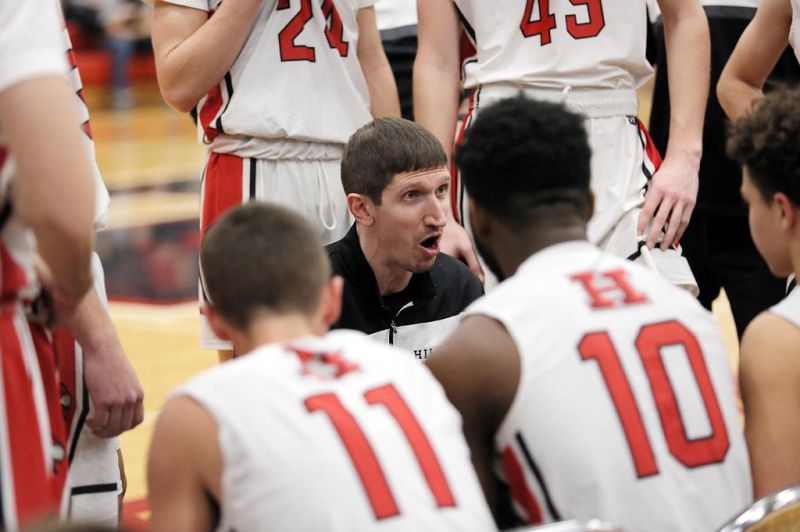 A head coach coaching from the rafters.
A defensive wiz taking the reins.
And oh yeah, the Hiland Hawks also had a furious opening run that helped clinch a win that ended up being much closer than it appeared.
So yes, one might say opening night of the Hiland boys' basketball season was a tad out of the norm.
The Hiland Hawks earned a season-opening win with a 60-50 win over University Saturday, Nov. 26 at the Reese Center, but it came with a bunch of strange side notes that added plenty of flavor.
The first was longtime head coach Mark Schlabach trying to run things from the upper tier of the Reese Center. Schlabach tested positive for COVID-19 and was relegated to his own unique corner of the gym, far removed from his team.
All by his lonesome in the media area, Schlabach did his best to shout instructions and text messages from somewhere near Walnut Creek.
"After I was still positive, the doctor told me I might as well resign myself to stay away from the kids or they might all get sick," Schlabach said. "It was hard but I did it."
That put assistant coach Paul Zacour firmly in the spotlight. Zacour, who has spearheaded Hiland's vaunted defense the past many years, didn't have a lot of time to prepare himself for the rigors of taking on the leading bench role.
"I found out yesterday I had to coach," Zacour said. "I typically worry about the defense but tonight it was totally different. Lots more responsibility. You're trying to coach, get subs in, keep track of fouls … three's a lot more running through your head, and then the game was very fast paced."
What might have been running through Zacour's head in the early going is "Man, we are awesome!"
That's because his team came storming out of the gate on fire, hitting anything that looked vaguely like a shot. The 23-3 onslaught started with a Sammy Detweiler triple, and the sharpshooting junior would stay hot through the first eight minutes, pouring in a dozen first-quarter points. Alex Yoder would add seven and the Hawks seemed in complete control.
However, buckets became much tougher to come by for Hiland the rest of the way, and high-scoring Justin Belcher led the way to a 19-3 University run in the third quarter that saw Hiland clinging to a 4-point lead after Alec Congden connected on his third trey of the quarter.
Facing University's superior quickness and athleticism, Hiland was at a crossroad.
"With a team that skilled, we knew they were going to make a run," Zacour said. "We knew they could scored in bunches and we would have to maintain our poise, execute and make some stops. Fortunately, our kids were able to battle through that run and recover."
Yoder scored inside and another Detweiler trey calmed the storm and gave the Hawks a 46-38 lead through three.
University tried to respond, but senior Carson Habeger came up big on the boards, hit four late free throws and Hiland escaped with the victory.
Detweiler would pile in 27 points, Nick Wigton added a dozen, Yoder pitched in with 11 and Habeger scored eight.
Following the win a more relaxed Zacour spoke about his team's ability help him pick up his first varsity head coaching victory at Hiland.
"Our kids played really hard," Zacour said. "(University) made 22-of-35 treys their last game. We knew we had to guard the perimeter well. Although perhaps we could have done better, I'm extremely proud of them in the end. This is something to build on."
Zacour will be thrilled to see the Hawks build on this game, but he for one will welcome Schlabach back at the helm, allowing him to slide back into the defensive coach position in which he is much more comfortable.
In game two, the Hawks ran into another learning situation when a spirited Dalton club came to town Tuesday. Nov. 29.
Missing two of their top players, the Bulldogs had an upset on their minds, but the Hawks emerged victorious 48-43.
This one was anyone's game, featuring 11 lead changes. Numerous times the Bulldogs threatened to take over, but consistent play from Detweiler and the hot shooting of Wigton in the final quarter kept the Hawks' chances afloat.
With the score knotted at 38, the game boiled down to the final three minutes. A drive by Habeger gave Hiland a two-point advantage, but Dalton's Jack Steiner answered to retie it at 40. Detweiler's two free throws put the Hawks back up 42-40. But Steiner ripped a 3-pointer to give Dalton a 43-42 lead.
Dalton got a stop, but Habeger then came up with the defensive play of the game, roaring out of nowhere to make a leaping block of a Bulldog uncontested lay-up. That led to Detweiler's long-range dart for three that gave Hiland a 45-43 lead, and while Dalton had chances to tie or lead, Hiland's defense held strong down the stretch.
"It was a free-flowing game," said coach Schlabach. "We really struggled with a lot of turnovers and a lot of contested shots. What went well for us was when we allowed the kids to play a more free-flowing, faster-paced game, and our kids did a great job of executing late."
Detweiler led all scorers with 20, Wigton added 12 and Habeger pitched in with eight for the Hawks, while the Bulldogs got 15 from Steiner and 11 from Brady Hignight.
Additional reporting by Dave Mast.