Patience the key for Hawks this basketball season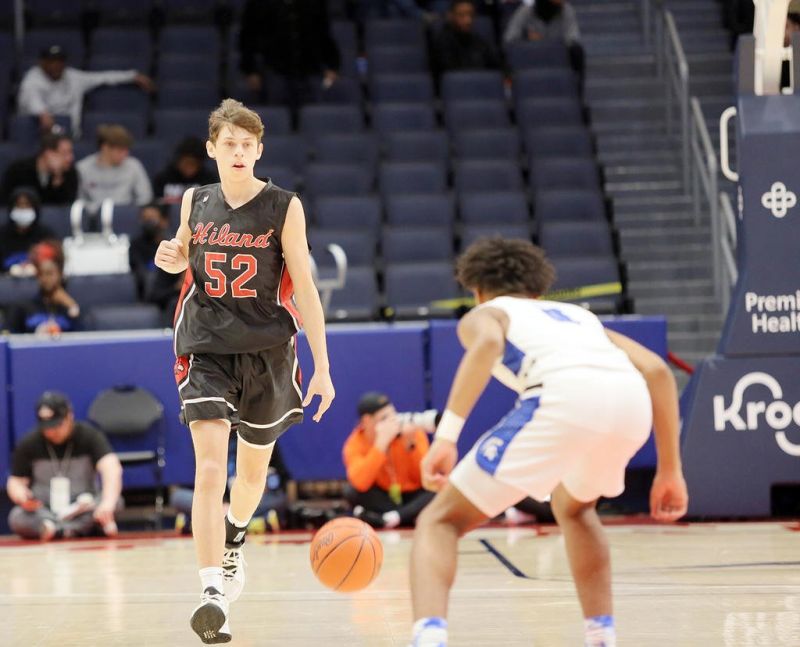 Over the past two seasons, Hiland head coach Mark Schlabach and his staff have watched 13 varsity players graduate and leave the program.
With numbers like that, it wouldn't surprise anyone if the Hawks had a down season. However, with a loaded junior varsity team and plenty of seniors waiting to grab their chance to earn their stripes and become part of the program's illustrious history at hand, Schlabach and company are gearing up for what they hope will be another strong run when it matters the most come tournament time.
They'll just have to be a tad patient while it develops.
"We lost six key players from last season and seven the year before, and that shows our experience is going to be lacking," Schlabach said. "I don't think I've ever had a team like this one before where we have so many seniors who have waited their turn, but we feel confident that they will step in and perform."
Schlabach said that process may take time to flesh itself out, as players find their place and develop their roles in the team concept. One thing Schlabach said this program has going for it is they have always had players who are willing to take on roles that fill needs to help the team rather than playing as individuals.
"Last year we knew by game one where kids fit in and who was going to go where," Schlabach said. "This year it's going to take some time to find out exactly who we are. We have a lot of kids who haven't gained those important varsity minutes, but there are plenty of young and hungry guys who want to prove they belong, and they'll be fighting for playing time."
One player who won't have that problem is junior Sammy Detweiler, the sharpshooting guard who developed into a top scoring threat last season as a sophomore.
Detweiler will be called on to run the point and score. His head coach said all the talent is there, as Detweiler exhibited last season. He said now he simply needs to refine that talent.
"Sammy took huge steps last year, and this year we'd like to see him become more consistent," Schlabach said. "I don't think it's any secret that we are going to ask Sammy to score a lot. We're going to run a lot through him."
While the scoring stood out last season, what may have flown under the radar was Detweiler's defense, which his coach said was excellent.
Another returner is junior post player Alex Yoder, who also came on strong in the second half last season.
Schlabach said Yoder's game has improved as he's gained confidence. His gains could make a nice inside-outside scoring threat with Detweiler.
"We will ask Alex to play with his back to the bucket a lot," Schlabach said. "He's stepping into a key role. Last year he was a strong defender and shot blocker, but he can become a scorer in the post, which is big for us."
Another player who got a smattering of varsity experience last year was Carson Habeger. A tall point guard who can fill it up from deep, Schlabach said the hard-working senior is ready to claim his spot and become a factor.
"Carson is going to surprise some people," Schlabach said. "He's had an unbelievable summer, maybe as good a summer as I've ever seen anyone have for us. Now all he has to do is bring it the games that matter."
Schlabach said Habeger has become an instrumental leader, getting bigger and stronger, and his fierce attitude is one coaches love to see from players.
"He's one of those kids who wants it so bad we've had to put the brakes on him sometimes," Schlabach said. "But you love the enthusiasm."
Senior Phin Killy is another guard who saw important varsity minutes last season. Schlabach looks for him to settle into a key role.
Then there are players seeking to fill vital roles. Luke Mast brings a great shooter's touch, and Jayce Clark is a tremendous defender who will be asked to play the role of defensive stopper. Schlabach said those two will jockey for position based on matchups.
Connor Beachy played well at JV and will fill a wing position. Schlabach said he is ultra-competitive and a great defender, a trademark of Schlabach teams.
Ashton Schrock and Alex Miller, both freshmen, will be asked to step into varsity roles by manning the point position.
With many new faces in the line-up, Schlabach said it is up to an experienced coaching staff to figure out where the pieces fit.
"There's opportunities," Schlabach said. "It'll be an interesting year. There's a lot of question marks, but we think this group can play."
They will have to because Hiland has assembled one of the most difficult Div. IV schedules in the state of Ohio, according to Martin RPI.
"We'll have to be patient because we have built an extremely challenging and difficult schedule," Schlabach said. "People shouldn't get bent out of shape by what takes place at the beginning of the year. To us, all that matters is how we play at the end, and our schedule will be brutal, but that's only going to prepare us better. We will be as tested as anyone in the region, and our kids understand that."